2020 State of Fenestration Manufacturing Report
A snapshot of the initial impacts of COVID-19 on U.S. fenestration manufacturers; looking ahead to the new normal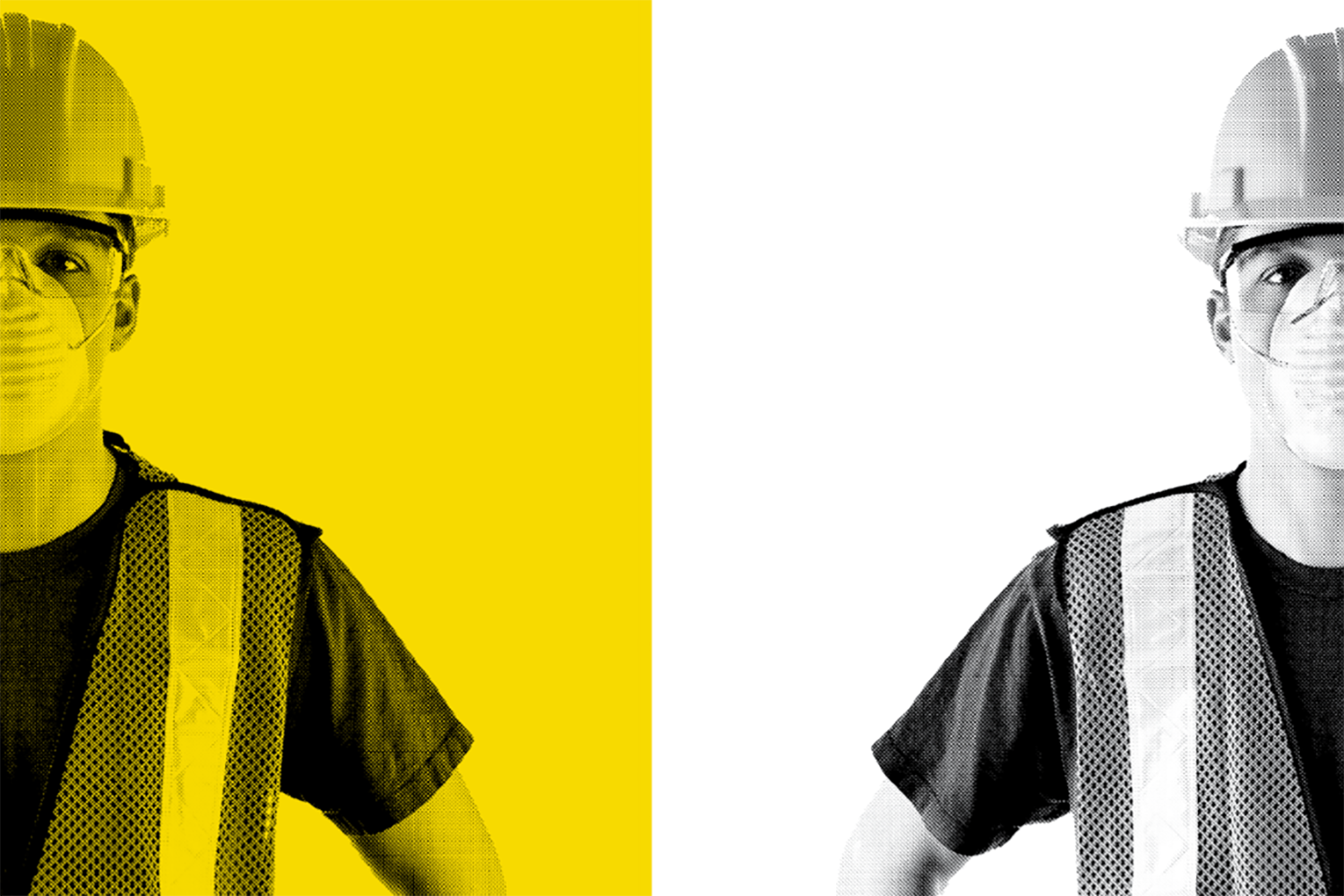 The face of manufacturing, as the face of the world economy, has changed. The way we buy, sell and make goods. The way we work, whether we can work. All of it has changed. One of the big reasons Window + Door exists is to document those changes and to provide a picture of what our industry looks like within the scheme of manufacturing at large. This year, in these unprecedented times, Window + Door provides this state of the industry report in lieu of our annual Top Manufacturers report and list, which is published online at glass.org.
 

View Top Manufacturers List

This report provides relevant snapshots from multiple sources related to the industry, as well as some statistics directly from our survey. 
 
Fenestration Manufacturing in 2020
Early implications
Just as the coronavirus began making an impact in the United States, the National Association of Manufacturers conducted a survey of its member companies on the impact of the COVID-19 outbreak on manufacturers. The survey ran Feb. 28 through March 9. Even in these very early stages of the pandemic in the United States, 78.3 percent of respondents anticipated a financial impact. Only 53.1 percent anticipated a change in operations. About half of surveyed manufacturers reported they had an emergency response plan. 
The timing of Window + Door's annual Top Manufacturers survey was also right around the time when the pandemic just started affecting the U.S. market—late February into early March. At that time, only 19 percent of our respondents reported seeing signs of a recession. Of those, many already noted the coronavirus as its biggest concern regarding economic faltering. (It should be noted: most respondents who called out COVID-19 replied to the survey in early March.)  
Although only a relatively small number of manufacturers were anticipating a downfall pre-COVID-19, 64 percent of surveyed fenestration manufacturers reported they were taking measures to protect their businesses against a potential recession. The biggest area for preparation: improving efficiencies. Specifically, respondents noted they were working to reduce the cost of delivery, reducing overhead and waste, working on labor rates and adding robotics, simplifying processes, and seeking opportunities for vertical integration.
The next most common practice these respondents noted was expansion—diversifying and expanding products and customer mix, expanding into new markets, and concentrating on market share. A final common theme among those preparing for a downturn was watching their cash. Respondents cited reducing debt, conserving cash reserves and controlling costs.
Labor
Another noted area of concern for respondents to the Window + Door survey is labor and employment. This has been the case for many years, but COVID-19 added an entirely different layer to this conversation. Adjusted leave policies under the Families First Coronavirus Response Act complicated the situation. 
Though unofficially reported, we have been told repeatedly that a high number of employees have been simply too scared to show up for shifts. Unconfirmed reports from industry sources cite unprecedented levels of absenteeism. On top of that, for some plants, social distancing measures also means reducing the number of employees per shift. Still, for as many manufacturers struggling with staffing, many also (unofficially) report minimal impact. The effects seem to be geographically and market dependent. 
"We have heard from many that they are hanging on as long as they possibly can in keeping employees on the payroll," National Association of Manufacturers President and CEO Jay Timmons said in a March 26 press conference. "I do believe we will see a resurgence. I have a great deal of confidence in the resiliency of manufacturers in this country to ramp up quickly." 
Reports of furloughs and layoffs have not been widely reported in the industry. It should be noted that most industry sources are reluctant to go on record or provide official statements and statistics regarding the current situation. 
Companies report operational changes
On record, Deceuninck North America reorganized its Monroe, Ohio, operations, with a 30 percent reduction in its workforce in April. In a statement, the company said the adjustments were initiated "to further protect employees, streamline operations, focus on strategic opportunities and invest in the future." Filip Geeraert, president and CEO of Deceuninck North America, said, "Over the last few weeks, we have quickly entered a new reality, the duration of which is unclear." As demand increases, he continued, "we will again adjust our team and operations to handle the growth."
MI Windows and Doors planned to close its Milgard manufacturing facilities in Aurora, Colorado, and Grand Prairie, Texas, as of May 1, "in response to the weakened economic conditions brought on by the coronavirus pandemic," according to a release from the company. MI will continue to provide Milgard-branded products and services to customers in the Denver and broader Mountain West Region from its manufacturing facilities located in the Western U.S. The Milgard brand will no longer be available in Texas; however, a full line of MI-branded products is available from the company's 400,000-square-foot facility in Flower Mound, Texas, the company reports.
MI also reported that a team member at its Hegins, Pennsylvania, facility tested positive for the novel coronavirus in early March. MI contacted an expert remediation contractor to analyze the situation, according to a release. "Based on the time since the team member was last at work along with MI's cleaning practices and adherence to Center for Disease Control and Prevention guidelines, the remediation contractor considered the work area safe to occupy," the statement said.
In April, Jeld-Wen temporarily suspended operations at a few undisclosed locations as a result of the global outbreak of the novel coronavirus. While the company did not disclose in which locations production was suspended, the company stated in a news release that the locations cumulatively represent less than 10 percent of its 2019 consolidated net revenues. In addition, an April filing with the U.S. Securities and Exchange Commission showed that Jeld-Wen executives would take a 25 percent reduction in their 2020 base salaries as a response to the challenges brought on by COVID-19. 
PGT Innovations Inc. announced in late April plans to consolidate its Florida manufacturing facilities to optimize operations and reduce fixed costs. The company expects to cease production at its Orlando facility in June 2020. The company plans to relocate the manufacturing of those products to the Venice and Tampa, Florida, plants, respectively. In a later release, PGT announced it was seeking to fill over 150 positions throughout its manufacturing plants in North Venice, Hialeah, Miami, and Tampa, Florida.
Masonite reported it would temporarily close all its UK facilities in March, due to the impact of the COVID-19 virus in the UK and the recent country-wide stay-at-home order. Additional governmental stay-at-home orders impacted some other operations as well, specifically in Canada, according to a company statement. 
Marvin stated it began furloughing employees the week of April 20 at plants in North Dakota and Virginia in a recently published article in Twin Cities Business. Marvin CEO Paul Marvin indicated the move is to avoid layoffs despite a "sales downturn." In the interview, Marvin said it was "very likely" employees at the Warroad plant would also be furloughed, but a specific timetable wasn't released. Marvin employees on furlough qualify for state unemployment benefits and The Marvin Companies maintains their health insurance coverage. 
The article also reported that orders for the company's products have fallen by 15 to 25 percent, depending upon the product line. "Orders have slowed, and in each of our businesses and plants they slow at different rates based on the products that they are making," Marvin said in the interview. The article also reports Marvin told his employees on April 2 that he would forgo his salary during the current crisis.
Resiliency
It is too early to project or document the lasting effects of the coronavirus and its economic impacts on the fenestration industry. What we have already seen, however,  is the humanitarian spirit of the industry. This is embodied in the following stories of repurposed manufacturing, where manufacturers that use 3D printing on their shop floors are finding a new use for the technology: making face masks and shields for workers. 
"When the manufacturer purchased their first 3D printer, they didn't realize at some point they'd be using it in response to a pandemic," says Jeff Inks, senior vice president – advocacy, with the Window & Door Manufacturers Association.
For example, Pella Corp. can use its 3D printing facilities to manufacture more than 600 clear protective face shields per day and has dedicated four full-time team members to the effort. "3D printing is faster than traditional production line manufacturing so we're able to quickly create protective facial shields and get them delivered to workers who need them," Aaron Ryan, senior engineer team leader of the Design Assurance Lab at Pella, said in a statement.
Using a template from resources from the National Institute of Health, Therma-Tru is also manufacturing face shields with its 3D printing machinery at several of its Ohio facilities. "The particular design of shield we are making offers added protection with the visor," said Connor Funk, lab technician at Therma-Tru, in a press release. "We are also exploring other designs without a visor that are even faster to print to increase the number of shields we can produce daily for health care staff." 
Manufacturer Surveys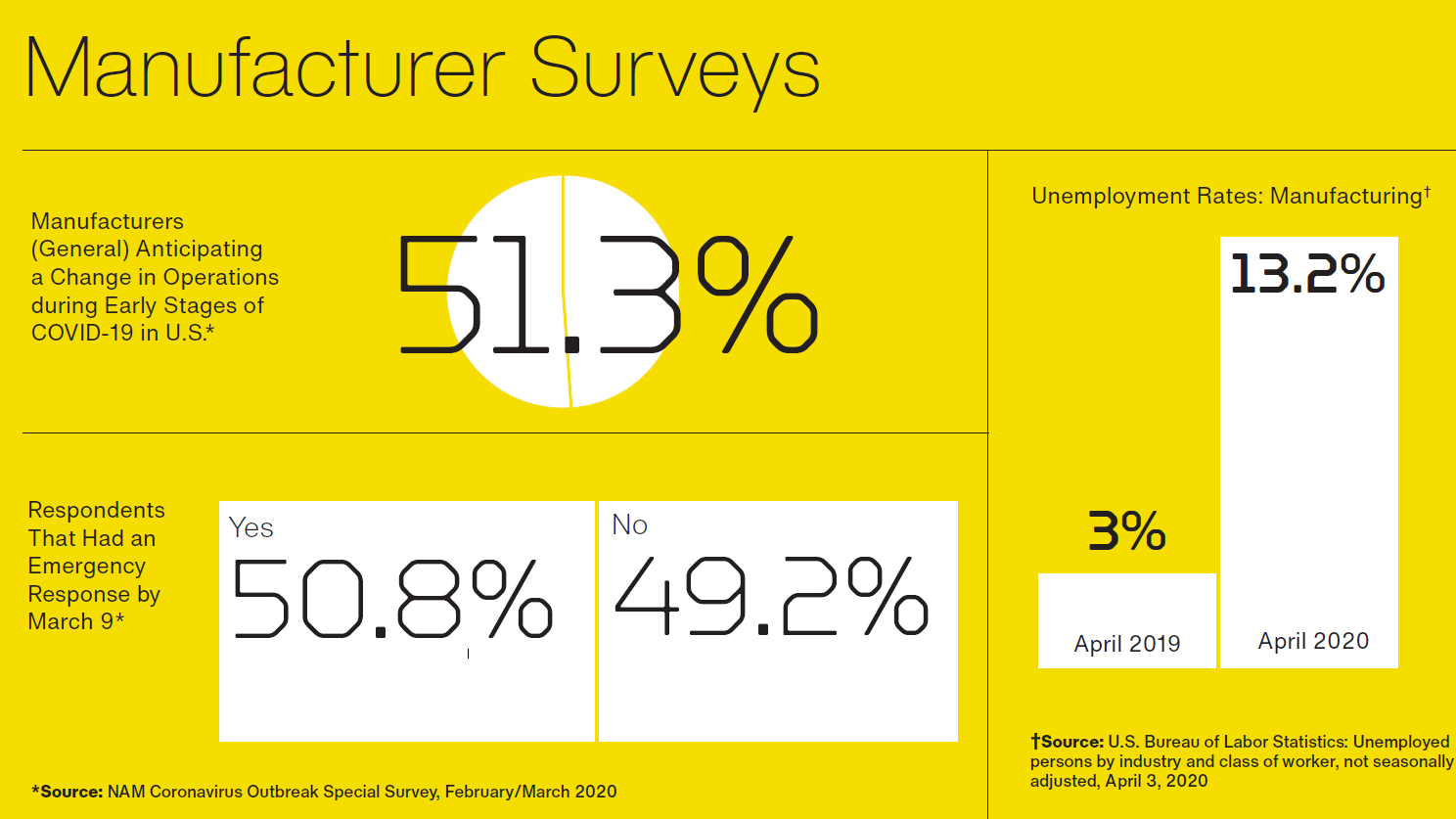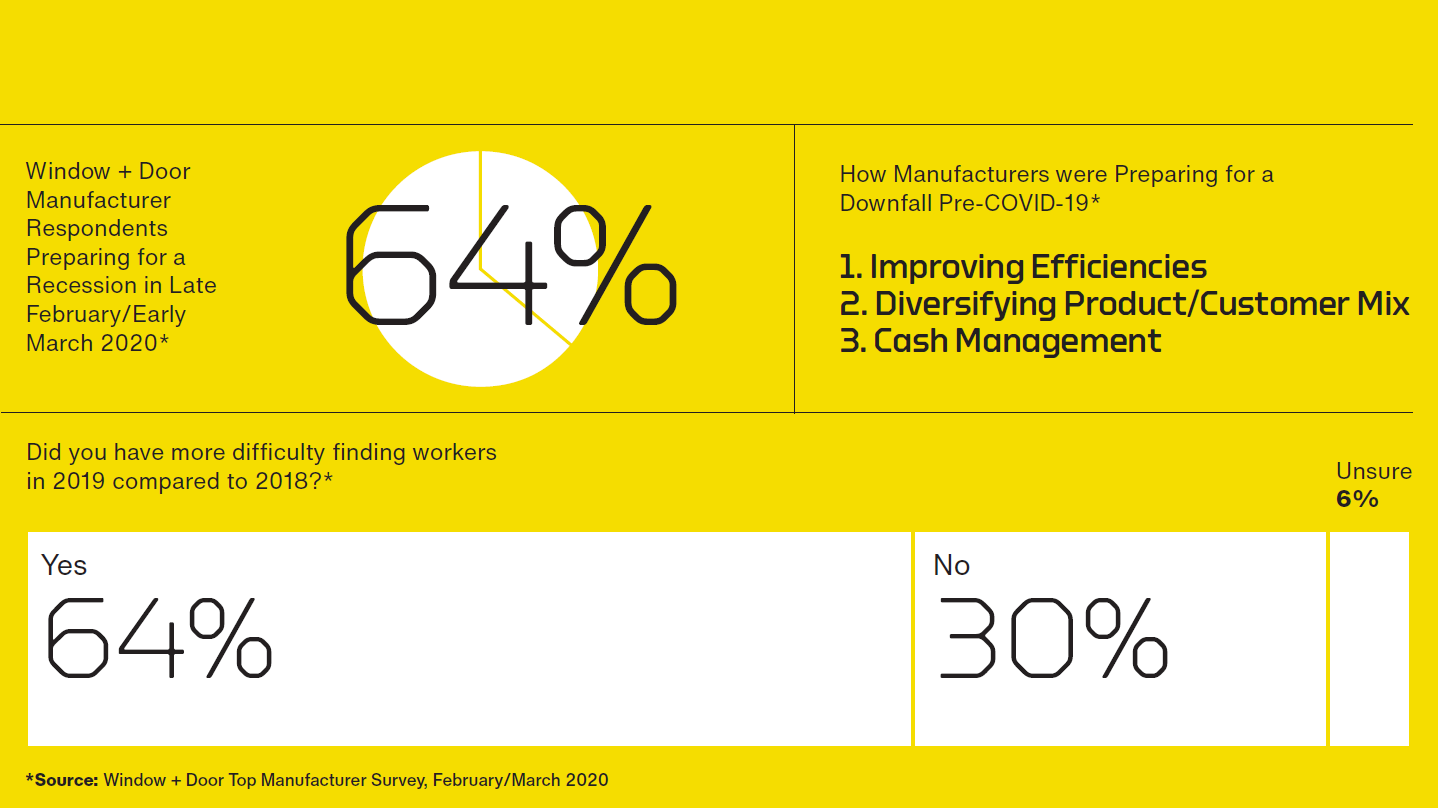 Personnel Management


How manufacturers are handling absenteeism 


In addition to reduced personnel because of new shift structures that promote social distancing and other employees needing to adjust work schedules or take leave to care for sick family members or school-age children, some companies struggle with personnel who don't feel safe coming to work but don't technically qualify for any of the leave programs.


"We want to take those concerns seriously. [What] we encouraged people to do is consult with their doctor," says Joe Peilert, Veka president and CEO. "If the doctor supports the concern, then we will support it as well."


PGT Innovations offered employees age 65 and over, and other at-risk demographics, the opportunity to have a temporary furlough so they can shelter in place with no adverse consequences to their employment status, says Bob Keller, president of PGT's southwest business unit.


Seaway Manufacturing has not necessarily seen a huge impact. "Our employees trust that, while we may not always be or have been correct, we have always had what's best for them and their families' welfare in mind," says Jana Goodrich, CEO. The biggest challenge, she notes, is all the unknowns. 


"No one has all the facts they need to make the important decisions required, we're all in 'uncharted waters' not only across the country but really across the globe. Doing what is the 'right thing' or taking the path that is best for the most stakeholders and the greatest good is not obvious in most cases," she says. "Balancing personal health and well-being with the long-term health and well-being of the company and its customers' needs can pose significant challenges, especially to small businesses."


To help employees determine when they qualify for paid leave, the National Glass Association developed a fact sheet that employers can distribute to their workforce.
 

Download the fact sheet