All Weather Receives Silver Davey Award for Best Manufacturing Website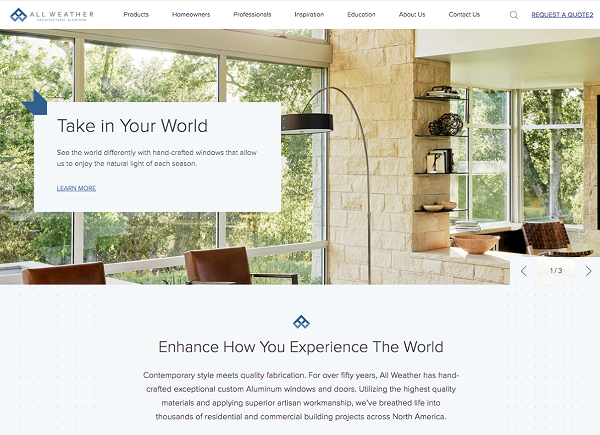 The Academy of Interactive and Visual Arts named All Weather Architectural Aluminum (All Weather) as the recipient of the Silver Davey Award in the Best Manufacturer category for its newly redesigned website.
With more than 2,000 entries from across the U.S. and from around the world, the 17th Annual Davey Awards honors the finest creative work from the best small, shops, firms and companies worldwide.
Launched in June, All Weather's redesigned website utilizes the top best practices of User Interface (UI) and User Experience (UX) design to deliver content that is visually attractive and easy to navigate. Additionally, the site incorporates an interactive and informative user experience with imagery and a strong product focus. The new site also provides each of its target audiences--homeowner, architect, builder and dealer--a unique user experience with curated content.
"All Weather is humbled and honored to win the Silver Davey award for its redesigned website," says Benjamin Woo, director of marketing, All Weather. "Our goal was to provide a user experience worthy of our exceptional custom aluminum windows and doors."
"We're excited for the team at All Weather for their award in the Best Manufacturer's Website category. It's a testament to the strategic briefing from their team and our team's ability to deliver a new digital experience that engaged and educated their target audience through a versatile set of features," says BJ Cook, president at 85SIXTY.
The Davey's are judged and overseen by the Academy of Interactive and Visual Arts, an invitation-only member-based organization of leading professionals from various disciplines of the visual arts dedicated to embracing progress and the evolving nature of traditional and interactive media.