Awake WDC Launches New Pivot Door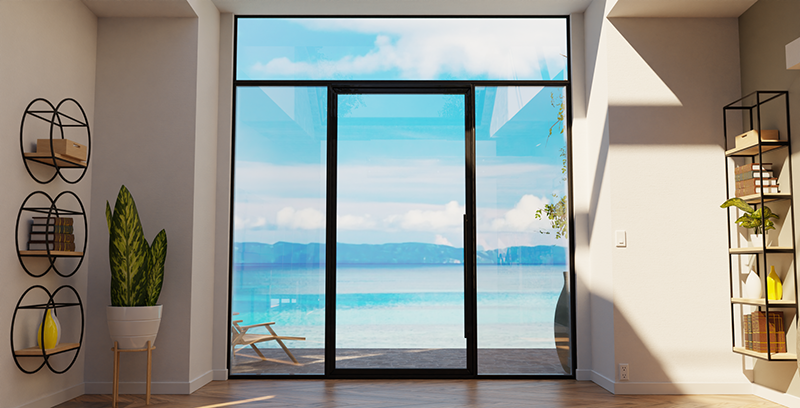 Awake Window & Door Co., a North American luxury window and door system manufacturer based in Arizona, unveiled its new 555 Series Pivot Door.
Since it began taking orders in late 2021, Awake has grown rapidly as a company and is now up over 70 employees, say officials. This new Pivot Door continues the expansion of their minimal frame product family and brings some new features that the market has been demanding from the company, officials say.
The engineering team at Awake engaged in extensive research and development to overcome some of the challenges commonly found in pivot door designs across the industry. These requests included integrating the overhead closer mechanism, creating an unrestricted pivot point assembly and providing minimal sightlines for maximum views.
Several new features
With the introduction of the pivot door, Awake is able to provide a solution with many possibilities. These features include
a maximum panel size of 96 inches by 144 inches, or 96 square feet

jamb depths as small as 4.5 inches

three sill types

multiple handle options

and the ability to insert or mull it within the existing product family.
However, "the new Pivot Door would not have been possible without the in-house design of our proprietary, unrestricted pivot point," says Dustin Wright, vice president of engineering and design..
"Awakes steadfast belief in solving complex problems with innovative solutions is no more evident than in the elegance and beauty of our new 555 series Pivot Door," says Andrew Darr, CRO. "Being able to take the time to listen to the requests from homeowners, architects, builders and dealers is incredibly important to us at Awake, and we embrace finding a way to 'say yes' to what they need." continued Darr.
Commitment to social mission
In keeping with its social mission focused on combatting mass incarceration and reducing recidivism, Awake has named this product the "Series 555 Pivot Door." The "555" is to represent the over 555,000 people who are locked up on a daily basis in the United States who have not even been convicted of a crime but are simply imprisoned because they cannot afford cash bail.
With this addition to its product family, Awake reaffirms its dedication to continue to bring to market some of the most desirable windows and doors which will help create jobs for those that need it most.