Crystal Pacific Window & Door Systems Marks 10 Years of Growth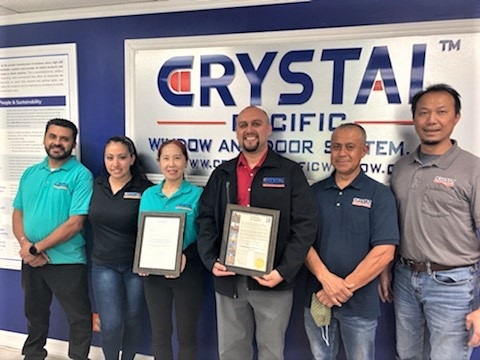 Crystal Pacific Window & Door Systems, the west coast affiliate of national manufacturer Crystal Window & Door Systems, marks its 10th year of operation and growth since opening its doors in May of 2012. Launched by the national company's founder and Chairman Thomas Chen, Crystal Pacific (also referred to as Crystal California) was started to bring vinyl energy-efficient windows and doors to remodeling and new construction general contractors, builders and property managers in California and neighboring states.
"The past 10 years have been very exciting for Crystal Pacific, as we have grown significantly in terms of sales, job creation, and product lines," says Sergio Garcia, Crystal Pacific's president of operations.  "We have expanded from simple residential vinyl windows into manufacturing aluminum and commercial vinyl windows and doors for all types of renovation and new construction projects. We tripled the number of employees working here in Riverside to 90 in the past 10 years. Crystal Pacific now ships products up and down the west coast, and for certain special projects, across the country."
Crystal Pacific's 116,000-square-foot factory and headquarters are located at 1850 Atlanta Avenue in Riverside.
The company's steady growth and job creation was noted with certificates of recognition from Riverside Mayor Patricia Lock Dawson and Riverside County Supervisor Chuck Washington, and by a congratulatory letter from US Senator Dianne Feinstein. The company is planning several customer and employee activities to celebrate the anniversary throughout the year.