Great Day Improvements Acquires Champion Windows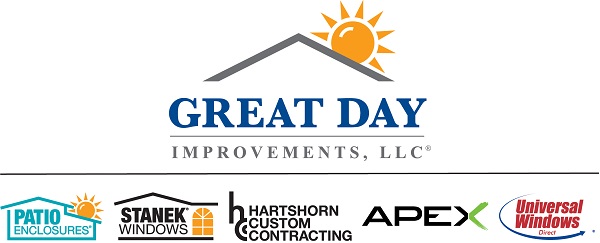 Great Day Improvements LLC, has added Champion Windows to its portfolio of direct-to-consumer brands of home improvement products and services. Great Day Improvements is the parent company of Patio Enclosures, Stanek Windows, APEX Energy Solutions, Hartshorn Custom Contracting, and most recently Universal Windows Direct. Champion Windows is a direct-to-consumer company headquartered in Sharonville, Ohio, outside of Cincinnati.
"So much has happened in the last two months and we are thrilled that both Champion Windows and Universal Windows Direct could be added to our company. Great Day Improvements was built by entrepreneurs and continues to have the entrepreneurial mindset that focuses on a never-ending drive for improvement and serving customers. Both Champion and Universal have this mindset and are perfect partners going forward," says Michael Hoy, CEO of Great Day Improvements. "Champion Windows strengthens Great Day's position as a national leader in replacement windows and sunrooms and creates new opportunities for improvement and growth."
"We believe the moves we've made in the last few months will enable us to create a home improvement company with the scale and scope to successfully serve the direct-to-consumer business model on a national basis," says Ed Weinfurtner, executive chairman of GDI. "We've taken a giant step forward on this vision by joining forces with Champion and Universal and declaring our intentions to invest in building our business. Our expanded team knows this space well and are leaders in this industry. With Great Day Improvements, Universal Windows Direct, and now Champion coming together we can provide an even better experience for our customers."
"For more than six decades, we've built quality products backed by excellent customer service, and Great Day Improvements has those same qualities," says Todd Dickson, CEO of Champion Windows. "As the direct-to-consumer industry in the home improvement marketplace continues to mature, Great Day Improvements is the right partner at the right time to position Champion for continued growth and success. All of us at Champion are looking forward to working with Michael, Ed and the rest of the Great Day team."
Hoy will lead the combined companies, and Dickson will continue to lead Champion's executive team.