MI Windows and Doors Named a Top 10 Company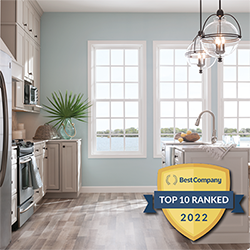 Best Company, a website powered by real consumer reviews, names MI Windows and Doors a top 10 company.
Citing MI's 75 years in the industry, limited lifetime warranty, and wide selection of products, Best Company declares that MI has "grown a brand that is trusted by homeowners and professional builders."
Founded in 1947 as a window-screening business, MI has grown into one of the largest manufacturers of vinyl and aluminum windows and sliding patio doors in the country under its parent company – MITER BrandsTM.
"They [MI] have developed a brand that is trusted and recommended by a lot of their customers and professional builders," Best Company says in its review. "With a large variety of product and limited lifetime warranty, you are guaranteed to find the product you are looking for."
BestCompany.com was created in 2011 to recognize leaders in numerous industries. They use an algorithm that measures the reviews posted on bestcompany.com, the number of reviews, and a company's responsiveness to those reviews. Based on that criteria, MI Windows and Doors earned 4.6 out of a possible 5 stars making them a Top 10 Ranked company.
"We're thrilled, and humbled, to receive this honor from Best Company," said Jeremiah Noneman, vice president of digital & marketing operations. "The last few years have been a time of great change at MI, but one thing that hasn't changed is our commitment to manufacturing the finest products, services, and customer experiences every day, everywhere. Our entire team has a passion for quality and we are driven by the relentless pursuit of 100%."