Roto Custom Metal Solution Premieres at BAU 2023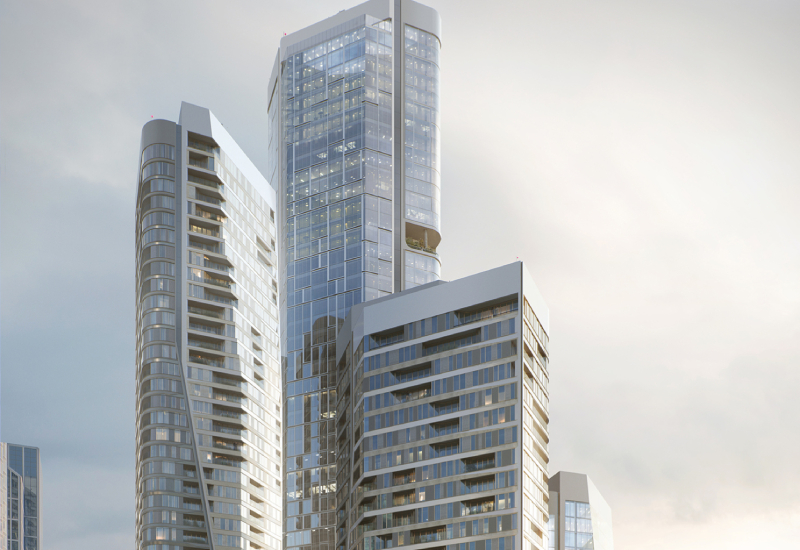 Roto Aluvision, part of Roto Window and Door Technology, and its team of advisors from Roto Object Business assisted facade and window manufacturer Dobler Metallbau by developing a Turn-Only hinge side. Dobler Metallbau supplied the facades for two of the four towers in architect Ben van Berkel's building ensemble "FOUR Frankfurt" in Frankfurt, Germany.
Installation of the double-element facade on building "T4" of the FOUR Frankfurt ensemble commenced back in mid-March 2022. Work began on "T1" in mid-June 2022, with 5,000 Turn-Only sashes being integrated into its facade. The ceiling-height sashes are 2,900 mm tall and between 838 mm and 1,202 mm wide, making them either narrow or extremely narrow. Around 1,800 Turn-Only sashes were installed in "T4".
Project-specific solution
Architect van Berkel wanted the window frame and sash frame of the Turn-Only elements on the inside to be flush. Roto Aluvision developed a fully concealed Turn-Only hinge side that meets Schüco's profile-specific requirements. For instance, there is the option to install an opening restrictor, limiting the opening of the Turn-Only window to 40 degrees. It ensures that a Turn-Only sash, which has to be installed behind a load-bearing concrete support, does not damage it when opened.
The Turn-Only hinge side is designed to be removed quickly, even on hard-to-reach sashes. Once the safety screws on the bottom pivot rest and top hinge are loosened, the bolts can be removed from any direction. Additionally, the hinge height can be adjusted by ±1 mm for an easy on-site installation. Each bottom corner hinge was combined with two central hinges to ensure tight sealing and optimal load transfer of the 440 pound (200 kg) sashes.
Testing at Roto ITC
Schüco Engineering and Roto collaborated to develop the window sashes and tested them in the Roto International Technology Centre in Leinfelden-Echterdingen. All hardware components from Roto Aluvision used for the FOUR Frankfurt project meet the requirements of corrosion protection class 5, offering protection against damage to functionally relevant surfaces, e.g. caused by pollutants in the outside air. 
Close collaboration
Project developer Groß & Partner and the architects in charge emphasised the importance of close collaboration between Schüco Engineering and the Roto Object Business when assisting with the construction work, as well as a reliable after-sales service.
"Roto Object Business was established to support the successful realization of exceptional architecture," says Jordi Nadal, Roto Aluvision managing director. 
"When industry partners like Roto and Schüco are involved and contribute their expertise, it means added security and quality for us and the client," adds Dipl.-Ing. Gerald Spiegel, project manager for FOUR Frankfurt at Dobler Metallbau.
First-time presentation
The hinge side will be presented for the first time at BAU 2023 in Munich, in Hall C4, Stand 303. Roto will offer attendees a platform for exchanging ideas related to projects and specialist technical issues and showcasing two additional custom solutions, in addition to those for FOUR Frankfurt. In a consultation center set up away from the stand, attendees will have the opportunity to learn more about other hardware solutions for aluminium window construction.