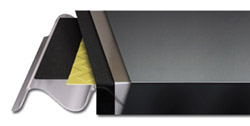 Backed by decades of expertise in warm-edge technology, Quanex offers spacer solutions for every insulating glass (IG) need. Quanex's flexible, non-metal-based Duralite® spacerlines continue to meet the needs of IG Fabricators, especially in high-output applications. 
 
Quanex's Duralite line offers manufacturers a quality single-seal spacer solution for IG units. Used in a one-step sealing process, Duralite spacers provide improved condensation resistance and a warmer edge of glass temperature. 
 
More than 10 billion feet of Quanex warm-edge spacer have been used in homes, buildings, solar panels and refrigeration units around the world, with more than 20 Quanex facilities and international shipping capabilities to support customers with consistent quality products and localized support. Contact Quanex today to learn how Duralite can meet the evolving needs of IG manufacturers everywhere.