2020 Benchmarking Report
Industry dynamics support a positive near-term outlook.
The Window & Door Dealers Alliance is pleased to share highlights from the second annual Benchmarking Report. This annual study measures the sales, trade association interest, value propositions, and business confidence of window and door dealers, wholesale dealers, lumber and building material dealers, and window retailers/replacement dealers. Conducted by The Farnsworth Group, the report offers a peek into the window and door industry including industry trends and statistics, new year-over-year comparisons, and exclusive analyses that will help dealers move their businesses forward. Following are five key takeaways from this year's report.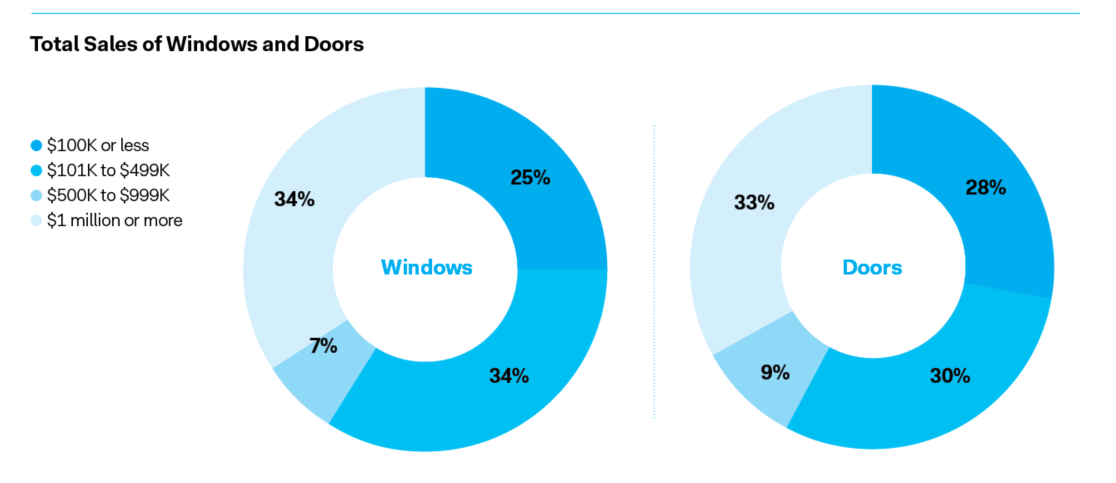 01—  Industry dynamics support a positive near-term outlook.
This is evident in the increase in competition and the need to travel less to gain new business. Window and door dealing is a highly competitive space: 27 percent of dealers have 10 or more direct competitors and 32 percent have five to nine direct competitors. Additionally, 54 percent of dealers have a sales coverage radius of 50 miles or less. 
02—  The near-term outlook also seems positive based on dealer and contractor sentiment, though growth may not be as high as the prior few years.
This statement is based on The HomeAdvisor/Farnsworth Group Index, a quarterly sentiment tracker among five remodel, repair and replacement trade groups. The 2019 index numbers indicate strong confidence in getting new business in the next six months and future projections remain strong as high workload across many trade associations continues to boost confidence.  
03—There are modest shifts in material share, which reflect that bigger project sizes may be occurring, given higher-than-normal home equity.
Vinyl windows continue to have the lion's share of the market in 2018 at 88 percent, and sales of vinyl and wood windows remained relatively consistent from 2017 to 2018. Metal window sales made significant gain, increasing from 7 percent to 16 percent. While fiberglass doors remain the most common type sold, they decreased in popularity by 10 percent from 2017 to 2018. Meanwhile, wood doors saw an increase in market share of 11 percent and an increase in sales of 14 percent from 2017 to 2018. 
04— We see moderate shifts toward more business coming from the trades than homeowners.
Again, this may be a reflection of changes in the types of projects being done. In 2017, dealers estimated that 52 percent of their sales came from homeowners and 33 percent came from builders. This differs from the near-even split of 38 percent homeowner sales versus 39 percent builder sales seen in 2018. 
05—Dealers can still better define what "quality" and "service" are.
Continuing the trend from the first report, there is still an opportunity for dealers to be more specific when communicating their sales differentiators or value propositions. By better defining service in terms of expediency, knowledge, experience, relationships; and quality in terms of products, selection and variety, dealers have an opportunity to set themselves apart from common industry platitudes. 
The full report, including detailed data on the industry outlook, materials, and perspectives on market share and positioning, is available now exclusively to WDDA members. The Farnsworth Group will also join WDDA in a live webinar on Tuesday, Jan. 14, at 2 p.m. ET to present the findings, open to nonmembers and members. For more information on the report, the webinar or WDDA, visit WDDAlliance.org or connect with Katie Gregg at kgregg@glass.org.