2021 Top Manufacturers Report
Today's manufacturers are keeping pace with a robust residential market while grappling with supply-side challenges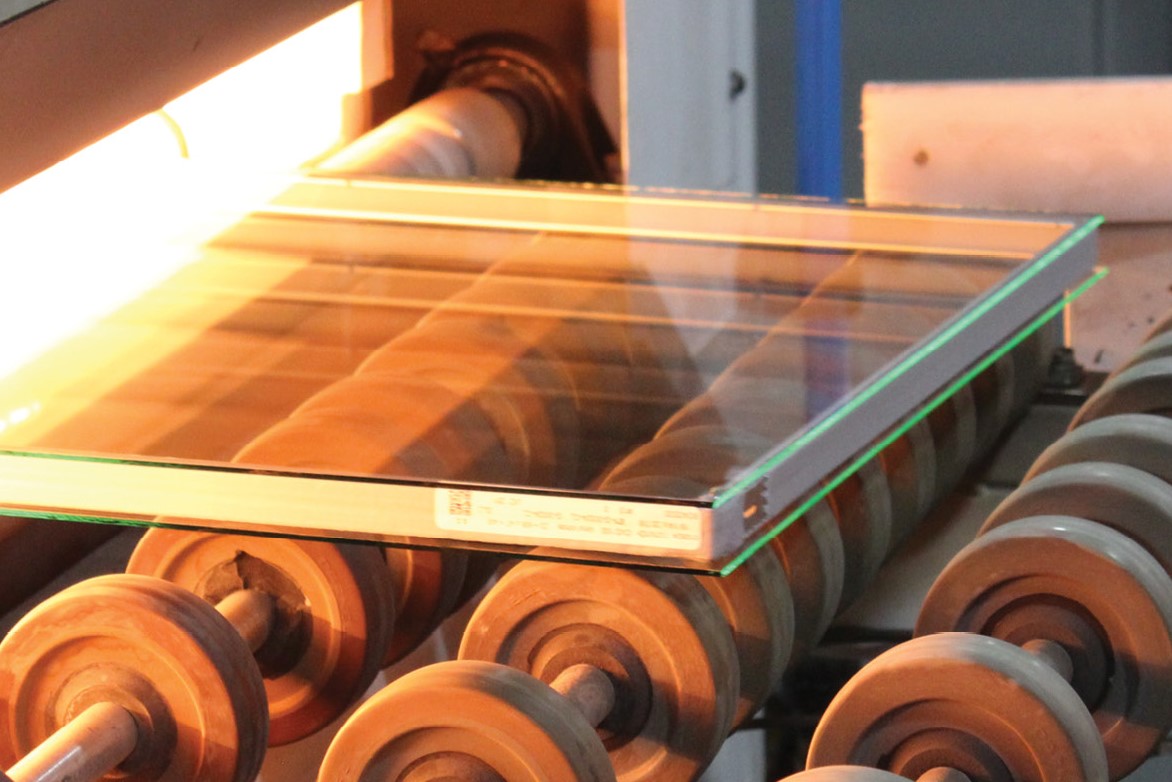 Above: An insulating glass unit enters the oven at Crystal Window and Door Systems' Pennsylvania location.
The economic reports of a year ago painted a daunting picture. Much of the economy was shut down, data from the Bureau of Labor Statistics showed unemployment levels hit nearly 15 percent and little was known about COVID. The uncertainty caused many economists to issue dour predictions about the economy as a whole and about most facets of construction. 
Certainly no one foresaw the residential construction and remodeling boom that started last summer and continues today.
This year's Top Manufacturers list reflects the unexpected strength of the market. Nearly all companies (93 percent) cited higher or static sales compared to last year, with an equal number continuing a five-year measurable growth pattern. 
Before diving too far into this year's report, however, it's important to examine the current market manufacturers are serving and what the outlook is for the coming year.
The 2021 Top Manufacturers Report
The May/June Digital Issue
More details about the 2021 Top Manufacturers are available in the May/June digital issue of Window + Door Magazine.
Manufacturing Pressures
Survey results 2020 vs. 2019
89%
Report higher material prices
91%
Report increased demand
78%
Report more difficulty finding workers
The Current State of the Market
The Housing Market: What Manufacturers Need to Keep Pace With
Window and door manufacturers are operating in a housing market with consistently strong performance, both in new construction and remodeling. It's important to understand the strength of these markets to understand the demand product manufacturers are facing and will continue to face. 
Here's a look at the current state of the overall residential market. 
New Construction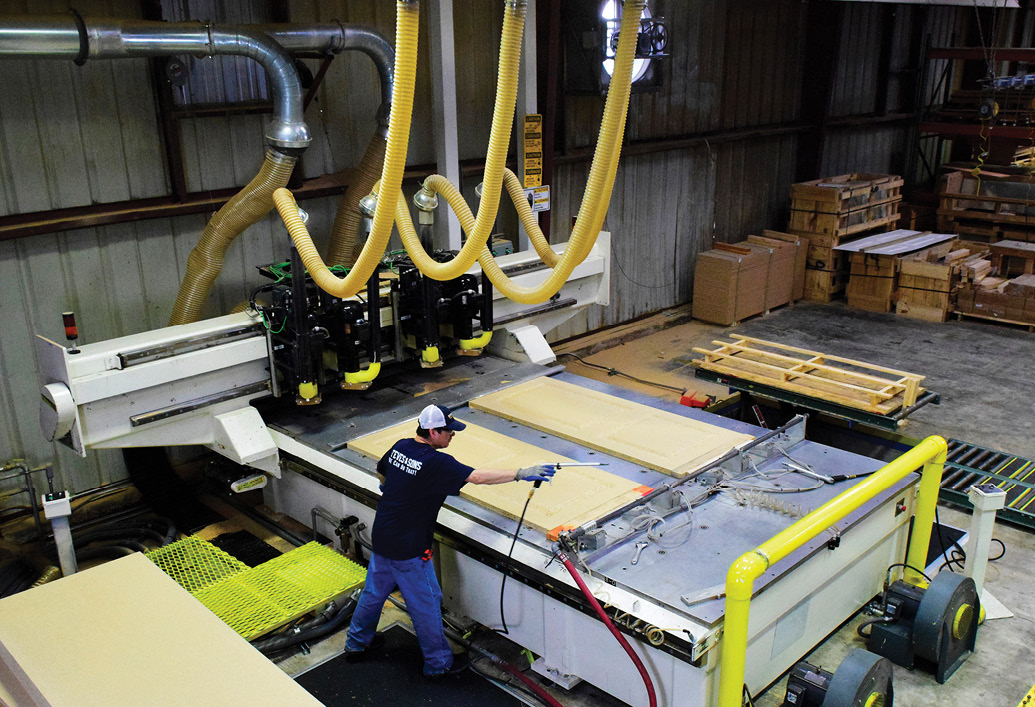 March housing starts increased 19.4 percent, marking the fastest pace for combined single-family and multifamily construction since June 2006, according to a report from the U.S. Department of Housing and Urban Development and the U.S. Census Bureau. Within that number, single-family starts increased 15.3 percent to a 1.24 million seasonally adjusted annual rate. Year-over-year first quarter single-family starts are up 19.6 percent. Single-family permits also rose in March by 4.6 percent. 
These numbers are buoying builder confidence, even as they struggle with rising lumber and material prices and supply chain issues, according to the National Association of Home Builders/Wells Fargo Housing Market Index. 
"Demand remains solid due to low mortgage interest rates and a thin level of inventory in the resale market, which is spurring the need for additional supply," says Robert Dietz, NAHB chief economist. "The test for the industry this year will be balancing growth and higher construction costs, given ongoing housing affordability challenges."
Remodeling
Remodeling is likewise healthy. The Leading Indicator of Remodeling Activity by the Remodeling Futures Program from the Joint Center for Housing Studies of Harvard University projects mid-single digit gains in annual home renovation and repair spending this year, with 4.8 percent growth by the first quarter of next year. 
"Although the recent surge in DIY activity is slackening as the economy continues to open up, homeowners are undertaking larger discretionary renovations that had been deferred during the pandemic," says Abbe Will, associate project director in the Remodeling Futures Program at the Center. "A shift to more professional projects should boost annual homeowner remodeling expenditures to $370 billion by early next year."
NAHB's Remodeling Market Index posted a reading of 86 in the first quarter of 2021, a year-over-year increase of 38 points. Steve Cunningham, NAHB Remodelers chair, attributes this confidence to increased household savings during the pandemic and more money available for projects. "However," he says, "demand is stronger than many remodelers can handle, resulting in being forced to turn work away."
"The large year-over-year increase in the RMI signals a very strong recovery in remodeling activity since the onset of the pandemic, and activity should continue to grow into 2021 as the economy accelerates with an easing of the pandemic," says Dietz. "However, material availability and prices continue to be a challenge for remodelers and their customers."
NAM Manufacturers' Outlook Survey Takeaways

Sales

4.9% Increase in sales expected over the next 12 months

56% Feel orders will rise 5 percent or more

Production 

4.9% Increase in production expected over the next 12 months
79% Forecast output to rise over the coming months; only 6.9 percent expect a decline

Hiring 

60% Anticipate full-time hiring over the next year
25% Predict employment growth of 5 percent or more

Top worries of manufacturers

76% Increased cost of raw materials
66% Inability to attract and retain talent
50.9% Rising health care and insurance costs
50.2% Transportation and logistics costs
48.7% Supply chain challenges with inventory management
44% Unfavorable business climate, including taxes and regulations
 
Manufacturing Outlooks
National Outlook Across All Manufacturing Sectors
According to the National Association of Manufacturers First Quarter 2021 Manufacturers' Outlook Survey, which surveys manufacturers across all industrial sectors, nearly 90 percent (87.6 percent) of manufacturers felt "somewhat" or "very positive" about their company's outlook. This is the third consecutive quarter in which manufacturers reported increased optimism. Comparatively, the Q2 2020 was only 33.9 percent, the worst reading since the Great Recession.
Manufacturing Outlook for Remodeling and Replacement Products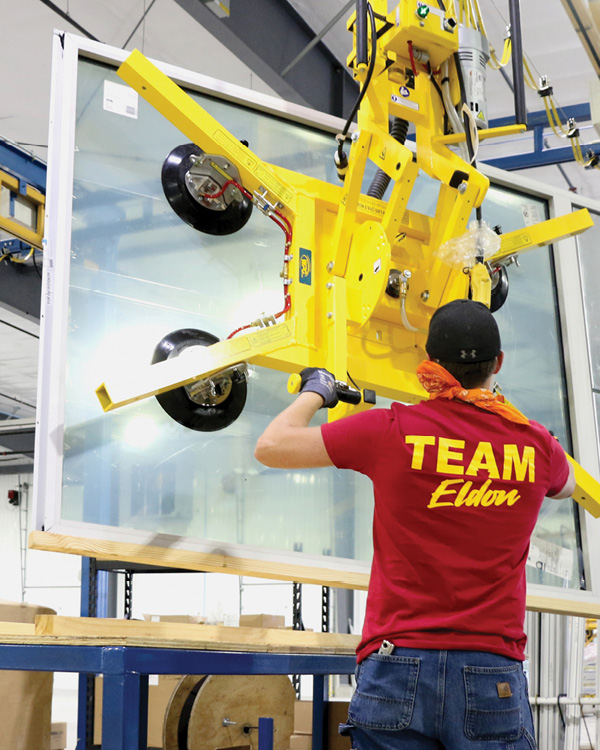 The remodeling and replacement surge that came in the second half of 2020 created challenges for manufacturers, distributors and builders and contractors, said Bob Tancula, senior vice president – building product manufacturers advisory services at Zonda, during a March webinar. 
Even operating at full capacity, manufacturers couldn't fulfill demand because of shutdowns and other COVID adjustments, absenteeism, lack of material inputs, low inventories and supply chain challenges, including raw material availability, said Tancula.
He continued to explain those challenges trickled down to distributors, many of whom had to source products from other suppliers. Builders and contractors, meanwhile, struggled to obtain materials, had to adjust project schedules and couldn't commit to certain projects.
Tancula said pro dealers' remodeling and replacement income grew from $15 billion to $19 billion in 2020. Home improvement R&R sales grew $24 billion last year, or about 17 percent growth. "This type of growth won't happen again anytime soon," he said. 
Consumers spent $17 billion in 2020 on windows and doors remodeling, a year-over-year increase of 9 percent, according to Zonda research.
Research also revealed project cost is increasing faster than units. Windows experienced a 3 percent increase in units, but 9 percent increase in dollars spent. Doors, meanwhile, saw a 5 percent increase in units and a 10 percent increase in dollars spent.
Tancula also believes unit growth in 2020 would have been even stronger if supply could have kept pace with demand.
"There's a lot of opportunity for growth in 2021," he said, with the replacement market looking to be very strong overall. He estimates 3 to 4 percent growth in projects and units in the R&R segment and 5 to 6 percent growth in revenues at channel prices. 
Year-over-year comparisons will likely drop in the second half of 2021. However, given the strong growth in the second half of 2020, "those numbers will be tough to repeat," he said. "It'll be a very strong year, despite likely negative year-over-year comparisons later this year.
"We're in a good position for 2021," he concluded. "Our outlook is continued strength and a lot of momentum."
 
The State of Residential Fenestration Manufacturers
In what ways will you innovate in 2021?    

Equipment updates 67%
Software updates 42%
R&D/Testing 32%
Introduce new products 37%
This year's respondents to the Top Manufacturers survey indicated supply side challenges and continuing labor concerns are among their top concerns. But the spirit of innovation and advancement is strong across the board, with dual focuses on manufacturing processes and product development.
About 73 percent of companies indicated they increased production in 2020, and that is likely to continue this year. Top ways companies said they added production capacity include new manufacturing space, additional equipment, more hiring, adding product lines and acquisitions. 
What product features are your customers asking for?    

Larger windows/doors    39%
Energy-efficient products    50%
Impact-rated products    27%
Sound abatement    17%
Material Costs
How much did material prices increase?    

59% report 0-15%
36% report 15-30% 
5% report 30-45% 

Source: Window + Door Top Manufacturers survey    
Lumber prices have tripled in the past year, adding approximately $36,000 to the price of an average new single-family home, according to data from the National Association of Home Builders. In March, NAHB was one of three dozen organizations that co-signed a letter to Gina M. Raimondo, Secretary of the U.S. Department of Commerce, urging immediate attention to lumber prices, including a "thorough examination of the lumber supply chain and seek remedies that will increase production."
Speaking at the Window & Door Manufacturers Association's Spring Virtual Meeting and Legislative Conference, Rep. Tom Emmer (R-Minn.) described it as "critical" to get a softwood lumber agreement with Canada done "quickly and correctly." 
Steel, aluminum and other imported materials also face rising prices. In the face of such costs, some manufacturers are looking, or considering looking, elsewhere for materials. The Bureau of Labor Statistics' Producer Price Index indicates building materials prices have declined just twice since December 2019. The same report shows prices paid for goods used in residential construction have increased nearly 7 percent over the past 12 months.
 
Manufacturing Solutions 
83%
Employ automation in factories
59%
Have strategic alliances with suppliers
61%
Tried a new brand during the pandemic
The Supply Chain
How far out is your backlog?

1-2 weeks 

8%

2-4 weeks 

27%

4-8 weeks 

47%

8-12 weeks 

11%

Longer 

7%

How does this compare to last year?

Longer 

62%

About the same 

25%

Shorter 

6%

Unsure 

7%

Source: Window + Door Top Manufacturers survey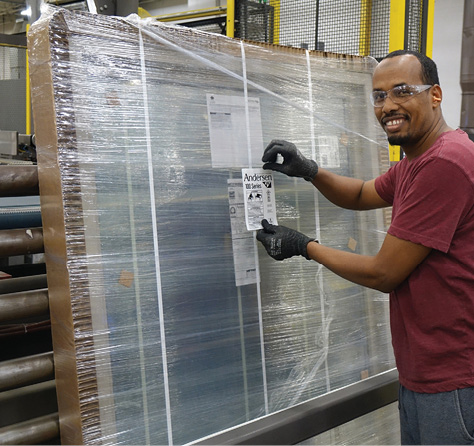 The COVID pandemic, material shortages and Suez Canal blockage earlier this year all negatively impacted the supply chain. Yet, in the midst of these challenges, companies report increased demand almost across the board, which is resulting in extended lead times and longer backlogs. 
Among the solutions this year's Top Manufacturers companies employ to mitigate some of the supply chain pains are using local shipping partners and renting trucks to fill customer needs, using an internal fleet, integration and coordination among multiple production facilities, carrying more raw material inventory, increasing freight surcharges, upping communication efforts and expanding in-house logistics teams.
Not only are some responding manufacturers from this year's Top Manufacturers survey looking elsewhere for product, but the pandemic-induced supply chain issues caused some architects, contractors and builders to also explore other options.
Building product manufacturers must be aware that customer leverage is growing like never before, said panelists during a webinar by Farnsworth Group and Venveo, and today's environment is about meeting the customer where they are and delivering information how they want it. And, because there are more jobs to be done than there are hours in a day, products that accommodate faster installation are selling points, they said.
The Labor Market and Automation 
What are the biggest benefits of automation?  

Increased output 43%
Increased quality 37%
Labor savings 20%
Cost savings 24%
Operational transparency 16%

Answers total more than 100% as respondents could select more than one option. Source: Window + Door Top Manufacturers survey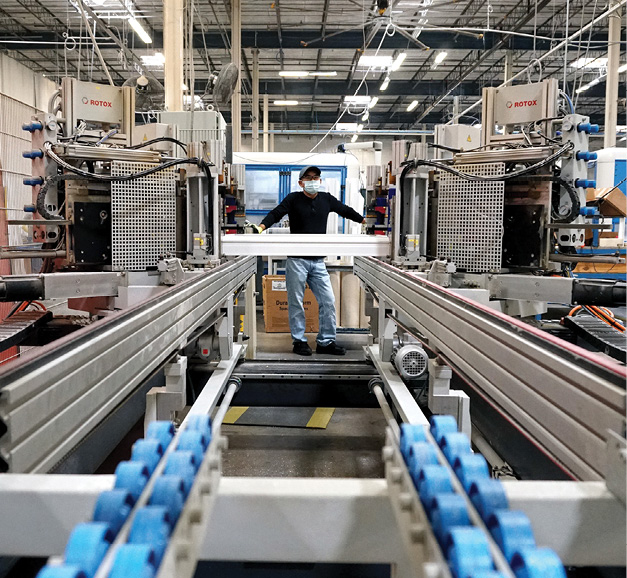 The construction industry faces a shortfall of 200,000 workers, according to an April 2021 report from the Home Builders Institute. 
The numbers reported pertain to labor directly employed by builders, though builders employ additional workers through subcontractors. "We estimate that builders subcontract more than 80 percent of the construction in the typical home they build," says Ed Brady, president and CEO of the HBI. "And worker shortages for subcontractors continue to be even more severe."
Labor represents an estimated 30 to 40 percent of the cost of a typical new home. The scarcity of labor snowballs into construction delays, which creates further costs. Brady asserts this can negatively affect housing supply and affordability.
On a broader construction level, the Bureau of Labor Statistics indicates construction employment in March is 182,000 below its February 2020 level. (Manufacturing employment, meanwhile, is down by 515,000 since February 2020.)
More from the 2021 Top Manufacturers
The Top Manufacturers Index
More than $1 Billion 
 
$500 Million to $1 Billion 

$300 Million to $500 Million 

$200 Million to $300 Million 
 
$100 Million to $200 Million 

$75 Million to $100 Million 

$50 Million to $75 Million 
$40 Million to $50 Million 
$30 Million to $40 Million 
$20 Million to $30 Million 
$15 Million to $20 Million 
 
Less Than $15 Million 
*Sales are estimated based on research; figures not provided by company
 
The Top Manufacturers List
The full Top Manufacturers list details North America's largest manufacturers of residential windows, doors, skylights and related products, based on sales volume. The list includes more information about product lines and is available in the May/June issue of Window + Door Magazine.