2022 Industry Pulse Report
Strength Amid the Storm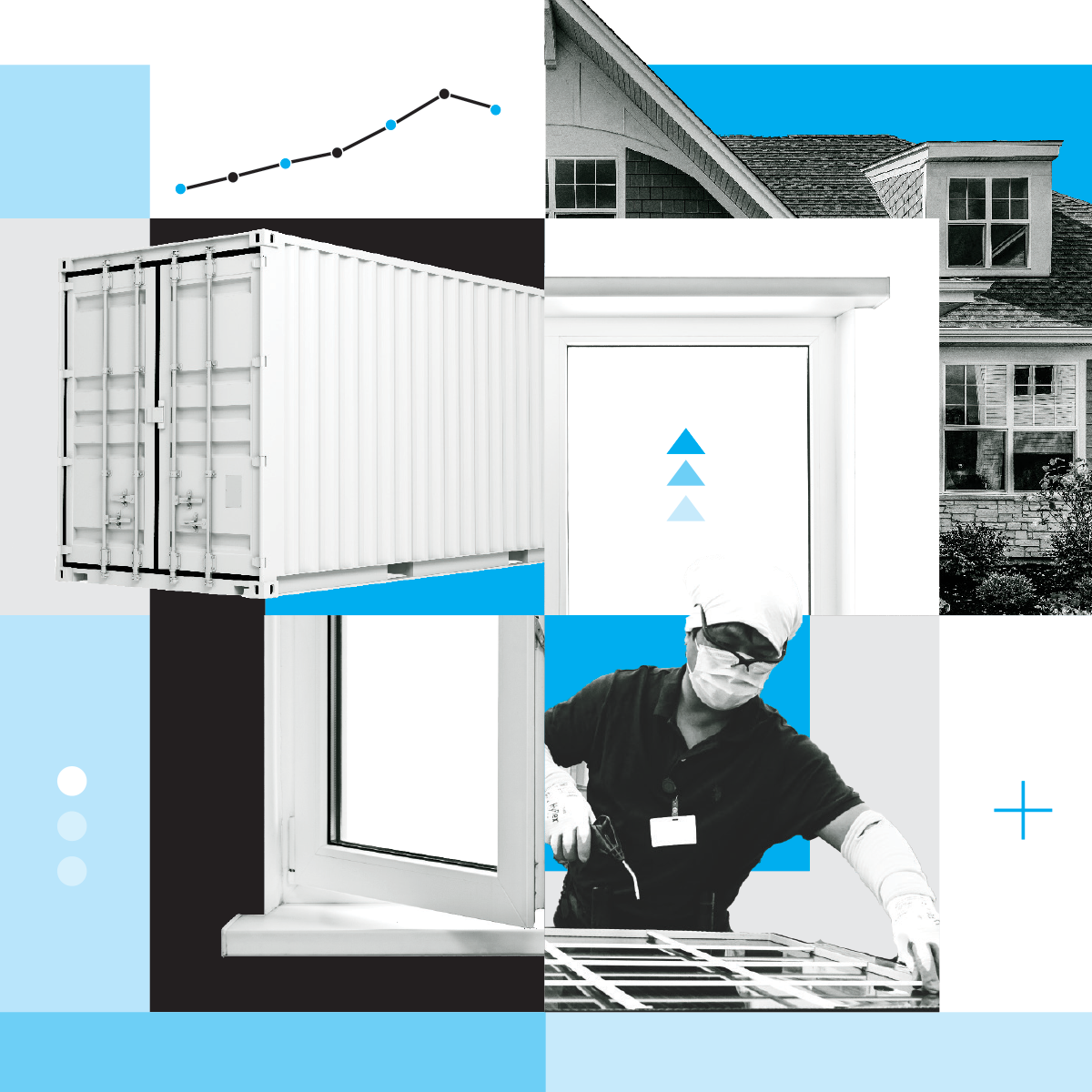 The annual Window + Door Industry Pulse survey had few surprises: the market is strong, business is booming and no aspect of the supply chain is exempt from the persistent supply and labor challenges.

Biggest challenges

Staffing, supply chain, material availability, allocation, labor, shipping container shortage, cash flow, lead times

Biggest opportunities

Increased sales, gaining market share, cash flow, strong housing market, production line optimization, new product launches, increased production, luxury market, logistics management
The industry entered 2021 after a surprisingly strong second half of 2020, but in an environment still rife with uncertainty around the coronavirus pandemic and economic factors. Although supply chain and labor constraints affected companies across the entire spectrum of the residential fenestration industry, the situation rapidly devolved throughout the year, worsened by ongoing labor issues, rising costs and soaring demand.
"The demand from the market is at incredibly high levels coming off the fourth quarter of last year," says Dan Gray, director of sales, Roto North America. "We didn't anticipate it would continue throughout the entire year and now we can see the current cycle is likely to continue at a minimum through the first half of 2022. Lead times are greatly extended from the normal expectations. Supply chain continues to be compromised everywhere you look. Labor continues to be a challenge at every turn. It appears as though the level of activity will remain very strong through the first half of next year."
This year's annual Industry Pulse survey takes stock of how the industry is responding to supply chain and labor challenges, as well as where companies are focusing on business and product growth. 
Editor's Note: Survey responses from which the statistics are derived were collected in November and December 2021.
Survey Respondents
Manufacturers, suppliers and dealers/distributors contribute to the Industry Pulse each year. Their business was divided between replacement and construction, with the majority of business being in windows. 
See the breakdown of this year's response base, where their key business focus is and what business investment plans they have.
Where do you plan to focus your investments in 2022?

Modernize/increase operations efficiency: 63%

Employee recruiting and retention: 55%

Training and education: 45%

Expand production capacity: 37%

Marketing: 32%

R&D and testing: 23%

Software integration: 22%

Business management software programs: 21%

Expand locations: 14%

*Respondents could select more than one option
2022 investment focus
63%
Improving operations efficiency
55%
Recruiting 
and retaining employees
45%
Training and education
Sales Realities and Expectations
Sales for many companies went gangbusters in 2021, and the only thing stopping them from further growing in 2022 is a lack of labor and inability to get materials. "Our customers say they're up 30 percent and could be up another 30 percent if they could just get some people and materials," says Darryl Huber, VP global customer strategy, Soft Tech.
"Back when COVID started, we had a very dismal outlook of what we thought could happen, but that changed pretty rapidly," says Tony Mehringer, vice president of sales and marketing, Sturtz Machinery Inc. "We had an unbelievable order intake in 2020, and with that a huge expectation with shipments and installations throughout 2021. We have installations already booked through the first half of next year. We don't see signs of a slowdown, and expect a similar 2022 to 2021."
"It's been two great years when you look at the results only," says Gray. "We hope to get the delivery service back on track for the benefit of our customers and get to a point where we can grow the business once again as well."
Sales 
60%
Higher than projected in 2021
69%
Profit margins stayed consistent or increased year-over-year
68%
Expect sales to increase moderately in 2021
Supply Chain
Nearly half of respondents indicated their material costs increased 15 to 30 percent, with another third having increases from 30 to 60 percent. A small number (3 percent) indicated increases of more than 75 percent.


 A full 82 percent of respondents said their backlog is longer than last year. Only 3 percent had a shorter backlog than last year, with the remaining 15 percent saying it stayed the same.


Most respondents (73 percent) said their facility was already big enough to store extra products, with the remaining respondents having leased, bought or built space for the additional product, or stored it outside on their property.


Although 56 percent of respondents sourced materials internationally in 2021, supply chain concerns have many looking closer to home for materials in 2022. Most respondents (73 percent) said they will consider looking for domestic sources in 2022. They most common reasons they cited include fewer risks, international shipping issues, time and price reduction, freight logistics.


Allocation, increased turnaround time, material availability and pricing were among the top reasons 59% of companies tried new suppliers in 2021. In 2022, 62% of respondents will try new suppliers to protect the supply chain and keep up with customer requirements.
Supply Chain & Materials
100%
Material costs increased in 2021 
82%
Backlog is longer this year
56%
Sourced materials internationally
Long lead times and uncertainty are a regular, if unwelcome, part of today's manufacturing environment that companies are tasked with managing, mitigating and communicating.
Mitigation strategies
Mehringer says Sturtz has mitigated some of its supply chain challenges by placing orders further in advance and negotiating with its worldwide long-term supplier partners. "We had to go through our whole product mix and work hard on bottleneck areas or components that are harder to get," he says.
Erdman Automation Corp. orders in advance, as well as switching brands when necessary and sourcing components online, says Jessica Metz, marketing, Erdman Automation.
Meanwhile, Roto bolstered its inventory levels by carrying more goods it imports from Europe and Asia, which necessitated expanding its footprint in Connecticut to include an offsite warehouse so that new equipment can come into the building. Additionally, new hires help the company strategically navigate the operational side of the business. "It's been a multi-pronged approach," Gray explains.
Frequent, clear communication from all parties is critical to set expectations, which can be difficult to determine in today's climate. "Companies are under-committing and over-delivering, and I think more of that will continue," predicts Dave Rapp, CEO, PDS IG Holding.
GED officials, including Tim McGlinchy, executive VP, engineering and R&D; John Moore, VP, marketing; Joe Shaheen, VP, sales; and Kevin Felix, VP, operations, say the company strives to be transparent with customers about supply delays and shortages, and the potential impact those challenges will have on shipment schedules. Beyond communications, GED also source alternative solutions where possible to provide stopgap measures and keep product flowing.
Rapp expects companies will seek shorter supply chains. "I've always been a proponent of the idea that manufactured goods are regional, meaning Asia, Europe and the Americas," he says. "The impact of a long and laborious supply chain is starting to show it's a problem."
AmesburyTruth also has a large North American manufacturing footprint with "already established redundancy" for many processes, says Bob Burns, president. Its global supply chain scale also mitigates supply chain disruptions to customers.
YKK AP America keeps some diversity in its supply base, but believes in partnering with suppliers and working closely to maintain long-term relationships, according to Oliver Stepe, YKK AP America president. "We realize they have to be successful and profitable for them to be a good supplier, and we return that relationship," he says. He recalls a supplier that provides an aluminum component that put YKK AP on allocation for the extrusions. YKK AP arranged to provide the extrusion to that company so they could then make the finished product to sell back to YKK AP, as well as selling to other manufacturers. "There's a lot of partnering going on and working together on finding ways to try to mitigate the situation," he says.
Costs, allocation
By all appearances, this trend in rising costs is set to continue. In fact, 92 percent of respondents in this year's survey predict further material cost increases in 2022, with 78 percent considering looking for different material suppliers.
Stepe says he has never experienced the current degree of materials, parts and supplies inaccessibility. Despite having what he describes as a robust supply chain management organization, the on-time performance percentage in aggregate for the entire supply base is down 10 basis points since April and the average number of days a supplier misses their date to YKK AP is up about 30 percent.
He also notes this is the first time in his career suppliers put the company on allocation, especially for glass, paint and chemicals, which is an industry-wide phenomenon.
Larry Johnson, VP of sales, Quanex Building Products, says price increases and allocations will affect them going into the first half of their fiscal year 2022, which began Nov. 1, 2021. "We're to a point now where when we're putting in orders for raw materials we're not even getting a ship date or price on our order acknowledgements," he says. "We get what we get, and get it when get it. At one point we had several containers on the water we couldn't even track and didn't have the material we thought we'd get. 2022 is going to be a very difficult year for everybody, with pricing all over the boards."
For example, Quanex can only get about half of much silicone as it normally buys, and Johnson describes price increases as "through the roof." Quanex has also been put on allocation with screen material and Johnson notes price increases in aluminum and steel, though those materials are easier to obtain than a year ago. As such, Quanex put its customers on allocations for spacer products and screens in late 2021.
Even material shortages from a year ago are still affecting today's performance. Although Gray says Roto's Toronto facility is performing to a high level, its casement and awning operators in Connecticut struggled when global availability for steel became very short last year. "Our supplier of 25 years began to have very short deliveries to us, which compromised our delivery service performance," says Gray. "Raw material dried up for several months and demand continued to be at very high levels, which just accentuated the problems. We've been playing catch up all year long and continue to do so as we head toward 2022."
Materials = growth
Materials may even determine how and which products can be developed. "The materials selection process will be very key in product development decisions and engineering changes," says Burns. "In particular, with steel and powder paint, but also with chemicals, including resins, future upstream supply will be aided by a more streamlined set of materials to manage into both the hardware and seals factories in North America."
"We can bring out a lot more business and have a lot more potential customers calling us every day, but we've had to look selectively at who we can bring on and what we can do. You're used to going after new business and talking to customers one way, and now you're talking to them another way because you're putting them on allocation or communicating price increases," says Johnson. "If we could get the materials, we'd be running full steam ahead this year."
Similarly, Roto sees an opportunity for growth this year if material availability loosens. "We'll have tremendous upside opportunity to gain new business in the casement and awning product category," says Gray. "We get multiple calls a week from customers asking if we can supply them with casement hardware and at the current time we have to turn them away because we're trying to keep up with demand from our existing customers."
Stepe doesn't predict an end to supply chain disruptions. "If there's one fire we put out, another pops up. I don't see any end in sight at this point. It is a very difficult situation right now."
Labor
Increased pay

Bonus and incentive programs

Good training

Flexible work options

Word of mouth

Local advertising

Expanded benefits

Company culture
Hiring
75%
Plan to add staff in 2022
The labor shortage has been a pervasive, persistent topic for years, and it appears to be a worsening situation. From the manufacturing side to office workers to technical and software prowess, no aspect of the industry is exempt from the challenge.
"Hiring people at all levels is difficult for us," says Soft Tech's Huber. "I need them to not just understand dot net, I need them to understand configurators, and windows and doors, and manufacturing. They're unicorns. We're a very niche fenestration-only software solution. Teaching someone 25 years' worth of fenestration knowledge is way harder than teaching them a software language or how to use a configurator."
Samantha Hudeck, manager of administrative services, FeneTech, says that for every one developer looking for a job there are approximately 200 job options for them. The volume of competition for these candidates, plus people wanting 100 percent remote work, has resulted in some recruiting challenges. "We have such a unique product, and it's such a unique industry that there's a huge benefit to being in the office, even if it's just for a few days," she explains.
Roto has not been able to fully implement a second shift in Connecticut because of recruitment and retention. However, Gray says the company has hired several professional positions this year and finds success through Indeed.com. The company participates in local job fairs through colleges and trade schools to try to bring in production labor.
The type of necessary labor also evolves alongside the industry, such as with automation, explains Rapp. Although an automated line may remove 10 people from a line, they often need to be replaced with four people of a higher skill level because of the required knowledge around automation and maintenance. "It changes what kind of personnel you really need," he says.
"The employee value proposition is critical for attracting top professional talent," says AmesburyTruth's Burns. "Providing a positive employment experience with a well-aligned fit to the employee's interests and priorities is key. For hourly workers, the work environment, including health and safety elements, are paramount." Burns says the company has mitigated some of the labor struggles with creative and flexible compensation programs, engagement efforts and work schedules through the past year.
Stepe says the labor situation in Georgia, where YKK AP's main facility is, has started to stabilize, and it's a matter of finding the right people who want to stay long-term. In 2021, the company also established a $15/hour minimum wage policy across the board. "We didn't have a lot of workforce below that threshold, but the largest percentage of the workforce that was just below it was in our residential plant. That policy was a very large positive movement that supported our residential employees and helped our recruitment and retention efforts," he says.
Labor across the industry has adapted in the wake of labor challenges and evolutions brought on by COVID, including the use of more technology and flexible work options. "I've been impressed by how we've adopted new technologies, such as virtual showroom experiences for customers and virtual training for employees," says Christine Marvin, chief marketing + experience officer at Marvin. "It demonstrates just how resilient this industry is. Further, it's amazing to see the kind of work that has shifted to a hybrid work-from-home/work-from-office model. The adaptability we've seen across our workforce is commendable."
Product Innovation
Vinyl windows: 70%

Traditional patio doors: 40%

Multi-panel doors: 33%

Energy Star-rated products: 32%

Aluminum windows: 26%

*Respondents could select more than one option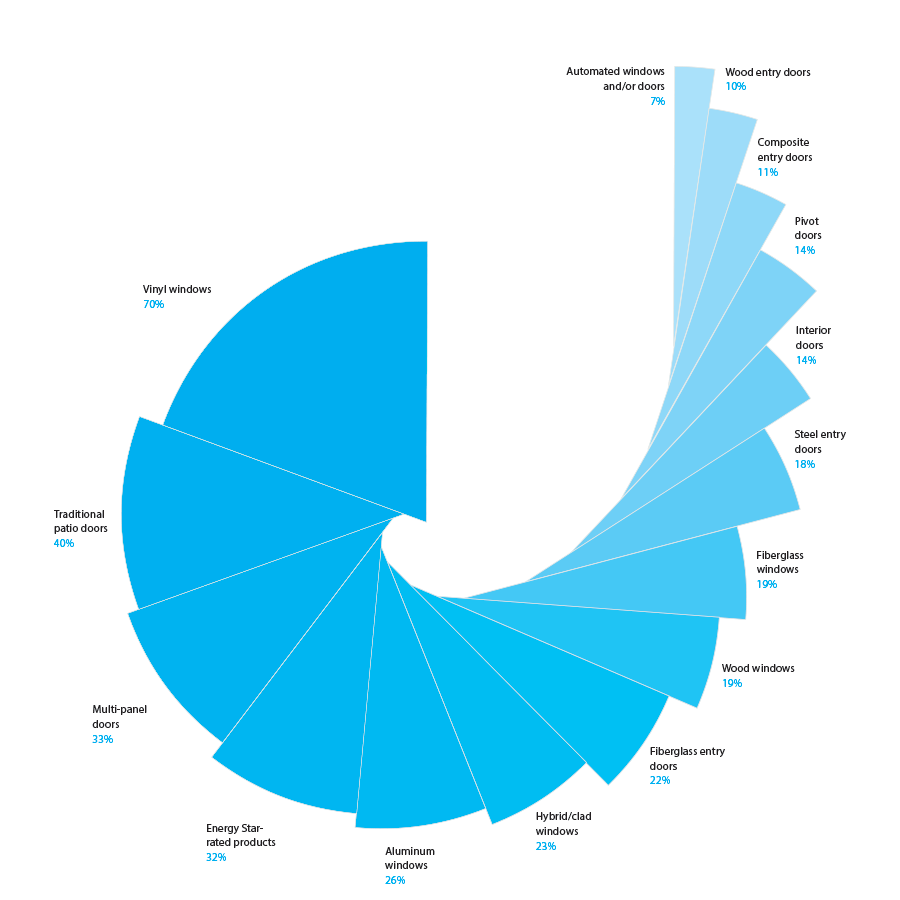 Consumer demands

Price

Codes

Changing aesthetics

Energy efficiency

Where will you focus your product development dollars in 2022?

Functionality: 28%

Energy efficiency: 27%

Aesthetics: 20%

Technology and other smart functions: 17%

Other: 8%
New products
66%
Plan to offer new products in 2022
64%
Added production capacity in 2021
Triple pane: 40%

Gas fill: 32%

None: 23%

Dynamic glass: 22%

Other: 21%

Skinny triples: 19%

Aerogel: 3%

*Respondents could select more than one option.

Other responses include new technology in metal forms, fourth-surface low-E, concealed hardware, thermal steel and thermally broken aluminum.
Products related to energy efficiency, including machinery, components and the finished products themselves, continue to rise in popularity. "Since the publication of the new Energy Star draft, the interest in what we can do for triple pane has gone through the roof," says Rapp. "We have an automated way to do a single-spacer triple and expect to see more of that in the U.S., particularly if the draft becomes final." He does note, however, that some IG and window makers indicate the move to triples may result in a stratification of their product offering and accept that some percentage of their products will no longer quality for an Energy Star rating. "Moving to triples in a significant way in the U.S. will certain require a pretty significant investment from an equipment standpoint."
GED also sees growth around machinery related to energy efficiency, including automatic gas fill for IGUs. "Energy Star 7.0, though still not in its final form, will promote the implementation of triple IGUs to raise the overall performance of our windows," say GED representatives. Other product drivers include features that reduce labor dependency, increase throughputs and reduce total system production costs.
"There's going to be a point where we can't go any further with the current technology, and we're getting close to that now," says Quanex's Johnson, in regards to energy efficiency. "If you look at the costs of what it might take to achieve an Energy Star window, I think that'll be another hurdle window companies will have. Some of these smaller players just won't have the technology or internal engineering force to get the numbers they're talking about."
Technology and Automation
Technology
Supply chain, labor and other industry issues kept companies busy in 2021. "People were so busy working in the business; they weren't working on the business," says Soft Tech's Huber. "The amount of effort that's going in for window and door companies to find labor and materials, alternate suppliers and alternate ways to run their line because of the lack of people is really all-consuming for them."
But the year ahead could provide an opportunity for companies to shift to working more on the business. "There is a push going on in the software sector that people are looking at what smaller- and medium-sized businesses can do to automated processes," says Alison Renwick, marketing manager, Soft Tech. ERP solutions can also assist with optimization, she says.
Huber cites "rapid growth" in cloud-hosted solutions, particularly as companies looked for business continuity as work from home trends continued. Renwick referenced one small business customer that realized a 28 percent cost savings over a three-year period from having cloud-based, rather than onsite server, solutions.
"Two years of pent-up decision making on software is finally coming to fruition," says A+W's Rudd. "We're getting ready for a big implementation year in 2022." Rudd believes the past couple years have been a stark reminder about how valuable individuals are, especially those with higher skill levels. "Software is a means by which you can put the tools in your employees' hands to get more work done for every given labor hour." It also assists with lean management principles, such as mistake-proofing, saving footsteps and general overall efficiency.
One such example is a solution that allows customers to enter orders online and get account information. Although it will never be an "end all be all" for such a high-touch industry as fenestration, says Rudd, he expects to see more of a shift toward front-end order entry, which can save time in customer service departments and enhance order accuracy. "There's a lot of room for swifter order entry coming in from the customer directly," he says.
Software will just continue to grow, especially as more companies invest in machinery. "You need the right kind of software to manage those transitions and manage everything that will happen from the office to the shop floor. Now is the time when a lot of folks are taking a look at software to tie their processes together in an efficient manner."
The pandemic altered software on several levels. One, it caused some companies to put upgrades on the backburner, as Huber referenced. However, it also encouraged some "reluctant companies to be more open to using technology and remote work," says Matt Batcha, business development, FeneTech.
Now is also the right time to look toward longer-term growth. Batcha challenges companies to ask themselves: "What changes can I make to better prepare me going forward and start taking some of that longer-term planning, as opposed to what do I need to solve now?".
Automation
"Our customers are all bursting at the seams; they can't get enough materials," says Batcha. "They're looking at ways to increase capacity." He recalls a recent project where the company's main goal of implementing software solutions was to optimize materials because of allocations.
Batcha describes the cyclical nature of the industry he's observed in his 20 years with FeneTech. "We had that strong production demand so people were looking at how to automate. Then the Great Recession happened and it turned into companies having plenty of capacity and looking to get sales. Now, the pandemic blew previous levels through the roof and we're back to how to automate, get more capacity and save on labor and materials."
Mehringer agrees. "It's still the same thing as it was two or three years ago: further automate where you can, and redeploy those employees to areas on the factory floor that currently are not automation friendly. The automation trends continue in an upward trajectory."
Automation, however, does need to have purpose, says Rapp, PDS IG. "The industry needs to make sure it's asking the right questions about why we're automating and how to make it easier for the user. It's a never-ending process. It's time well-spent to make things easier for people to understand and operate. The more you can do that, the more successful you'll be in pushing whatever type of automation into the market."