An Adaptive Industry
Tue, October 23, 2018 - 12:00am

Pictured above: Creative Approach to Service and Marketing | Renewal by Andersen of Pittsburgh;  Excellence in Installation | Avanti Industries LLC;  Overall Excellence | Unified Window Systems Inc.;  Best Showroom Design | Windows Doors & More Factory Store Inc. Not pictured: Excellence in Technology and Innovation winner A.W. Hastings & Co
Each Year, Window & Door has the opportunity to learn about dealers that are an inspiration to the industry. We hear from legacy Dealers of the Year on new endeavors they've been taking on. We also read stories about new-to-us dealers that are making a legacy for their own companies in the markets they serve and making an impression within the industry. 
These same companies are also building connections with suppliers, employees, consumers and their communities. We are continually encouraged to hear how dealers are making a difference to those around them—almost every nomination we received detailed charitable outreach programs and outlined a picture of how dealers are cemented in the roots of their communities. 
Through the lens of this Dealer of the Year focus, we can also see the evolution of our industry and those that comprise it. Most of the nominations pointed to a market that is adapting to the reality of a tense labor situation. We heard more about attracting, retaining and training employees than in years past. Dealers are taking bold measures to shed the dirty reputation of construction and highlight the professionalism and skill involved in our industry.  
Part of that undertaking certainly encourages dealers to acclimate to what is important to the next generation of candidates. In a word: technology. Whether the tech is a response to a new workforce or vice-versa, the result is that the entire fenestration industry—dealers, manufacturers and suppliers alike—are finding ways to utilize the data and technology that are a reality for every industry. 
Watch for these themes in the following stories. Together with the Window & Door Dealers Alliance, we selected this year's Dealers of the Year as representatives of the new reality of window and door retailers—including some with traditional business practices that hold firm in a changing landscape. 
"This year's recipients are leaders and pioneers in our industry," says Katie Gregg, associate director for industry and member engagement, WDDA. "They are among the top in our business and we are thrilled to share their best practices and innovative programs that demonstrate the continuing development and evolution of our industry as a whole. Congratulations to our 2018 Dealer of the Year award winners."
Dealers of the Year
---
Excellence in Technology and Innovation | 
A.W. Hastings & Co. 
By Tom Gresham, for Window & Door magazine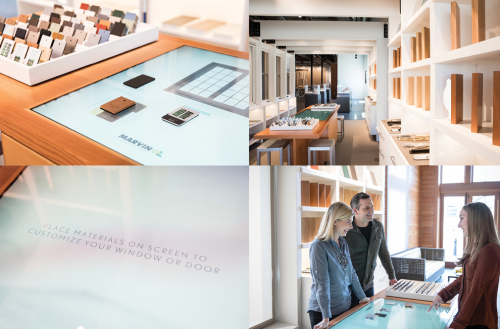 The staff at Marvin at 7 Tide helps visitors understand the purpose and possibilities of the venue. They provide guidance so visitors can narrow their focus and make the most of their time at the venue. 
The Tech
Cutting-edge technology is at the heart of the Marvin at 7 Tide experience. The Marvin Living Room uses a product-to-scale projector to give visitors a clear view of the size and scale of their window and door options in real time. The projection can easily be adjusted to change the size of the products and help customers identify the best fit for their projects. 
Another feature available in the venue is a smart touch table that allows visitors to explore a window design and alter its color, cladding, style, hardware and more, giving them the flexibility to consider any option available to them in a user-friendly fashion. In addition, visitors can use a special notebook to tap photos, renderings and samples that inspire them. Those images are emailed to them to consider more closely after their visit.
A.W. Hastings & Co., based in Enfield, Connecticut, serves as the exclusive distribution representative for Marvin Windows and Doors in New England and eastern New York. Through the years, A.W. Hastings representatives have worked closely with the region's Marvin retail network, to evaluate and explore the best ways to present the company's products to customers. 
Over time, A.W. Hastings leaders came to recognize that retail customers were not always able to clearly visualize new windows and doors in the spaces being designed for them, which was hampering the decision-making process. A.W. Hastings decided it needed to create a new kind of space that would give customers, including architects and designers, customizable experiences to validate their decision-making, build their confidence and better explore the myriad possibilities of Marvin's products. The result is Marvin at 7 Tide, which A.W. Hastings calls the country's first window and door experience center. 
The 3,500-square-foot facility in Boston is home to a series of striking spaces that offers a high-tech, high-touch experience of Marvin's windows and doors. The highly creative venue, which is free for visitors, has netted A.W. Hastings the Window and Door Excellence in Technology and Innovation award.
Marvin at 7 Tide, which opened in 2016, resembles neither a showroom nor a retail store. No sales occur there, and no pricing information is available in the facility. Lauren Hokenson, manager of Marvin at 7 Tide, says the venue's "no pressure zone" can be an adjustment for some first-time visitors, especially homeowners. Once they get accustomed to the environment and its possibilities, however, it frees them to immerse themselves in the products in a way they never have before.
"There's a level of comfort that comes with just being free to learn and explore," Hokenson says. "Without the pressure, I think it also builds a nice trust between the team onsite and the customer coming in. I can't tell you how many times people have said, 'This has been so helpful. I can't believe it's free.'"
Pam DiVenuti, architectural products manager for Mid-Cape Home Centers, a Cape Cod-based building materials dealer that sells Marvin products, concurs that Marvin at 7 Tide has become "a fantastic resource" and complement to Mid-Cape's more traditional showroom experience. 
Marvin at 7 Tide can "literally bring a design to life for homeowners," she says, providing a unique asset to both homeowners and the architects and designers who are working with them. "The scale and proportion can be so difficult for homeowners to wrap their heads around. When we go into the Marvin Living Room and are able to project life-sized window and door units that replicate the scope of the project, showing the actual sizing that is proposed, it's a huge help for people," DiVenuti says. 
The people behind the curtain
Hokenson leads a staff of four at Marvin at 7 Tide. The staff helps visitors understand the purpose and possibilities of the venue and then works to help them get the most out of their experience. The vast range of options offered at the facility initially can overwhelm customers, Hokenson says, but staff members are adept at providing guidance so visitors can narrow their focus and use the center in a way that is best for them and their particular needs. "We're almost translators in that sense of being able to talk about the product in a way that the average homeowner can understand," Hokenson says.
A.W. Hastings also faced a communication challenge when attempting to explain to staff what the venue would mean for visitors. That made getting key people into the facility to see it for themselves critical to the implementation process. The company took busloads of A.W. Hastings employees to Marvin at 7 Tide when it was time to open the doors.
"No matter what your role was, whether you were driving a truck, working in marketing or making sales, we wanted you to see it," Miana Hoyt Dawson, director of marketing for A.W. Hastings, recalls. "We brought everybody through the space and walked them through what an experience would be like for a client and allowed them to ask questions and let the idea of the place marinate with them so that they could speak about it clearly and help support it as we were rolling it out."
Evolving with experience
Because Marvin at 7 Tide marked such a fresh approach to showcasing products and their potential, Hokenson says the use of the venue has changed as staff, retailers and others understand better how people interact with it. For instance, A.W. Hastings shifted its annual fall retail forum to Boston and brought its retail partners to the site to enjoy a hands-on experience they could tout to their customers.
A.W. Hastings established the facility with the idea that it would largely serve architects and designers who would bring in their clients, but Marvin at 7 Tide has proven popular for individual homeowners who arrive on their own without appointments. Moving forward, Hokenson expects more adjustments and advances await.
"One of the beauties of this space is that we are positioned to be constantly evolving," Hokenson says. "When we launched, we had a certain idea of how the space would be used and who would use it and that idea has evolved. As we test out different things, we will be able to continue to pivot and evolve in real time. There's so much we can do here."
---
Excellence in installation | 
Avanti Industries LLC 
By Tom Gresham, for Window & Door magazine

A Team Effort 
Building partnerships with suppliers is a key element to success
Beau Jasmer, regional manager for Industrial Sales Corporation, a supplier for Avanti, says Avanti takes a customer-centric approach that resonates with everyone who works with the company. "They have been consistent about communicating to their partners the importance of setting themselves up in everything they do to best serve their customers," Jasmer says.
Avanti's work with its partners is marked by a sense of clarity, transparency and humility, he reports. "They state what they're hoping to do right out of the gates," Jasmer says. "They ask if you're a partner who can help them get where they want to go. Once you show that you are, you're part of the team and you work together to accomplish those goals."
Dustin Petty, president of Avanti Industries, a manufacturer and installation contractor of vinyl window and door systems based in Glendale, Arizona, keenly understands the labor shortage that afflicts the industry. Without a skilled workforce, Avanti cannot pursue its ambitious builder-direct model of operation, where the company manufactures and installs 100 percent of all products it provides to its customers. "We can come out with all kinds of cool, innovative products and develop the best processes for installing them, but if we don't have the right people then it isn't going to matter," Petty says. 
Avanti reports that its ability to attract and retain workers in a challenging labor landscape is among the reasons for its rapid growth. The company was ranked No. 212 by Inc. Magazine in its 2018 listing of the 5,000 fastest-growing privately owned companies. Avanti produces and installs windows for 19 of the top 30 single-family homebuilders within the Phoenix, Las Vegas and Tucson markets, according to the company. 
Petty says Avanti's sudden ascension has not arisen from an emphasis on growth but on perpetual improvement. "Our view is that growth just happens when you do things right," he says. "We want to focus on moving a bit closer to excellent every day, and in many ways we feel like we're just getting started. As long we keep focusing on that and improving on everything we do, the growth will take care of itself." 
Chad Nuessle, regional vice president of purchasing for Lennar Corporation, a home construction company and one of Avanti's customers in the Southwest, says Avanti's devotion to continuous improvement is among the company's clear strengths, along with an organized, process-driven method that guides its customer service.
"We always rank our trade partners on price, service and quality, and [Avanti] certainly does great in each of those, but their [service] is really what makes them stand out far and above everybody else in their market," Nuessle says. "They're a service-oriented company both to us and to our homeowners, and that's very important to us."
The AIM strategy
Petty says the builder-direct model allows the company to ensure quality control of the process for its customers. For it to work, however, he says Avanti needs to excel in three key areas: product, installation and, perhaps most importantly, people. Avanti has taken a methodical, purposeful approach to tackling each of those critical components, including establishing the Avanti Install Method (AIM), a series of installation methods. 
"AIM is basically about using superior products with very clear, straightforward methods for our installation teams to execute," Petty says. "It's our way of making sure every single window that we install is something that we can be proud of. It also helps the other trades working downstream from us to do a better job as well."
AIM is designed by Avanti and based on firsthand experience installing windows in real-world, new construction. Tested and recommended by DuPont, AIM takes the guesswork out of the complex install conditions faced by window installers throughout the nation, Avanti reports. The program serves to help installations be successful on the first trip, preventing the need for subsequent visits. Petty explains that this is valuable to its builders because "the quicker they can build the house, the more houses they can build, the more money they can make." 
Further, Petty says that AIM lowers customer liability through the use of advanced butyl-based flashing products and ownership of the sill detail in all conditions; providing extreme protection from downstream trade damage and promoting seamless integration with the weather-resistant barrier as a whole. 
Creating a workforce of experts
To ensure proper execution of AIM, Avanti developed AE, the Avanti Expert program. AE is designed to train employees toward achieving superior proficiency in the field of window and sliding glass door installation. The program trains workers to ensure the proper execution of AIM, but also details a clear route for employees to advance in the company and earn more money and responsibility. The program serves both longtime window installers and newcomers to the field.
Petty says AE is an effort "to bring sexy back to the trade of installing windows." The response from workers has been enthusiastic, he says. 
"Whether it's someone who has been installing windows for 15 years or it's a new employee who has only been in the working world for a few years, what we've heard from them has been, 'Gosh, I've never had someone take this much time to sit down and talk about my future and to really show me what I need to do to be successful,'" Petty says.
One way that it benefits a customer such as Lennar, Nuessle says, is that Avanti empowers its employees to make decisions in the field, creating a more decisive, reliable customer experience. He also suggests that Avanti appeals to workers because it "puts a clear career path in front of them on day one."
"When you tell a tradesman today that [you] can work your way up to management by hitting certain, specific milestones that can be reached in a certain time frame, it really gets them excited to come to work," Nuessle says. "It keeps them around and retention goes through the roof."
A commitment to employees
Petty says Avanti's consistency in following through on its pledges to employees has been key to demonstrating to workers that the company's commitment to them is real. 
"You can tell someone what you're going to do for them in terms of skills and wages when you hire them, but if three months later nothing has changed, that is going to change their view of you," Petty says. "We are very specific in our approach to working with them on what we've outlined for them. In that way, we're telling them that if you can make the commitment of showing up every day and helping us grow as a company, we're going to keep our commitment to you."
Ultimately, Petty says, Avanti's efforts to sharpen its methods and strengthen its workforce are meant to help tighten the company's ties to its customers.
"If we can get all of these details right in the production and installation of our windows and we've got the people to back it up, we believe our customers are going to want to partner with us more and more," Petty says. "We want them to say, 'I don't want to bother going with someone else when I know it will be perfect with Avanti.' If we can do that, we're going to continue to grow." 
---
Creative Approach to Service and Marketing | 
Renewal by Andersen of Pittsburgh 
By Steven H. Miller, for Window & Door magazine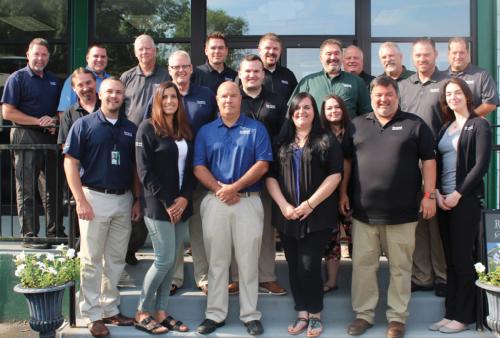 Virtual Complications 
Yelp's software, an imperfect science
The Yelp page for Renewal by Andersen of Pittsburgh displays just three reviews, all very negative, all from people who were put off by sales experiences and did not become customers. Those are Yelp's "Recommended" reviews.
There are also about 40 "Not Recommended" reviews, which only display if users click a light gray link at the bottom of all the "Recommended" reviews. Those 40 hidden reviews are glowingly positive, but are not counted in the business's Yelp rating, which is a dismal single star, in stark contrast to the company's 4.8 (out of 5) stars on Google.
Yelp does not disclose why these specific reviews are "Not Recommended," but a Yelp spokesperson offered some general information about the process: "The recommendation software is engineered to weed out possible fakes (several reviews generated from the same IP address), biased reviews (written by a competitor or disgruntled employee, or solicited by a business owner from friends, family members or favorite customers), and unhelpful rants or raves. The software can also weed out reviews written by less active users, which can be real reviews based on real experiences, but we don't know enough about the user to recommend their opinion to our community."
The Yelp Content Guidelines stress that owners should not ask customers for reviews, which the Pittsburgh branch did, even sending customers the page link, not knowing it was a violation. Many of their Not Recommended reviews were first- or second-time reviewers, which might have suggested owner solicitation. However, Yelp says that, "first-time reviews are not automatically discounted. Our software is always working, evaluating and re-evaluating reviews. As a user becomes more active, the software learns more about them and could deem that user more trustworthy. It's possible for reviews to move from not recommended to recommended and vice-versa."
Yelp adds that the only way for a business to request human assessment of a review is to flag it for a Terms of Service violation.
Having a good reputation has always been a valuable asset. In the age of internet reviews and social media, it can be a matter of success or failure. But how can a business get a good reputation? Mike Bazala, branch manager of Renewal by Andersen of Pittsburgh, which maintains a 4.8 out of 5-star rating on Google, thinks that the best way is to earn it. He built the business around that idea. 
Renewal by Andersen of Pittsburgh, one of almost 100 branches, opened its doors in 2001, and Bazala has been there from the beginning. The branch employs about 50 people and subcontracts with between 100 and 150 installers. The marching orders for all those people are to provide the best possible customer service.
"In the past, we went after homeowner satisfaction, to be the best company in the window and door industry," recalls Bazala, but the company has since raised its sights. "We want to be a world-class experience, compared to companies like Apple, Ritz-Carlton and Tesla."
Bazala's method for achieving that goal starts at first contact. "It comes down to how you treat people from the beginning. When you look at every interaction we have with clients and potential clients, we want to leave those people in a better, more informed situation than when we met them, whether or not we sell them windows and doors," he says. "We show them why we think we're the best solution, but sometimes we'll tell them we're not. We want them to make an informed decision. We'll do an inspection of their windows and doors, and sometimes they don't warrant replacing, they just need service."
Bazala's installation crews draw particular praise in online reviews. They are often complimented for their punctuality, politeness and respectfulness, neatness and cleanliness of the job, and professionalism. Bazala attributes that success largely to training. He says that the company offers a lot of in-the-field as well as classroom training as part of its onboarding. New employees are partnered with more seasoned staff, and best practices are shared within the company. 
Moreover, though, he believes it's a matter of getting people to understand what a positive customer experience is all about. "We do this every day. Sometimes, we get into our rhythm and do our thing, especially when it's on the installation side," he points out. But he encourages staff to look at it through the customer's eyes. "Walk them through the process of what we're doing, how we're going to do it, get their take after the first window or door is installed and make sure they're okay with it. Really involve the customer in every step of [the] process from sale to completion of the install. Keep that line of communication open."
Lasting impressions
First impressions are important, but last impressions may be even more impactful. Once the install is completed, Bazala has instituted an extra service called the free 15, where his crew will approach the homeowner and ask if there's anything else they can help with around the house. The crew asks if anything needs to be done that they could do in the next 15 minutes, including cleaning gutters, shoveling driveways, or anything else they have the means and tools to do. 
He adds that it is important for employees to reinforce the value of good customer service and promote positive behavior. "If somebody gets a good review, we send that out within our platforms internally, to get the behavior we want to see every day," he says.
In addition to striving for great service, Renewal by Anderson of Pittsburgh engages in many traditional marketing activities, sometimes with a twist. The company has a local marketing team, hosts showroom events, and attends local events throughout the community. "We'll do the home show piece and canvassing," Bazala says, "but there are only so many home shows or remodeling expos you can get to." He says the company thinks outside the box to get the Renewal name out there—for example, the company will have a booth at a bridal show or an arts-and-crafts fair. 
He also cites corporate support from Renewal by Andersen as "a sizable piece of the effort."
Online communication—Instagram, Facebook, Google reviews—are also a very big factor in marketing. "The online piece has evolved tremendously," Bazala comments. "We realized [online reviews are] a great way to get our customers' experiences out to the community. We started asking customers if they'd be willing to write a review for us online. Before, it took direct word-of-mouth to get things out. Now, anybody can read it in a second when they're researching windows."
Bazala feels that the company's online presence has had a major, positive impact on his branch. "The internet has helped us grow our business," he believes, "because it's easier to spread the word of what we've been doing all along." 
---
Overall Excellence | 
Unified Window Systems Inc. 
By Tom Gresham, for Window & Door magazine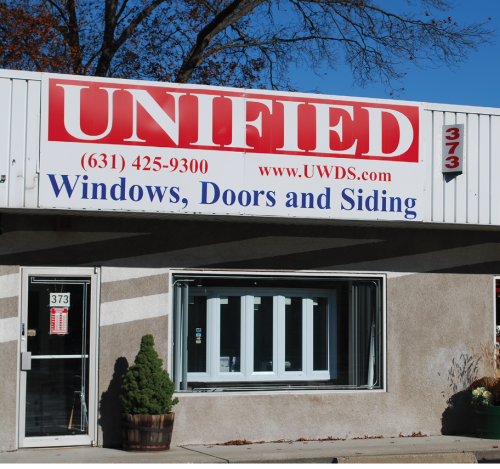 The headquarters of Unified Window Systems, in Hempstead, New York, has a conference room decorated with large posters. One poster given a particular place of prominence reads, "Treat every customer like they are your mother." For the leadership team at Unified Windows, those words go a long way toward explaining the company's success.
"It's kind of silly but it really works," says Chase Peres, president of Unified. "It's about us always trying to be honest with people, solving their problems and helping them with whatever they've called us for. We try to treat people like we would a family member. We try to do the right thing for them always. And they remember that."
Unified, this year's Window & Door award winner for Overall Excellence, has been in operation for 29 years. Most of its revenue stems from residential window and door sales, but Unified also provides roofing, siding and attic insulation, among other services. Unified, which has five showrooms in New York, represents 10 brands, including Andersen and Pella windows. Emblematic of Unified's longevity and strong ties to its partners, the company has been installing vinyl windows from Ideal Window, in Bayonne, New Jersey, since 1989.
Joe Ravana, director of purchasing for Allied Building Products, says Unified and his company have a strong relationship because of their collaborative push toward mutual success. Ravana says Unified distinguishes itself through its employees and commitment to excellence. "They have established a good reputation for quality work and customer service," Ravana says.
Steven DiMare, CEO of Unified, says the company thrives on a high-volume business that can reach 600 individual jobs in a month. Peres says Unified's approach leads to price benefits that prove attractive to customers.
"We're a volume-based dealer; we leverage our distributors and manufacturers based on our volume and pass that directly onto our consumers to make them happy," Peres says. "That's really what drives our business."
Best practices
Unified closely monitors customer feedback and sets goals related to it. The company currently has a 99.8 percent customer satisfaction rating, based on responses to GuildQuality surveys and a combination of other rating systems that include the Better Business Bureau, Facebook, Yelp and others that the company tracks. Unified maintains an A+ Better Business Bureau rating. DiMare says Unified treats those metrics as critical clues to how well the company is performing.
Unified's emphasis on customer service begins with communication, DiMare says. When a customer signs a contract, they receive a letter that details for them who will do the work, when they will do the work, how long the work will take and who to contact if they have any questions or concerns. DiMare says Unified preaches communication to its employees and tries to make it as simple as possible for customers to contact the company via the phone or internet. In fact, DiMare's email address is featured conspicuously on the company's website so anyone can reach straight to the top of the org chart.
"We really go out of our way to stay in touch with our customers," DiMare says. "We find that, when there's a problem, it's usually because of a lack of communication somehow or another. We do everything we can to avoid those failures in communication."
Mission-driven
DiMare says Unified's approximately 50 employees have bought into the company's culture. He says employees are unafraid of voicing their concerns if they think leadership's plans stray from the Unified mission.
"If we step away from our philosophy for even a second, our salespeople will come back to us and say, 'I'm not going to do that' or 'I don't think we should be doing that,'" DiMare says. "They won't do something that doesn't fit the idea of treating every customer like they are your mother. They really believe in it."
Peres says both he and DiMare have risen through the window and door industry ranks from the field to the boardroom, tackling about every job and task along the way. That experience gives them a thorough view of the industry and its trends and challenges. It also helps them relate to their employees and customers. 
"Whether it's the person cleaning the warehouse, the installer putting in doors or windows or the person answering the phone, we've done all that," Peres says. "When we ask them to do something, they know that we've been in that same position and done that before ourselves. I think that goes a long way and really resonates with them."
Looking ahead, Unified plans to continue to grow within its market. The company advertises extensively in local papers, with outdoor ads and on TV and radio commercials, and has become more ambitious this year with digital marketing. DiMare says Unified is exploring the possibility of handling other products, such as interior shades, blinds and curtains, but will only take those steps after careful consideration.
"We're very, very conservative," DiMare says. "We never make quick moves. We always think things through and discuss them and go over them; we dip our feet in the water over and over again before we finally jump in. We're always aware of the opportunities out there, but we don't want to rush them. When it's the right time to do it, we'll do it."
Peres says Unified's steadiness helps explain its reliability and appeal to customers and others. "We've got the same license numbers, the same phone number, the same main location here in Hempstead from when we started," Peres says. "You can count on us to be there. I think that says a lot about who we are." 
---
Best Showroom Design | 
Windows, Doors & More Factory Store
By Steven H. Miller, for Window & Door magazine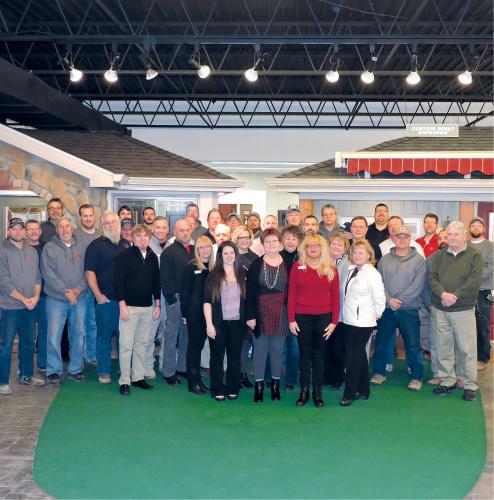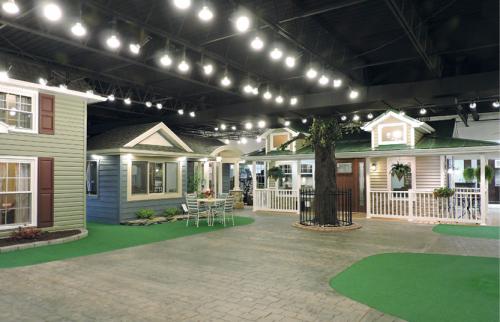 An Evolution of  Commerce 
In 1983, the original company sold the Home Guard doors it manufactured to the industry. The expansion into retail was not planned, but rather a bold move in response to opportunity, according to Hunter. He explains that word got around the community that the company was making wrought iron security doors. Homeowners began to show up and request to buy doors. Seeing the possibility of generating much-needed cash flow, Hunter and his partner Brian Barbieri started a retail company, allied to the products the company manufactured, but not exclusive to it.
The two companies grew in parallel. The manufacturing side expanded into vinyl windows, entry doors, siding and roofing. The retail side kept adding services until it became the full-service remodeling company it is today. Hunter says the company even currently has the capability to build new houses, though he has no intention to do so. Hunter says he and his partners are happy staying in the home improvement niche where, he says, "we can do pretty much everything from A to Z." 
Currently, the showroom mainly represents the window and door products of sister company, Home Guard, which comprises about 85 percent of Windows, Doors & More Factory Store's window and door sales. The company also sells Great Lakes windows, Provia storm doors and Masonite entry doors.
In late 2008, when the Great Recession was accelerating its downward plunge, Windows, Doors & More Factory Store of Fort Wayne, Indiana, saw opportunity. President Kevin Hunter and his two business partners bought what was an Ethan Allen facility for 30 years at auction and set out to build a one-of-a-kind showroom in the 22,000-square-foot space. "It was a calculated risk that, fortunately, worked out rather handsomely," Hunter says. "Many of our suppliers scratched their heads, wondering if it was really a good idea. But now, everyone agrees it was really a smart move."
The showroom is a replica neighborhood indoors. It features a cul-de-sac street with pavers and stamped concrete on the street, a thick tree "growing" in the middle, and five houses with front lawns and plantings—one even has a fountain. Although the houses are sized down somewhat, they are not just facades. They include built-out interiors that present an array of product options at full scale, in context, with full-sized applications of doors, windows, and exterior and interior finish materials. And, to add to the customer experience, the company even contracted a mini-Starbucks to serve premium coffee to visitors.
"My wife came up with the whole cul-de-sac concept," Hunter explains. "She gave me a perspective of what women homeowners want to see and she nailed it." The ability for customers to see and touch the siding, windows, doors and everything else, makes the selection process easier and less stressful. "You know what you're getting," Hunter emphasizes. "[Customers] aren't looking at pictures or little samples. They're looking at the full-blown real deal. It really has put consumers at ease."
Hunter reports that the company has grown significantly since 2009 and is a dominant player in Indiana. The company employs about 75 people in all, including nine reps for exteriors, seven interior and kitchen and bath designers who consult on design and oversee the construction, and 27 installation crews. Some employees have been on staff for more than 25 years. 
Hunter credits much of his company's success to the people who work with him. "I've been blessed to have found a remarkable group of people who also have passion and care about what they do," he says. "It's great to have a nice showroom, but you have to have the staff, the right equation, with everybody like-minded that it's about the customer. And you have to make sure they know they're appreciated." To celebrate its 35th anniversary, they took the entire company on a seven-day cruise down to the Caribbean. "You're not going to get to the size of company we are by churning and burning people," Hunter states. "You've got to take care of your people." 
Community outreach
Windows, Doors & More Factory Store is deeply invested in the community, Hunter says, participating in Big Brothers and Big Sisters programs, sponsoring several boys' and girls' Little League teams, donating money and materials to Habitat for Humanity, and supporting the Community Harvest food bank, to name a few. 
The company also leverages the tremendous resource that is the showroom. Every Christmas, the company pulls off a community service event that takes clever advantage of its indoor street: Mr. and Mrs. Santa Claus take up residence in the middle of the showroom in a real antique sleigh dating from 1864, and take free pictures with kids. For Christmas 2018, the company has arranged for the Clauses to be joined by live reindeer. 
The company's presence and involvement in the community is an essential part of its business model. "We don't do it the way the experts tell us you should," explains Hunter. "We don't go to market with telemarketing, door-knocking, the high pressure, one-night close. That's not our style." Instead, he says the company focuses on being a trusted neighbor and partner.