And the Winners Are...
2019 Window + Door Award Winners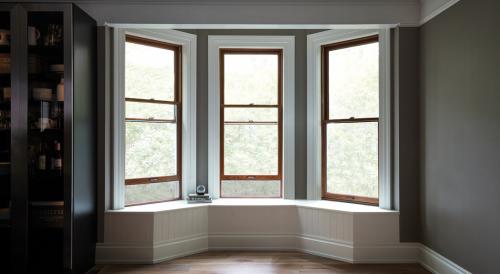 Integrated Rolscreen in Architect Series Reserve Double and Single Hungs by Pella Corp.
Innovative. Forward-thinking. Transformative. Truly unique. These terms, among others, are those judges used to describe the winners of this year's Window + Door Awards (formerly, the Crystal Achievement Awards). Judges reviewed nearly 50 entries this year to determine which product in each of the six categories would take home top honors. Each of the following winning entries stood out for its ability to provide a functional and, at times, attractive solution to a common industry challenge. 
The Judges
Window + Door appreciates the time all the applicants put into the process and encourages companies to keep sharing their innovations with us. We'd also like to thank our judges for volunteering their time and expertise to weigh in on the numerous entries.
2019 Window + Door Award Winners
Most Innovative Window 
Integrated Rolscreen in Architect Series Reserve Double and Single Hungs by Pella Corp.
Most Innovative Patio, Multi-slide or Multi-panel Door 
TS.X0 by Panda Windows & Doors
Most Innovative Window Component 
SafeGard 2R by AmesburyTruth
Most Innovative Door Component 
System M Pivot Closer by FritsJurgens
Most Innovative Machine/Equipment 
Prozssmcu/Cutting & Fabrication by Protomach/GML Machinery
Unique Innovation 
WinTrax by GED Integrated Solutions
Most Innovative Window 
Integrated Rolscreen in Architect Series Reserve Double and Single Hungs 
Pella Corp.
Judge Comments: "The self-deploying/self-retracting operation of the screen that rolls hidden out of view in the window's head and sill is ingenious. This window will be enormously appealing to many homeowners because it provides clear closed window views unhampered by screens, requires no seasonal screen changeout, keeps screens cleaner, and eliminates the screen track."
"This is a truly innovative window, strong in traditional characteristics and providing desirable, new features, while minimizing traditional sources of homeowner complaint."
Although many homeowners desire the functional benefit of screens when windows are open, screens also can hinder views and many homeowners complain about their unattractive aesthetic. This year's Window + Door Awards judges applauded Pella Corp.'s Integrated Rolscreen for its ability to solve the problem of occasionally needing screens yet allowing homeowners to easily achieve the unobstructed views they want when windows are closed.
"The Integrated Rolscreen product is a game-changer for consumers and for the future of window screens," says Matt Kiernan, director of strategic innovation at Pella. "We know from our experiences and research that the majority of architects and homeowners are not big fans of screens because they interfere with the view and aesthetics. Now, to have hung window screens there when you need them, and hidden when you don't, creates a completely new solution that homeowners value."
The Rolscreen is a retractable screen concealed within the window frame that is designed to move with the sash of a double- or single-hung window; it appears when the window is open and disappears into the window frame when the window is closed. Available in the upper and lower sash, or lower sash only, the screen is held in place by high-strength magnets. It is manufactured from InView screen cloth, a black vinyl-coated 18/18 mesh fiberglass screen cloth that complies with ASTM D 3656 and the performance requirements of SMA 1201.
The window and screen solution is particularly suited for historic styles. Dennis O'Rourke, Pella architectural consultant, shared in the award entry that, "It is innovations like these that help Pella stand out from the competitors by offering solutions that solve customer problems and maintain the historical integrity of our community."

Most Innovative Patio, Multi-slide or Multi-panel Door 
TS.X0 
Panda Windows & Doors
Judge Comments: "The Panda TS.X0 looks more like a glass wall system, rather than a typical patio door. It provides large panel sizes and the narrow profiles to support greater vision areas."
"[TS.X0 offers] extremely large size capabilities, thin rails and stiles, and new roller technology to support weight and ease of opening."
Maximizing outdoor views and creating seamless indoor-outdoor transitions are among the biggest trends in home design today. As glass sizes increase, however, manufacturers are tasked with creating systems that show as little frame as possible, yet operate easily. This necessitates strong but compact inner workings.
"At Panda Windows & Doors, we really do love a good engineering challenge," says Alex Teran, lead engineer. "The TS.X0 maximizes glass and breathtaking views. Geared toward high-end contemporary projects, we have created a system capable of panels as large as 250 square feet with stiles less than an inch thick."
The TS.X0 allows the header, track and frame jambs to be recessed into the floor and can accommodate panels up to 250 square feet, 16 feet high and 2,000 pounds. The 15/16-inch stiles are structurally reinforced for panels more than 10 feet tall, and steel rollers enable smooth operation. Multi-point locks and reinforced fabrication secure this system from forced entry. 
There are 25 standard color powder coat options, as well as custom color matching and wood grain textures. Thermally broken systems can be finished with a two-tone color scheme. TS.X0 also is capable of creating radius systems, with the tightest radial depth achievable of 8 feet.

Most Innovative Window Component 
SafeGard 2R 
AmesburyTruth
Judge Comments: "Many homeowners like the option to have an opening control device on their windows, but when they see a sample of how unsightly the devices are sticking out on the window frames, they often do not choose this option, except where required by code. Child safety should always come first and with this new innovative component, owners can have both a safe and nice-looking window."
"Child safety is a critical issue that is addressed with this window component. This outranks everything in my mind."
More than 5,000 children are treated each year for injuries related to falling out of a window. AmesburyTruth tackled this problem with its SafeGard 2R, which meets the requirements of ASTM F2090-17 to address fall prevention. "With SafeGard, we are hoping to be a part of the solution to address this issue, and to enhance the safety of our communities," says Aaron Mundt, director of product management.
Designed for use with casement systems, the window opening control device limits a window opening to 4 inches, which allows for air flow, but is too small for risk of fall. The SafeGard 2R also offers the ability to egress, if necessary, by operating a dual-action release; no tools or keys are required. The device automatically re-latches and is concealed when the window is fully closed. Other features include self-locating track and arm, positive action latching, field adjustability and use of common fasteners. 

Most Innovative Door Component 
System M Pivot Closer
FritsJurgens
Judge Comments: "The hardware is impressive in its operation. In addition, the swinging of the slab is less obtrusive than the operation of a traditional large slab."
"The System M Pivot Closer provides the functionality and durability required for this type application while saving the contractor time and money. I can only imagine that installers would much prefer this pivot closer to a cement cased (recessed) floor closer."
Experts in fenestration hardware predict door hardware—and pivot doors in particular—will make a big splash in coming years. FritsJurgens' System M Pivot Closer addresses the pivot door trend in an unusual way. Rather than using traditional pivot closer hardware technology that puts the pivot closer into the floor or ceiling, this hardware is located in the actual door slab. At the door frame opening, there is only a surface-mounted floor plate and ceiling plate; there is no need to cut into the floor or ceiling to install the pivot closer.
The door panel and frame are prepped in the factory to accommodate the top and bottom hinge inside the door, with the surface-mounted floor and ceiling plates attached to the sill and head jamb. The door ships to the jobsite, where any installer can install the pivot door with the closer into the door opening.
Several door manufacturers displayed pivot entry doors with the System M Pivot Closer at the 2019 International Builders' Show in Las Vegas, to include Sierra Pacific, Optimum, Fleetwood, Caoba, Western Window Systems and Loewen. A Sierra Pacific representative shared several reasons for using the System M Pivot Closer, such as easy installation, strong hardware, adjustability in the top pivot, the 90-degree open hold and adjustable closing speed.

Most Innovative Machine/Equipment 
Prozssmcu/Cutting & Fabrication
Protomach/GML Machinery
Judge Comments: "The Prozssmcu creates greater efficiency for the manufacturer."
"The optimization feature of less than 1 percent is fantastic. Combine this with the ability to operate in the hard-to-reach areas makes this equipment invaluable."
With the ongoing labor issue, manufacturing facilities continue to look for solutions that are efficient both in terms of space and productivity. This year's most innovative machine, Protomach's Prozssmcu for cutting and fabrication, addressed both aspects of productivity for one of its customers, which was able to eliminate all the punches, milling machines and double-head saws in its production. The company runs one machine for frames and the other on sashes. Operation requires two to three operators and one machine produces about 350 squares per eight-hour shift, including pre-loading and labeling. The parts are ready to go to the welder when they get to the end of the cycle on the Prozssmcu. 
Advertising reduced floor space, the cutting and fabrication equipment from Protomach allows users to cut and machine profiles in one machine cycle. It offers a high-speed computerized multi-track in-feed saw that cuts all frames, sash and mullion profiles.   
The optimization system, says the company, often realizes a less than 1 percent loss of material. Management of the remaining bars is integrated into the cutting center, which receives files from the window manufacturing software, creates production batches, and optimizes and transmits the information to the machine. Inventory management of the remaining bars is treated directly in the saw.
Further, the machine is designed to machine profiles in difficult-to-reach areas that normally would necessitate punches or milling machines, according to the award entry. The fully programmable CNC uses spindles with drives paired with the axes to process two frames or up to four sashes simultaneously. A programmable two-axis loader is designed for precise positioning and optimized for the best time. Pieces come out fully machined and cut to the correct length ready for the welder cycle, according to the company, eliminating the need for manipulations between the saw and the welder. 

Unique Innovation 
WinTrax
GED Integrated Solutions
Judge Comments: "Digitalization is the future of the fenestration industry. Solutions that help fabricators to become more efficient are key in helping companies grow, and, in turn, the industry."
"Advanced RFID systems like GED's WinTrax will increasingly be used by window manufacturers to manage production operations. WinTrax's movable 'portals' give the manufacturer needed flexibility to readily change the workflow on the factory floor while still maintaining the RFID tracking process."
Up to 15 percent of a worker's time in shipping can be spent scanning barcodes; lost and misplaced rates of windows produced in a facility can top 2 percent, according to statistics reported by GED. The company designed its WinTrax intelligent logistics system to address these issues.
The system tracks window assemblies through the production process by placing encoded tags on window assemblies. Portals that are placed throughout the manufacturing facility can scan the codes and provide real-time product location. Tracking reports, accessible through a web-based viewer, verify where windows are and send an alert if something is out of sequence or out of place. This visibility also helps reduce labor costs and the number of lost windows, the company reports.
"WinTrax is revolutionary for the industry because it automatically tracks windows without manual barcode scans predominately used today," explains Tony DiFiore, software R&D manager. "From eliminating lost windows within a facility to those getting loaded onto the wrong truck, WinTrax prevents unnecessary remakes and delivery delays. It's also an exciting technology for the future, as its scalability allows for expansion into areas such as automated process routing and takt time data tracking."
Check out the award winners from previous years here.