Childcare, Flexibility and DEI in Manufacturing
Women have tremendous power to close the manufacturing skills gap, but barriers remain, preventing women from entering—and staying—in the industry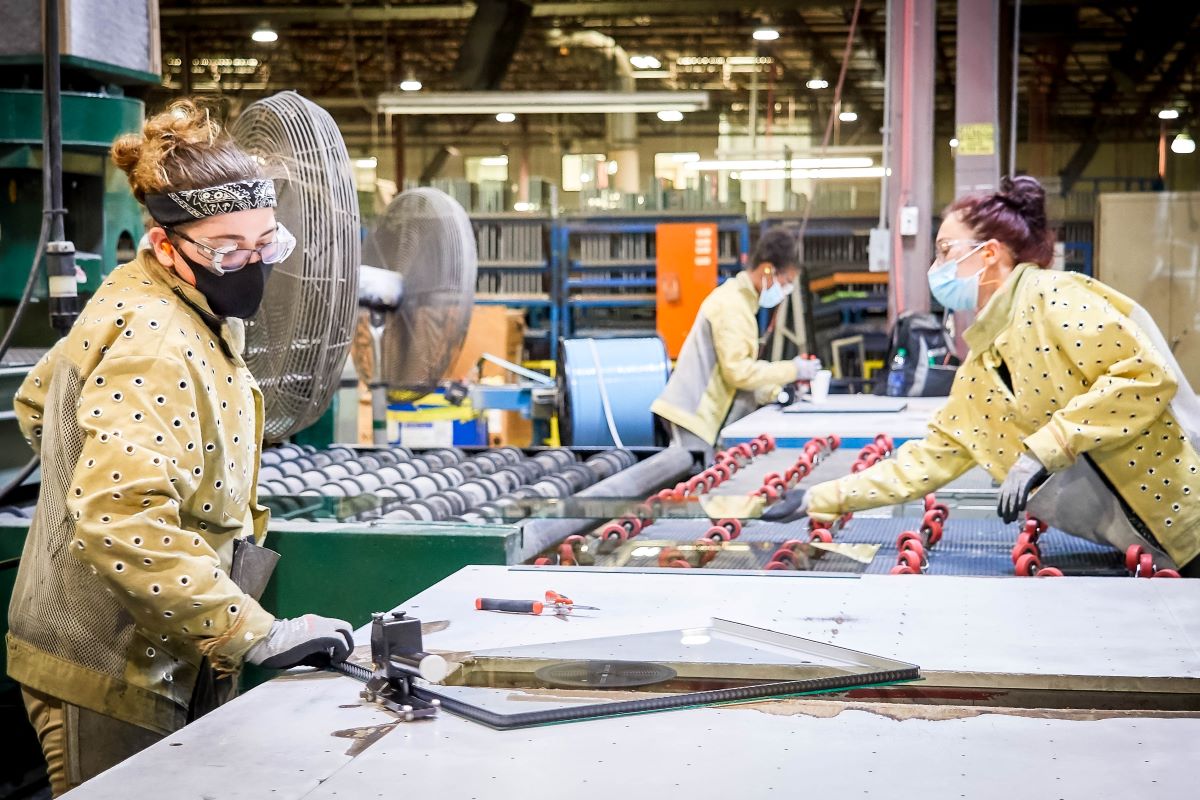 Photo courtesy of Cornerstone Building Brands
Manufacturers added 367,000 workers in the first 10 months of 2022, making it the best year for manufacturing job growth since 1994, according to Chad Moutray, director, Center for Research at the Manufacturing Institute and chief economist of the National Association of Manufacturers, during a webinar on Dec. 6, Breaking Barriers: Childcare and Flexibility Solutions for the Manufacturing Industry.  
Manufacturing has been "a bit of a bright spot lately" for female participation with women comprising approximately 29 percent of all workers in manufacturing—a trend that is continuing to rise. Total employees in manufacturing are also above peak pandemic levels, which Moutray says is mostly from women returning to or entering the workforce; male participation in manufacturing is "barely higher" than it was in February 2020, he says. 
There's still plenty of room for growth, though. Women represent a "sizable" talent pool that manufacturers cannot ignore, says Moutray. "Raising the percentage of women in manufacturing to 35 percent of the sector (800,000 more female manufacturing employees) would be enough to fill almost every open job in the manufacturing sector today." 
Challenges persist, however. Recent research by MI shows childcare remains one of the top barriers to parents returning to the workforce with childcare remaining cost-prohibitive or simply unavailable.  
Top childcare challenges 
26.6%
Difficulty finding childcare
Biggest challenges for employees (female, male) 
That same research examined other employee challenges, broken down by female and male respondents:
Lack of flexibility (job sharing, split shifts, telecommuting): 53%, 37% 
Lack of childcare support: 49%, 8% 
Lack of female role models: 43% (female only) 
Minimal opportunities for advancement: 36%, 49% 
Insufficient compensation: 32%, 55%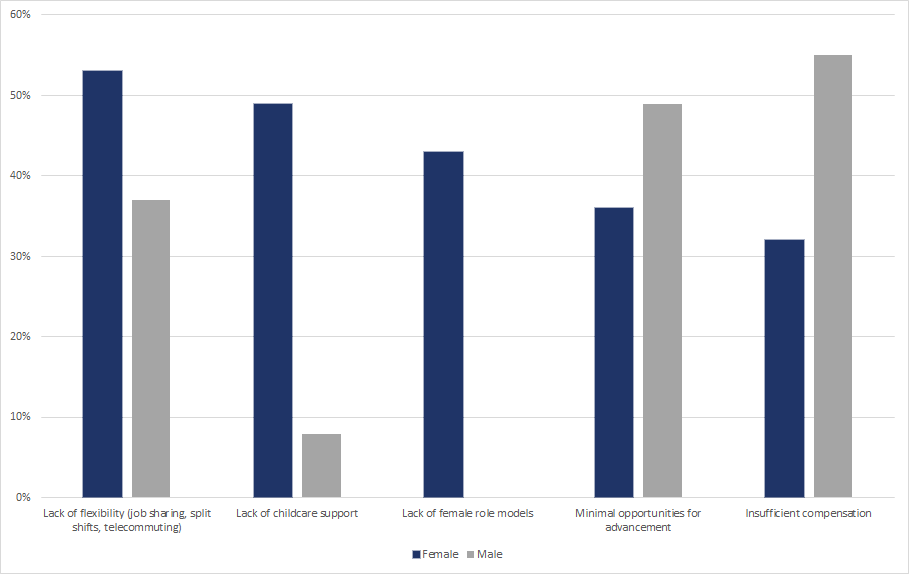 Above: Employee challenges, broken down by female and male respondents
Childcare and flexibility should be top-of-mind for companies looking to expand and diversify their workplaces. Moutray shared several key findings from the study that can help employers in their journey: 
Prioritize a diverse workplace. This is key to attract workers, improve productivity, retain employees and grow a company's bottom line. Companies that have increased flexibility show a correlation with the ability to attract new employees and retain current staff.  
Provide job training/continuing education opportunities. This can include establishing mentorship programs and employee resource groups.  
Stay competitive. This includes staying competitive with compensation and leadership development opportunities.  
Establish a pathway to move up the career ladder. An inclusive culture is something younger workers seek, says Moutray, not only with women, but with young people in other underrepresented populations as well. 
Communicate those values. Have a clear-cut handbook and communicate those values, especially during onboarding. "You have to show there is zero tolerance for harassment," says Moutray, going on to say that safety expands beyond the shop floor. "It also means safe in terms of being respected and not being harassed." 
Childcare solutions 
Nearly half of the females in MI's study indicated childcare is a top barrier to working. Manufacturers are taking note and exploring solutions to break down this barrier. Denita Wilhoit, vice president corporate shared services, Toyota, shared Toyota's efforts to support childcare for its employees. Its five pillars are: onsite childcare centers, backup emergency childcare, nanny-finding service, college coach and a special needs program. Wilhoit cites Toyota's commitment to "family care," not just childcare.   
For companies in the infant stages of exploring childcare options, Wilhoit says to consider three points. First, find a good partner that knows the area and can help find the best childcare. Second, investigate what resources are available in the state. Finally, be clear about the risks of an onsite childcare center, including potential liability issues or concerns over abuse or that issues between children might bleed over to issues between parents. 
Denise Rutherford, former chief corporate affairs officer and senior vice president, 3M (retired); C-Suite executive and board director, says 3M's parental leave policy allows each new parent 10 weeks paid and 10 weeks unpaid time off, in addition to the short-term disability women can use from the birthing process. More than 850 male employees took advantage of that 20 weeks last year, she says. Overseas locations also provide childcare onsite. "It's just good business having people at work knowing their children are well-cared for," she says. 
Other flexible solutions 
The COVID-19 pandemic drove companies to rapidly adopt work-from-home policies. Many employers are now re-evaluating this to determine the right balance between a remote workforce and the benefits of working onsite. Rose Lee, president and CEO, Cornerstone Building Brands, says everyone comes into the office on Wednesdays and that other in-office days are determined based off a group's need. "We try to give flexibility while still creating connection," she says. "We can get work done in a virtual environment, but if you stay completely virtual you diminish the community you're trying to create as part of the organization." 
"There's a transformation afoot now," says Rutherford. "We've worked on flexibility over many years; COVID helped accelerate what we were able to do, in part, because of necessity." Rutherford echoed Lee's sentiments that although workers demonstrated an incredible amount of productivity in a remote environment, concern remains around the lack of community. "People need to come back to the office at certain times," she asserts.  
With that in mind, 3M implemented a "Work Your Way" program—an employee-driven initiative with several tenets: 
Trust. Managers must trust their employees to do the work no matter where they are. 
Virtual first. Every employee is allowed to designate if they'd prefer to work mostly onsite, mostly remotely or hybrid.  
Meet with purpose. There are critical moments to be together in person. 
Evaluate impact. Supervisors prioritize examining output and objective attainment, not "facetime" or who's been in the office/online the most. "That's not how things happen anymore," says Rutherford. 
Employees on the manufacturing floor face a different set of considerations for flexibility, though. About half of 3M's 97,000 employees are in a manufacturing environment, and Rutherford says the company is still looking at how to implement flexibility options. Everything is on the table, she says, including part-time, flexible shifts, job sharing and more. 
Allies among all 
Equity requires every person—male and female—at every level of the company to be allies. 
Aneesa Muthana, president, CEO, co-owner, Pioneer Service Inc., stresses that the goal is not to put women on a pedestal, but rather to work toward stewardship and teamwork. "When we lose, we all lose, and when we win, we all win," she says. Although she acknowledges the difficulty of initially building that culture, "once you have a few champions on the floor, that's a game changer, especially for small manufacturers. We can't do some things big companies are doing, but we can have a human touch and truly care about each other. 
"Diversity means different things to different people," she continues, referencing gender, race, background and more. "Diversity champions innovation. It's important your team doesn't look like you and come from the same background as you, because then you've limited your personal development and the development of your company."  
Lee, who has been at the helm of Cornerstone for a little longer than one year, notes the C-suite is about 50/50 gender diversity now. She also stresses the importance of diversity in professional backgrounds. Her team is mixed with those with a history in the building products industry and others who are new, who can bring in lessons from other industries. 
The company has also reached out to communities and customer organizations to ask about initiatives and what's important to them. "Have a deeper engagement with the customer beyond just delivery and lead times," she says. "Create opportunities to understand each other more deeply. At the end of the day, it has to do with the culture that gets created." 
Get started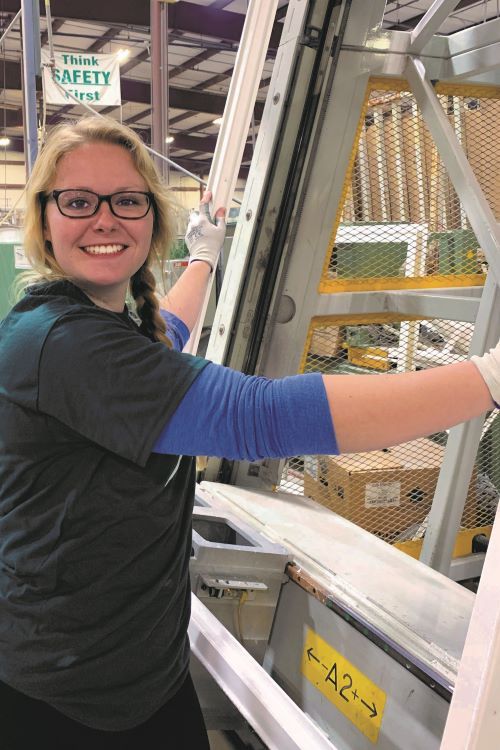 Muthana encourages companies to examine their values and what they want their companies to be known for beyond just making parts. "Obviously, that's what we do, but is that all you want to be known as?" she queries. "Sometimes you need to make difficult decisions to build a company that is more appealing to the next generation or to women. Those decisions can be painful short-term," she says. "I've gotten rid of people that made me a lot of money because I was looking for a better culture. Put the story before the spreadsheet."  
Rutherford recommends companies establish a process to assess its culture and outsource if need be. 3M surveys its employees and engages in conversation to solicit ideas and work through them before implementation so that there is less problem solving later. 
Lee says one of her favorite phrases is "change starts with conversation" and that those conversations must happen consistently at all levels. She also stresses that DEI isn't an "additional thing" in a company, but rather something that needs to be fully integrated. 
Tell the stories 
The struggle employees—and women in particular—face in the workplace related to childcare and flexibility are not new, but the solutions to ease these struggles and foster greater employee satisfaction and work-life balance are. "We've all been through these struggles, and we have to tell our stories," says Wilhoit.  
Each change and opportunity to impact a person's life is worth taking, says Rutherford. Be accessible, show up and be persistent. "When someone tells you no, go back and try again," she says. Discover local working group norms, especially with family-friendly policies. Company culture at a high level is important, but so is it's also critical that supervisors several levels down embrace flexibility. Establish formal and informal mentoring programs. "It's not only about mentorship; it's about sponsorship," she says.  
"Our companies will be so much better off over the next 10 years than we have been over the past 20, 30, 40 years," says Rutherford. "We have momentum now that we must keep going." 
NGA Resources  
Toolkit for DEI in the Workplace Toolkit for Manufacturing Careers Advancement
A note from Window + Door's editor 

The morning before this webinar began, I packed up my preschooler and 5-month-old, took the baby to daycare, dropped the preschooler at school, worked at a local coffee shop for a few hours, picked up my preschooler, transported him to daycare then rushed back home to get online on time for the start of this presentation.  
 

I felt harried, overwhelmed and a bit flustered at all the moving pieces of the morning. But it didn't take me long to change my mindset. As I sat at my desk with another fresh cup of coffee listening to the MI's latest research and subsequent discussion among this formidable group of women, I realized how fortunate I am to be able to have the ability to transport my kids and simultaneously maintain my career. 
 

I planned to take 12 weeks off for the birth of each of my sons. My first spent three weeks in the NICU and required surgery a couple months later. To accommodate for the unexpected medical issues, my employer at the time graciously granted me a couple extra weeks of leave and a part-time transition back to full-time employment. 
 

With my youngest, I took my planned 12 weeks, plus was able to miss GlassBuild America so I wouldn't be across the country from my infant. Being able to prioritize caring for my newborn, even though it meant foregoing attending a critical industry event, spoke volumes about the culture of my company and its family-friendly flexibility. That was further demonstrated when my oldest started preschool and his school schedule required me to transport him during working hours. Although it results in some hectic mornings, I remain grateful to not have to choose between his early education and my job. 
 

We'd love to hear from you: What policies and actions in your workplace have helped you overcome challenges relating to childcare, flexibility and DEI?