Creating a Culture of Gender Diversity
Wed, August 8, 2018 - 12:00am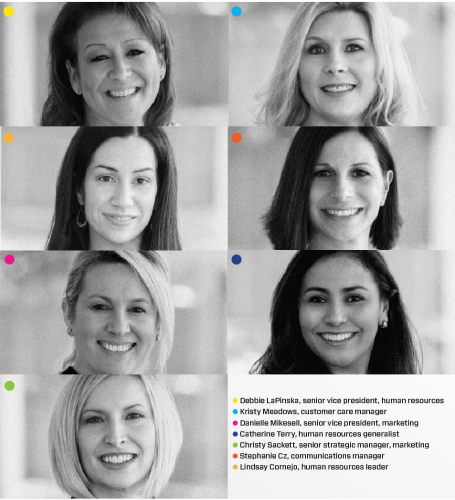 The PGT Innovations Leading Ladies program was created by Debbie LaPinska, at the direction of Jeff Jackson, president and CEO of PGTi. With 25 women and growing, the program focuses on mentorship, leadership skills and educational exchange.
Read The Return of Rosie, a related article in this month's issue of Window & Door. Further reading on Workforce Development is available here.

It is well documented that the industry is booming and optimism is high for continued growth. The Bureau of Labor Statistics reported in May 2018 that employment continued to expand in several industries, including manufacturing and construction. Manufacturing added 18,000 new employees in May, with construction also gaining 25,000 hires.
As anyone in the industry knows, the challenge remains in filling open jobs as the longtime labor shortage continues. Low unemployment, registering at an annual average of 4.4 percent in 2017, makes the challenge even more difficult. 
A plurality of voices across the manufacturing and construction industries have underlined the need to tap underrepresented labor pools, the largest of which is women. Though BLS reports that women constituted about 46.9 percent of the United States workforce in 2017, they held only 29.5 percent of manufacturing jobs, and an even smaller 9.1 percent of construction jobs. 
While the number of women in construction and manufacturing has generally been on the rise since the end of the Great Recession, the need for skilled workers requires that employers continue expanding the labor pool. "The workforce has dramatically changed since I first started," says Allison Grealis, president, Women in Manufacturing. "There are women now at all levels, throughout operations and within the organization, but there's still many opportunities for women in the industry."
Women in fenestration: the business case
Building on a 2015 study, "Why Diversity Matters," global management consulting firm McKinsey & Company surveyed over a thousand companies in 12 countries to analyze how diversity affected the organizations' performance on a variety of metrics. The 2018 study, "Delivering Through Diversity," found that companies in the top quartile for gender diversity on their executive team were 21 percent more likely to experience above-average profitability. The research also concluded that companies in the lowest quartile for gender and ethnic diversity were 29 percent less likely to experience above-average profits in comparison to the other companies surveyed. 
Research from the Manufacturing Institute also emphasizes the need for gender diversity in leadership. In the 2017 study "Women in manufacturing: Stepping up to make an impact that matters," the Institute investigated the continued gender gap in manufacturing. Representatives, in conjunction with APICS and Deloitte, surveyed over 600 women working in manufacturing and interviewed 20 manufacturing executives to evaluate how companies are recruiting and retaining women in the workforce. 
Survey participants reported many positive benefits of having a gender-diverse leadership team and company, including a diversity of perspectives, creative problem-solving and more balanced organizational management, in addition to better financial performance. 
Still, the study found that the gender gap persists. Of the women surveyed, almost three-quarters reported they felt underrepresented in the organization's leadership team. A recent poll conducted by Window & Door magazine likewise found that women are still the minority in management and executive positions. When asked what positions most women in their company held, survey respondents returned 13 percent for female owners/CEOs, 6 percent in management, and 6 percent in upper management, out of a total of 148 votes.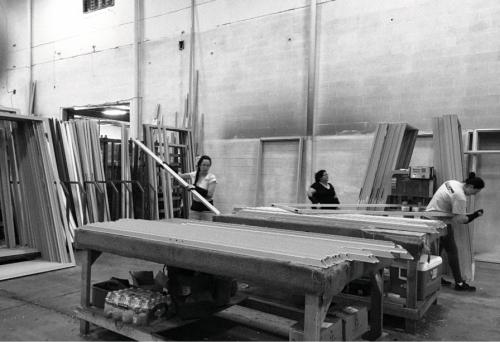 At Avanti Industries women comprise about half of the workforce in the plant. (Image by Window & Door staff.)
Recruiting a gender-diverse workforce
Even for companies with female leadership, recruiting can be difficult. Laurie Scarborough, co-owner of Louisville, Kentucky-based The Door Store & Windows, is experiencing the labor shortage firsthand. Like many cities, Louisville is at full employment, resulting in a reduced labor pool. The company's latest hire, a marketing coordinator, was recruited through the local university marketing department. Scarborough says that most of the company's recruiting success has come from word-of-mouth referrals.
While this particular female-owned-and-operated business is one example of how gender diversity is shifting in the fenestration industry, the problem of tapping into a talent pool of women persists broadly. Women in Manufacturing's Grealis says that companies that are the most successful in tapping into a larger labor pool and attracting women to the industry do so by developing a concrete strategy. "Most successful companies have a very detailed and executable plan, and a very dedicated and genuinely passionate executive champion for recruiting a diverse workforce," she says. 
Grealis goes on to discuss one of the big obstacles in recruiting: changing the profile of manufacturing itself. "People don't understand how manufactured goods got there; they don't know how modern and technology-focused manufacturing has become," she says. 
Women in Manufacturing is attempting to shift these ideas through its blog series, "Hear Her Story," featuring interviews with women in the manufacturing field. The profile series, which now has over 50 installments, includes answers to questions about a manufacturing employee's professional history, what her everyday workday is like, how she became attracted to a career in manufacturing, and what obstacles still remain. Many of the executives interviewed by the Manufacturing Institute indicated that work-life balance persists as an issue, especially for production/assembly line work, suggesting advanced scheduling as one possible solution.
PGT Innovations has also focused on this issue for team members, especially those involved in hourly manufacturing, says Debbie LaPinska, the company's senior vice president of human resources. "Often both parents are working, and they're struggling to make ends meet. One of the most expensive things they contend with is childcare," she says. In April of this year, PGT partnered with SKY Family YMCA to open a childcare center, the Sunshine Education Academy, on PGT's own campus in North Venice, Florida, that serves employees and can care for over 90 children. Hours start at 4:30 a.m. daily, and the facility has weekend hours as well.
National employment data suggests that childcare may still be a factor keeping women sidelined. According to the Bureau of Labor Statistics, the labor force participation of women with children aged six to 17 years old was 75 percent in 2016, higher than for women with children under the age of six, whose participation was 65.3 percent.
"[On-campus childcare] helps on the recruiting side," says LaPinska. "Workers have a difficulty finding a childcare center, and this is subsidized by the company."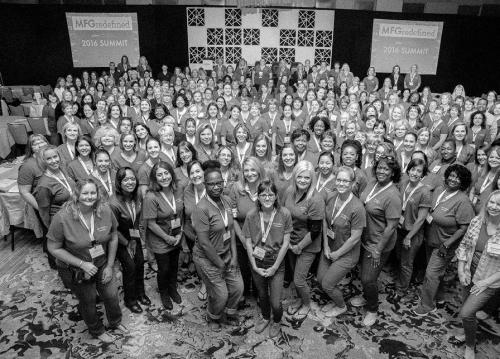 The 2017 Women in Manufacturing Summit welcomed 335 industry professionals. A three-day networking and education conference, the theme for this past year, "Unified in MFG," focused on diversity in the industry. (Image courtesy of Women in Manufacturing.)
Retaining women in fenestration
In securing a larger workforce, identifying practices that increase retention can be as important as recruitment. The Manufacturing Institute found that, when asked about the major issues that would make them leave the industry, 41 percent of respondents named unattractive pay. In manufacturing, women earned 76.1 percent of men's earnings in 2016, based on median weekly earnings captured by BLS. The pay gap is smaller in construction, where women earned 96.3 percent of men's weekly earnings, well above the average across industries of 82 percent in 2016.
Executives interviewed by the Manufacturing Institute also recognized that providing mentoring for women in the field is a significant part of retention. PGT Innovations' LaPinska has developed a mentorship program for female leadership called Leading Ladies, at the request of Jeff Jackson, the company's president. 
With 25 women and growing, the initiative aims to help female leaders in the company pursue their goals and foster a culture of gender diversity, says LaPinska. Participants include women from all departments, including accounting, finance, sales, marketing and manufacturing. Leading Ladies creates mentorship pairs, connecting female employees of different skill sets so that they can educate each other. For example, LaPinska is currently paired with a colleague who is focused on developing her public speaking skills. Grealis also underlines the importance of active affinity networks, also known as employee resource groups—ERGs—which represent and support different demographic populations within a company. "A company can create a women in manufacturing group, an LGBTQ group, among others, which can create a dialogue in their own dialect and also provide training special to that group," she says. ERGs can also work as a recruitment pipeline for potential applicants who might be represented by these groups, she adds. 
Overall, Grealis emphasizes that companies in the industry need to adjust their mindset to recruit creatively for the next generation, no matter the demographic they are targeting. "It's not just women who want flexibility and humane work hours. Companies need to think about creating different schedules for both moms and dads, or being flexible with those that have parents in nursing homes," she says. "Leadership needs to adopt more flexible practices that will create a company culture that is pleasant and rewarding for all employees." 
Women in the Industry by the Numbers

 
Percentage of Women in Construction Women's earnings as a percentage of men's, 2016 96.3%


Percentage of Women in Manufacturing Women's earnings as a percentage of men's, 2016 76.1%
Source: Bureau of Labor Statistics, Current Population Survey, Women in the labor force: a databook.