Creative Recruiting
Wed, October 13, 2021 - 12:00am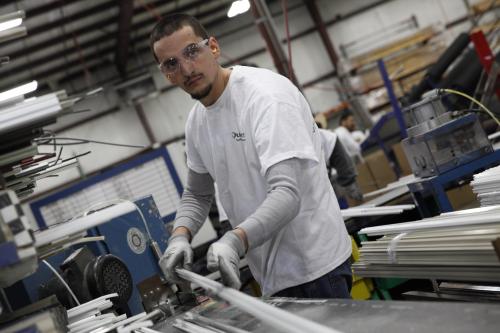 A new employee cuts a window screen frame to size at Quanex, a company that uses a variety of recruiting strategies, including utilizing veteran outreach programs and participating in Manufacturing Day. (Image courtesy of Quanex.)
Although the worker shortage continues to be a primary concern for the manufacturing and construction industries at large, window and door companies are using a variety of methods to find and train qualified workers. Strategies include working with veterans organizations, deploying apprenticeships, internships and school partnerships, providing creative initiatives, and educating potential employees, the next generation of workers and their parents about the industry.
"There's not one solution to the labor issue," says Steve Dillon, marketing director for Veka Inc., noting that solutions are always evolving. "It takes a multitude of ideas and creativity, to step up and see what else we can try."
By utilizing a variety of hiring and recruiting practices, companies can reach previously untapped sources of quality employees and enhance connections with applicants.
Recruiting Tips
Hiring veterans
Approximately 250,000 veterans leave military service each year, and the Department of Defense reports that figure is expected to remain high through the next several years. Veterans are regarded as well-suited for the workforce as they typically bring a strong sense of commitment and loyalty, problem-solving skills and, often, a technical ability to the workplace.
Quanex Building Products, for one, recently created a veterans outreach program to bring these potentially valuable employees into the company. The company works with Orion Military, a recruiting and talent agency, and will reach out to Orion when a position opens that may be a match for the recruiter's talent pool. 
"We just started the program this year and are already seeing great promise," says Kim Moore, Quanex's managing director of human resources. "We have found that [the veterans] have the ability to fill all types of positions—everything from skilled hourly labor to engineers and those hard-to-find technical positions that we recruit for." 
PGT Innovations is also actively recruiting former military members. The company partnered with OPTACorp to hire and mentor military veterans. OPTACorp coaches veterans as they transition out of military life by preparing them for career opportunities through workshops and mentoring. 
"Meeting PGTI was a blessing for us," says Marc Cuffaro, founder of OPTACorp. "Most vets don't have an advocate, someone who will work with them to take their skills from the military and use those skills to build a career in the private sector. We are opening the door to help them do it, and PGTI gets that."
Likewise, PGTI finds the partnership productive and valuable: "Military veterans embody the honor, passion and leadership skills that we value in our employees," says Debbie LaPinska, vice president of human resources at PGT. "We are committed to welcoming veterans to our family, giving them the opportunity to use their skills and experience to find a new purpose."
On a broader scale, The Manufacturing Institute partnered with the U.S. Army Soldier for Life–Transition Assistance Program and the USO Pathfinder Program, to launch "Heroes Make America" early this year. This career skills training program aims to "arm transitioning service members with in-demand qualifications and industry-specific certifications needed for today's manufacturing workforce," according to a Manufacturing Institute release. 
Specifically, the 10-week program includes training in topics such as forklift operation, personal protection equipment and safety, along with career skills like resume writing and job interview training. 
The new program has about a dozen current participants. According to Carolyn Lee, executive director, the Institute plans to extend Heroes Make America to Ft. Hood, Texas later in 2018, and continue expansion as more sponsors and veterans express interest. 
"The U.S. manufacturing industry will be stronger than ever if we continue to recruit and retain veterans into our workforce," says Lee. Employers can contact The Manufacturing Institute for more information about participating in the program, and to connect with transitioning veterans.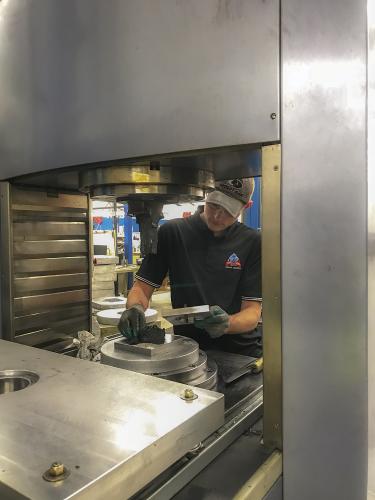 High school student Andrew Johnson is participating in Veka's dual-apprenticeship program, a long-standing European model that combines a company apprenticeship with vocational education at a school. The concept is gaining interest in the United States, particularly in light of the federal government's recent push. (Image courtesy of Veka Inc.)
Reaching the next generation
Part of the equation of finding and hiring employees for the fenestration industry is the public perception around both the construction and manufacturing industries. Many companies are working to educate potential employees about what they have to offer.
One such strategy exists in Manufacturing Day, sponsored by the National Association of Manufacturers, and held the first Friday in October each year. The program gives manufacturers the chance to open facilities to local high school and middle school students and their parents. Participating manufacturers generally provide a tour, allow the students to meet employees, ask questions, and get to know what happens inside the facility. 
"Over the next decade, modern manufacturing will generate 3.5 million job openings," says The Manufacturing Institute's Lee. Manufacturing Day and other programs have helped NAM and The Manufacturing Institute remain at the forefront of developing workforce solutions to help meet this need and close the skills gap that threatens to leave two million manufacturing jobs unfilled by 2025, she reports. "Giving our young people and their parents the chance to see firsthand the promise of a career in modern manufacturing can turn the tide and combat the myths that harm the perception of manufacturing careers in America." 
More than 2,500 Manufacturing Day events took place in 2017, including a number of fenestration industry manufacturer-sponsored events at locations across the country; Quanex Building Products, Veka Inc., Marvin Windows and Doors and Deceuninck North America each held events.
"[The event] is about introducing students to manufacturing," says Quanex's Moore, noting that not every student has the means or desire to go to traditional college. "It doesn't sound as glamorous as going into high tech or other fields, so we talk to them about how we work, what we produce, and let them get to know us personally and our culture." Quanex also employs high school students during the summer and is "building a brand with those schools. Students experience what it's like to work at Quanex and talk about it with classmates." 
Veka also connected with several students who were interested in part-time employment with the company while still in high school. "We had 51 students attend the event," says Dillon. "Even though they may not work here one day, there is still a connection. It's so important to get students out of the house, out of school and into communities where real life happens."
During last year's event, Marvin also welcomed 105 seventh-grade students from Pembina and Walsh County schools on a tour of its facility in Grafton, North Dakota, to receive exposure to modern manufacturing technologies and machinery. They learned about manufacturing career opportunities as well as about the education required to pursue them.
"This is a long-range answer to our labor issue," says Vicki Ham, HR director for Marvin's Grafton facility. "We want to form these students' perceptions about manufacturing in general; to show them the amazing variety of career opportunities in manufacturing, and show the applicability of what they are learning today in math, physics and English composition. We are looking to tie all that together for them."
Taking Manufacturing Day a step further, Deceuninck North America worked with the Middletown, Monroe and Trenton, Ohio chamber of commerce to offer a series of educational student tours throughout October 2017. "Deceuninck continues to collaborate with the chamber to inspire the next generation workforce to consider the many career options the industry offers," says company CEO Filip Geeraert.
There are a number of resources for fenestration companies looking to get involved in Manufacturing Day in particular. The organizers offer toolkits, newsletters and help promote the events to the public. To learn more about sponsoring an event in 2018, visit mfgday.com.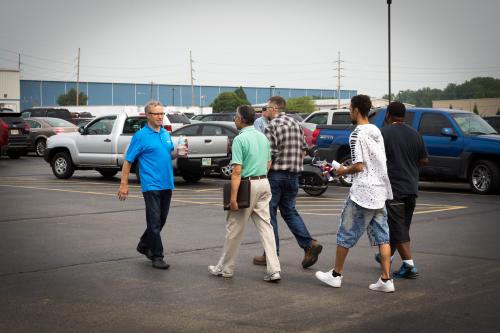 Students take a tour of the Deceuninck North America facility during Manufacturing Day 2017. (Image courtesy of Deceuninck North America.)
Offering apprenticeships and internships
Reaching out to area schools is a tried-and-true recruiting method, and with good reason: it works. What's changing is the partnerships that are evolving with high schools, vocational programs and community colleges. These institutions offer an ongoing resource of young people, and companies are capitalizing on that potential.
Deceuninck collaborates with Cincinnati State College, playing an advisory role in the school's manufacturing CNC certificate program. "The program provides a combination of online study with hands-on experience to teach skills that can directly translate to Deceuninck's specialized work," says Geeraert. 
A Deceuninck representative served on an initial advisory board at the college to help establish the certificate curriculum. The company established connections with this and other area colleges and has regular discussions with them to stay connected about evolving education programs. 
Marvin offers internship and co-op programs throughout the entire company. Programs typically take place either over summer breaks or in alignment with a college semester. The company reaches out to area colleges and attends college job fairs to meet potential interns. "We've seen countless successes with our interns over the years," reports Angela Christman, director of talent acquisition, the Marvin Family of Brands. "It allows people either entering the workforce or switching careers to be part of the department and participate in challenging work projects that are relevant to the business."
Marvin also supports the mikeroweWORKS Foundation to help enable scholarships for trade education. Mike Rowe, the host of television's "Dirty Jobs," launched this foundation to support work in the building trades, and to challenge the notion that a four-year degree is the single best path into the work world. 
Marvin also sponsors Generation Next, a philanthropic effort in partnership with the "This Old House" television show. The program supports job training by placing apprentices into the television show. Each of these initiatives reach out to the next generation of workers, whether by introducing them to the industry, communicating in a way that's most comfortable for them, or by supporting training and education efforts. 
Veka offers a dual-apprenticeship based on existing programs at the company's German headquarters. Training manager Thomas Van De Bunt received a Leadership award from the Pittsburgh German-American Chamber of Commerce for his work creating and implementing the program. Students can enroll their senior year of high school, which enables them to graduate from the program—and into a job—the year after graduation. 
Veka partnered with the local German-American Chamber of Commerce to translate the curriculum, which consists of classroom and technical training along with hands-on work experience, into English. The dual apprenticeship is a long-standing European model that combines a company apprenticeship with vocational education at a school. Roughly half of German students undertake some version of a dual-apprenticeship program. The concept is gaining interest in the United States, particularly in light of the federal government's recent push via ApprenticeshipUSA.
Apprenticeship USA

The fed lends support for job training 

With a new emphasis on job training, the federal government supports apprenticeships through a number of initiatives, including the new White House Task Force on Apprenticeship Expansion, which calls for a renewed focus on apprenticeship programs. As part of that new focus, the president recently signed an executive order that aims to expand apprenticeships and use available funding to improve job-training programs. 

Employers can participate in the Department of Labor's "ApprenticeshipUSA" Registered Apprenticeship program. The ApprenticeshipUSA website provides employers with federal resources, a quick-start toolkit, a standards builder and updates on state tax credits, along with other support. Registering an apprenticeship into the program opens the door for access to state-level apprenticeship consultants and to the federal resource playbook, which contains information on federal funding. 

Additionally, the DOL's National Apprenticeship Week functions to inform the U.S. workforce that manufacturing jobs can be an attractive career choice. The event is celebrated in November each year. Employers can visit the website for information on how to participate in Apprenticeship Week; there, examples of sponsorship activities include apprentice graduations, a business open house, a high school career fair, apprenticeship signing days or an industry roundtable event.
Consider SECOND-CHANCE HIRING
Courtney Little, president and general counsel for Ace Glass says the company is experimental with its hiring practices. Disappointed with the options from traditional labor pools and hiring platforms, they are "always looking for progressive ways to hire," he says.
One successful recruitment path for Ace has been working with transition programs to hire individuals who have been previously incarcerated and are working to reenter society. To find potential long-term employees, the company partners with Pathway to Freedom and Exodus—faith-based programs that offer services to prepare, train and mentor inmates for successful reentry into society.
By partnering with transition programs, something Ace has done for about 10 years, the company receives employee candidates who have been vetted, and rehabilitated to be successful citizens. Once an inmate is released, the programs, through halfway houses, discuss next steps to help them survive in society. "They walk through what the next day, week, month, year of life will look like. What to do, what's needed in order to thrive. They do a great job helping [former inmates] succeed once they leave the system," says Little.
Ace Glass is strict with these recruits and relies on a 30-60-90 day onboarding process to further vet them. "The real vetting occurs once a person starts, for any new hire; people show their true colors and capacity for a job within two to four weeks of starting," Little says.
Within 90 days, Little says he can gauge a recruit's capacity to learn, and their ability to stick with a task. Within that time, he has seen their character. "The ones who show up and have an interest in getting better, they rise to the top. Those who don't show initiative get weeded out," says Little.
Although the prison hiring process has been successful, there are challenges to this form of hiring. For example, Little has had to jump through hoops with parole officers. He has written letters to the governor, to employees' attorneys, and also dealt with child custody issues. "But, I would do that with any of our guys," he says.
According to Little, the recruits who come from the reentry programs tend to work hard and remain loyal because they are grateful for the opportunity given. "We treated them well and gave them an opportunity, and they've turned into leaders," he says.
Within the fenestration industry, Awake Window & Door Co., a North American luxury window and door system manufacturer based in Arizona, was founded in late 2020 as a business focused on second chance employment. Founders Scott Gates, John Engelstad, Andrew Darr and Maria Gates educated themselves on issues surrounding mass incarceration and recidivism rates faced by formerly incarcerated individuals and wanted their company to help support this vulnerable people group. Read more about the new company and mission.