Futuristic Fenestration
Alternate Realities: augmented, virtual reality and other advanced technology can serve as valuable service tools
Worldwide spending on augmented and virtual reality could reach $160 billion by 2023—more than nine times the $16.8 billion figure forecast for 2019, according to a study by the International Data Corporation. The study reports that manufacturing is one of the segments with the strongest spending.
Fenestration is one such industry exploring these alternate realities and using them to boost efficiency, not only on the manufacturing floor, but throughout the entire supply chain from manufacturing to end-sales.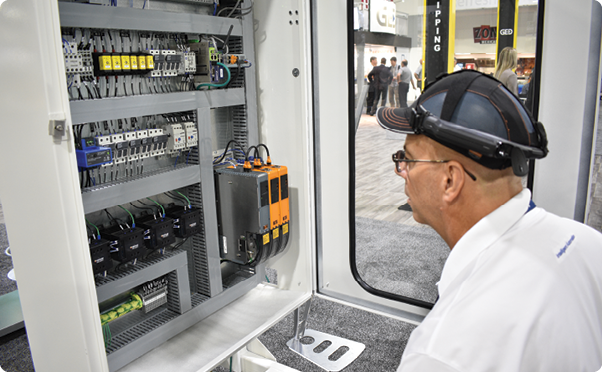 AR versus VR applications
Despite often being grouped into the same conversation, augmented reality (AR) and virtual reality (VR) are two very different technologies. AR adds digital elements to a live view, frequently by means of a smart device camera, whereas VR creates a completely virtual experience and requires special equipment (goggles or glasses).
VR, says Steve Dillon, marketing director at Veka Inc., is geared toward a showroom or trade show environment and for digital walkthroughs of large projects. "This is a great visualization tool for after the sale," he says. AR, meanwhile, can be deployed before or during in-home demonstrations, training, sales tools and advertisements. It also can be easier to monetize, according to Dillon, due in part to the fact it does not require special equipment or hardware, as well as that it can be used on the go and by a single user.
Veka is developing applications through both means, neither of which is yet available for commercial release, but both of which the company demonstrated at GlassBuild America and hopes to share updates about at Fensterbau in Germany in March. The company will develop AR for its key product lines, which Dillon says will allow the technology and its uses to be shared with customers. "In-home demos, showrooms and advertisements will be some of the biggest uses for AR in our industry," he says.
"We have become a very visual society and technology is the reason for that," Dillon says. "In-the-moment visualization could make or break a sale. It shows a company is progressive, willing to invest in technology and solidifies a transition into the digital age."
Sales advantages
AR software will overtake VR software spending by 2022, largely driven by AR custom application development, systems integration and consulting services. Andersen Corp. is one such company embracing custom application development with augmented reality. Renewal by Andersen introduced an iPad app in May 2018 that leverages Apple's vertical plane recognition technology.
 
Eric Ottem, senior marketing technology manager at Renewal by Andersen, explains that sales and design consultants use the apps during in-home consultations to configure quotes, present design options and even demonstrate how the door or window will operate via high-definition 3D imagery. "Customer expectations are advancing to the point where they really want to quickly understand their options and what the end product will look like," Ottem says. "People understand things visually a lot faster than in any other format. If you're using sales samples and parts, you're asking people to knit together a version in their mind's eye as to what the end product would look like. With this technology, we can show them very precisely what it looks like."
The app, Ottem says, also generates enthusiasm among the sales group. "It builds their confidence and enthusiasm and, in our business, enthusiasm is what sells," he says.
Smart glasses
AR and VR can come to life through wearables, too, such as the smart glasses GED Integrated Solutions recently rolled out for its customer service department. GED's customers have a pair of smart glasses and, in the event of a machinery problem, can put the glasses on and immediately connect with a customer service representative at GED, who can see what the customer is seeing through the glasses. The service tech can digitally circle or point to specific parts of the machine and visually guide the customer through
troubleshooting.
"We can see the sequence of events that may be happening," explains Duane Klinzing, field service manager at GED. "This provides a video realtime solution of what's happening and expedites the uptime and getting the machine back into production."
That immediate connection is the beauty of the solution, explains Bradly Duguay, GED's director of customer service. It eliminates the step of sending a technician to the plant, which often takes several days, meaning the customer is losing valuable production time. The hope with these headsets, he says, is to get the customer up and running right away.
Beyond reducing downtime, the glasses can record calls and build a video library to be used as training tools, especially important in this era of skilled worker shortages. "This allows us to work directly with our customers who may not have the most experienced maintenance group," Duguay explains. "It allows them to take off the knowledge from our folks who have 25-plus years of experience and walk them through it step by step. They're the hands at the site and we're the eyes and knowledge behind it."
Duguay, who spent 19 years with Andersen Windows running two of its facilities, comes at this solution with a unique perspective and understanding as to what manufacturers need. "Knowing the timelines and short lead times our customers have to get products to their customers, it's critical we get them up and running," he says. 
Digital Development 
Several companies in the fenestration space are exploring advanced digital technologies. 
Veka 
Veka Inc.'s, veka.com, foray into the digital space extends beyond AR and VR. In 2019, the company formed a stand-alone company, Digital Product Solutions Corp., that will bring digital solutions to the fenestration industry. One of its initiatives, the WIN system, is in a pilot stage in North America with full commercialization expected in 2020. The system creates a digital double of a product through cloud computing and mobile devices. A web-based program interacts with the fabricator's enterprise resource planning software to build a complete dossier of a window or door and tracks it through its lifecycle.  
Infinity from Marvin 
Powered by Renoworks' A.I. technology, the Infinity from Marvin Visualizer now includes an auto-recognition feature that can identify and outline windows and doors from any photo. This means homeowners can digitally place Marvin's products on the home to see how they'll look installed.  
Doug Vickerson, Renoworks CEO, explains that with most design software the homeowner needs to manually identify windows or doors. The auto-recognition technology automatically prepares the image and eliminates the manual identification step for the homeowner.