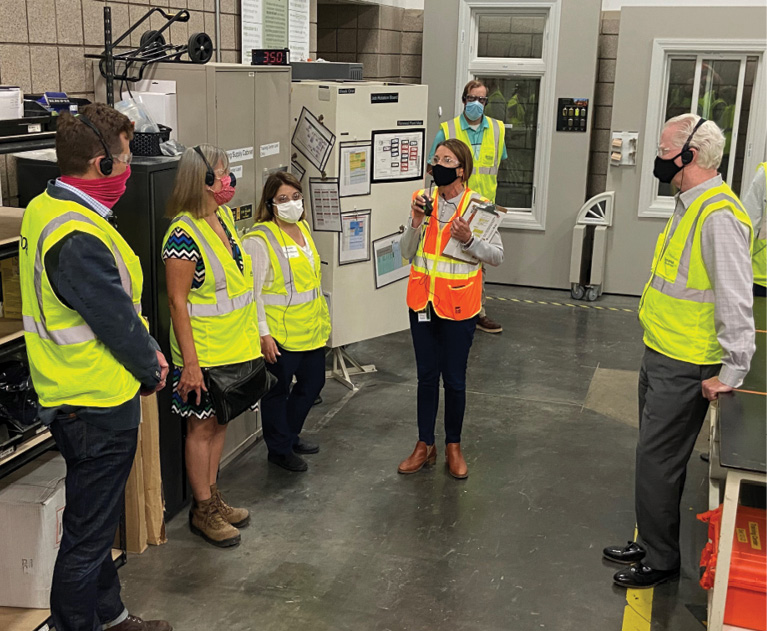 Above: Andersen transitioned more than 3,000 employees to work from home and implemented safety measures such as face coverings for onsite employees.
When the COVID-19 pandemic swept the world earlier this year, companies everywhere modified their operations nearly overnight. Many businesses sat vacant amid government-mandated shutdowns, while businesses that could set their employees up to work from home and essential businesses altered their operations to accommodate social distancing and other safety practices.
Window + Door, with the support of parent organization the National Glass Association, created COVID-specific content geared toward helping companies navigate the business shifts and wave of legislation aimed at easing financial distress. We also reported on how companies in the industry quickly pivoted to accommodate the new realities. These stories demonstrated why the fenestration industry is essential in crisis. 
To recognize the extraordinary innovation among companies during the pandemic, the 2020 Window + Door program presents Innovation in Crisis.
"The COVID-19 pandemic profoundly illustrates the interconnectivity of the glass, window, door and home-building industries and how the fortunes of each segment rise and fall on the same tide," says Kari Tamminga, product director, Paradigm. "In the home-building industry, time is money. When the pandemic hit, the disruptions to the supply chain and labor created a real challenge that threatened builders' bottom line. When builders slow down, that creates a ripple effect that reaches all the way back up the supply chain to building product manufacturers and their suppliers."
These stories exemplify how those in the industry tackled an unprecedented scenario head-on, adjusted operations to protect their employees and customers, gave back to their communities and stayed afloat during an undisputedly challenging time.
Thank you to the following companies for sharing their stories:

Andersen
Crystal Window & Door Systems
Erdman Automation 
Inox
Lamatek
Marvin
ODL Inc.
Paradigm 
Quanex
Vector Windows
Windgo Inc. 
Innovating in Crisis
Employee Safety and Communication
Perhaps foremost amongst companies' concerns was that of how to protect their employees. Nearly every company reports having its office staff work from home where possible and changes on the factory floor to protect its workers. (See the sidebar on page 39 for a full list of protocol shifts aimed toward employee safety.)
At the pandemic's onset, Andersen named four priorities to guide its actions: keep its people safe; contribute to the national effort to combat the virus; maintain business continuity; and preserve the financial stability of the company. Andersen, which noted a quick decrease in sales, also assigned one of its senior leaders to a new role dedicated to implementing a comprehensive business plan to operate safely and effectively through all stages of the pandemic.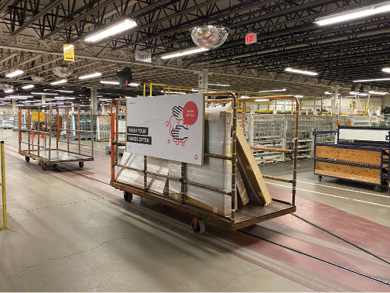 Marvin, which also reported an immediate 25 percent drop in sales during the first months of the pandemic, committed to avoiding layoffs. Its cost-saving response included furloughs (while maintaining health benefits), salary and hiring freezes, some salary reductions and a reduction in its 401(k) match. 
The company also tasked the Marvin Design Lab to create a "Stop the Spread" campaign that featured actionable ways to minimize the spread of COVID-19 through visuals with messaging and corresponding icons that encouraged hand-washing, social distancing and guidance on staying home. Marvin also produced 3D-printed modified handles that allow employees to open doors without using their hands. And, to address employees' questions about COVID-19 practices and policies and pre-shift health screenings, Marvin established a 1-800 hotline and email system. It also implemented a contact tracing protocol to track any positive case to its likely point of origin, which Marvin reports is consistently outside the workplace.
Andersen and Marvin reported a quick rebound in sales and are even adding capacity in some areas.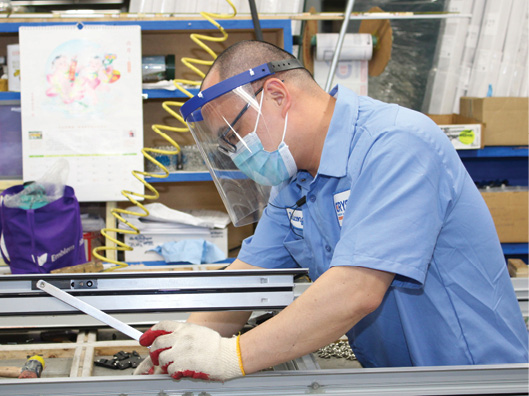 New York-based Crystal Window & Door Systems established a crisis management team in early March that immediately implemented safety protocols. The team also examined capital projects and planned expenditures, putting on hold what they could to free up cash. During the weeks of reduced operation, the team updated the entire production and administrative areas of the factory, with extensive cleaning and disinfecting, enhancing and separating workstations, installing partitions and repainting several areas. 
In a similar vein, Vector Windows created a Pandemic Response Team that put together a Pandemic Preparedness Plan and implemented and communicated safety measures across the organization, some of which Vector plans to make a permanent part of its operating procedures.
Inox, meanwhile, sourced masks and gloves for its production and warehouse employees and supplied webcams and headsets for its office staff to work at home. A majority of office staff continue working from home, and warehouse employees are on a rotating schedule.
ODL reports that its constant throughout the pandemic was the team spirit of its employees. "Although the COVID-19 situation has been an unfortunate moment in ODL's rich, 75-year history, it has also been a profound and impactful experience," says Townes Parsley, senior vice president, ODL. "Our teams across the world are rallying together to help us meet the high demand for our products." When production resumed, office workers suspended their normal tasks to join the production team and operation employees worked overtime to get the business moving again.
Customer Communication
Alongside addressing employee safety and communication, companies maintained close communication with customers, part of which involved setting expectations and furthering education opportunities.
Crystal Windows describes "palpable fear" as virus numbers quickly escalated in New York City. Crystal's New York facility was deemed essential, but local mandate compliance restricted hours, resulting in reduced production levels and decreased revenues.
Although local trade customers understood project delays, some in other parts of the country "had little sympathy for Crystal's plight," according to the company. Crystal used online meeting platforms for regular communication to discuss the New York restrictions, keep customers apprised of production challenges and anticipated deliveries, and making adaptations to meet orders. The company also shifted some production to its Pennsylvania and Chicago factories.
Crystal increased its distance learning and instruction. For trade customers and fenestration installers, it ramped up production and promotion of its window and door installation and adjustment how-to technical videos on its YouTube channel. Outreach to architecture firms increased via continuing education credit webinars. 
Andersen also pivoted quickly on its customer-facing interactions, including introducing virtual sales and service appointments, contactless product delivery, online business consultations, and adherence to social distancing and safety guidelines with any in-person interactions. The company provided free CEU monthly webinars about topics such as coastal performance, door code, LEED-NC, glass and big doors.
Product Innovations
Companies acted quickly in their responses to the coronavirus, and that included accelerating the launch of certain products to address safety concerns and encourage social distancing.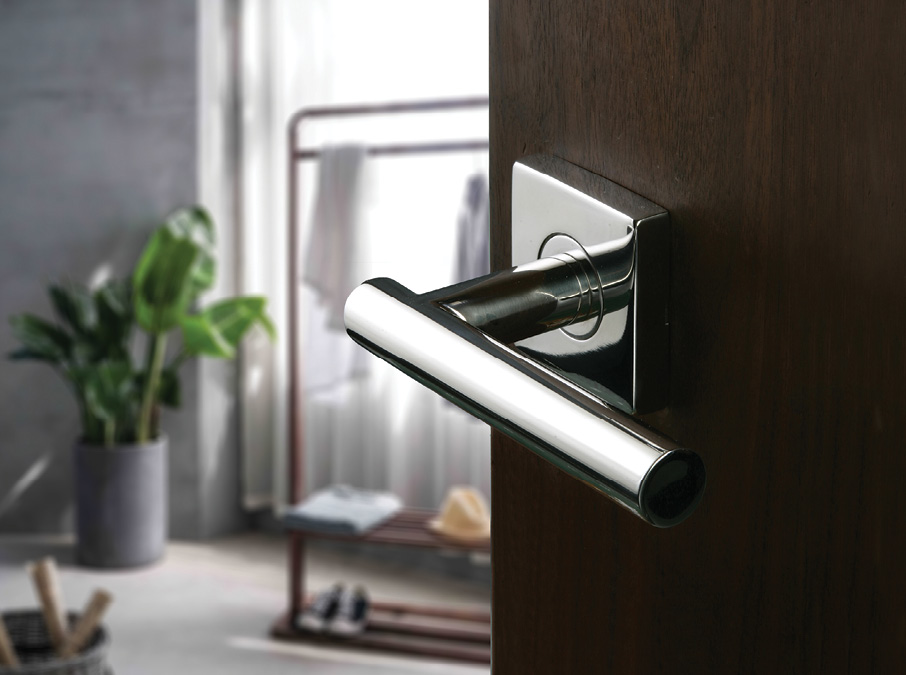 Inox, for example, shifted its research and development to focus on products designed to lessen the spread of bacteria and accelerated the launch of Inox MicroArmor and Inox PD97. MicroArmor is a powder coating for hardware infused with antimicrobial technology containing silver ions that attach themselves to a microbe's cellular enzyme to inhibit the growth of the microbe. PD97, meanwhile, is a sensor-controlled, motor-driven electric mortise lock for sliding doors that limits touchpoints on door hardware. 
Other products encourage social distancing on the manufacturing floor, such as Erdman Automation's One Operator U-Shaped IG Line. According to the company, the coronavirus outbreak inspired it to think "outside the box" with the concept of the line. Designed to require only one operator, the machine has a cycle time of about 45 seconds per 2- by 3-foot IG unit without a grid and about 1 minute, 15 seconds with a grid.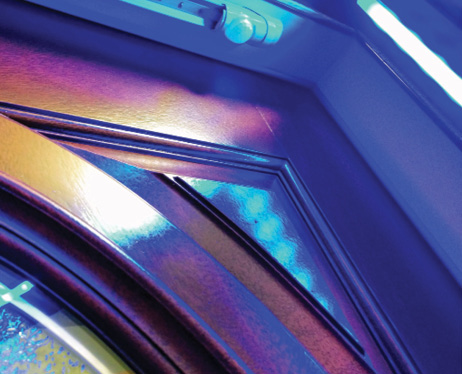 From a technology standpoint, Paradigm pushed its Omni virtual home design and visualization software that allows builders to create a virtual design center on their website and help prospective homeowners electronically visualize their future home.
The opportunity for smart technology in the residential fenestration space is also growing. Windgo Inc., a midwestern research and development startup company, is retooling and combining several of its patents that focus on sensors and projection technology, including technology that can sense human presence in windows and doors while providing projection of light in a variety of wavelengths meant to sterilize surfaces. 

Protocol Shifts


Many companies cited new employee protocols with safety in mind, including:

Face mask mandates
Staggered shifts and breaks
Hand sanitizing stations
Signage that encourages social distancing and face mask wearing
Employee temperature checks and health screenings
Keeping windows open when possible
Frequent cleaning and sanitizing procedures
Guest restrictions
Ongoing training practices
Work at home where possible
Limiting employee travel
Quarantine and isolation in the case of confirmed or possible COVID cases 
Contact tracing to identify others who may have been exposed

 
Manufacturing Pivots
Chief among the coronavirus pandemic's side effects was uncertainty. Companies' carefully constructed forecasts and plans were suddenly obsolete. "We anticipated layoffs, temporary closures and a significant decrease in revenue and resources," says Jennifer Lucano, creative director, Lamatek. "Employees began filing temporary unemployment, calling out sick, or working from home full-time, while onsite employees stepped up to maintain operations." 
But then something happened. Inquiries began trickling in for foam strips and adhesive foam brow liner for plastic face shields. After speaking with the father of two nurses, Lamatek decided to donate adhesive foam, which volunteers used to make protective face shields for the local hospital and surrounding communities. PPE requests continued through the next months and Lamatek cites daily operations "more robust than ever" as PPE components became a top priority. Not only were laid-off employees brought back, but the company hired some new employees to meet the demand for PPE foam.
Marvin partnered with the nearby Polaris plant and the University of Minnesota to produce procedure boxes that surround a patient's face. Marvin's research and development employees also teamed with the local high school robotics teams to make face shields for regional health care workers and first responders, as well as partnering with Minnesota's Lake of the Woods Brewery to produce hand sanitizer to make available to all of Marvin's employees. That partnership also helped the brewery stay afloat while state executive orders required bar closures.
Andersen's research, development and innovation team pivoted its focus to designing, developing and manufacturing critical PPE. The company distributed more than 10,000 face shields across the Andersen enterprise, and donated more than 50,000 face shields to health care and frontline workers. Additionally, Andersen donated 100,000 components to other organizations that are critical to face shield assembly.
ODL used its printers to make visor headbands for face shields and ear savers for masks; it also cut face shields in its model shop. 
Charitable Actions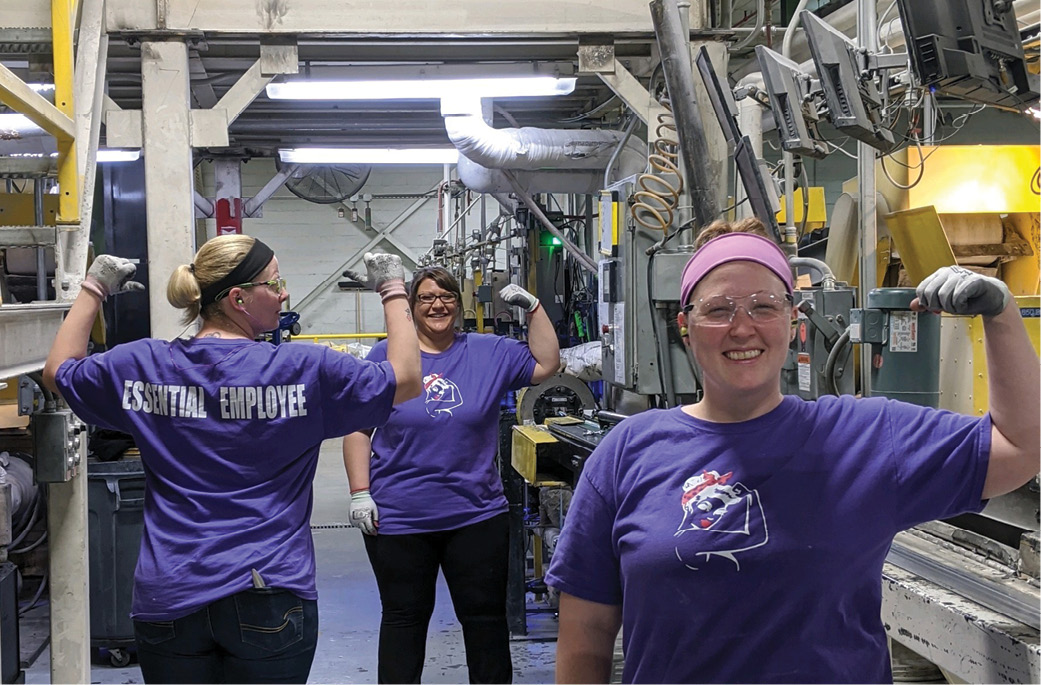 Throughout the pandemic, stories abounded of organizations and individuals helping those in need, and the residential fenestration industry is no exception. "As a global organization, business units and individuals were not only committed to keeping the supply chain going, but also using their time, talents and resources to help those in need," says Paul Cornett, chairman of the Quanex Foundation and senior vice president, general counsel and secretary for Quanex.
Efforts included producing face shields for frontline workers in the U.S. and U.K., as well as localized support, including taking out ads for blood drives, PPE donations, and to congratulate graduating seniors. 
Cornett quotes one of the company's greatest overall accomplishments as "the support provided to 40 local charities in 'Quanex hometowns' across the U.S. in the way of donations and through communications programs designed to drive more traffic to the charity sites." Alongside the Quanex Foundation, Quanex donated $500,000 to charities in its hometowns. 
"The response we've received from these nonprofits has been tremendous and overwhelming," Cornett says. "Many are struggling to keep up and are relying on donations to provide much-needed support. One of our core principles is to always 'do the right thing,' and we will continue to do that. We also encourage others to consider donating to their own local charitable organizations, many of which will need increased support from businesses and individuals during this trying time."
Likewise, the Andersen Corporate Foundation donated $500,000 to support COVID-19 response efforts in local communities. Among the grant recipients are food shelves in communities where Andersen operates, HealthPartners' telemedicine program and homelessness relief, as well as supporting immediate needs for health care workers and patients. Andersen also joined other philanthropic and business leaders across Minnesota to support ConnectedMN, an initiative from Gov. Tim Walz that aims to bridge the digital divide by supplying tech devices and internet access to students.