Mulled Assembly Performance
New guidance simplifies qualification of performance of mulled products
April 13, 2021
AAMA 450 has become more useful to engineers and manufacturers alike and makes compliance of mulled systems easier and more effective.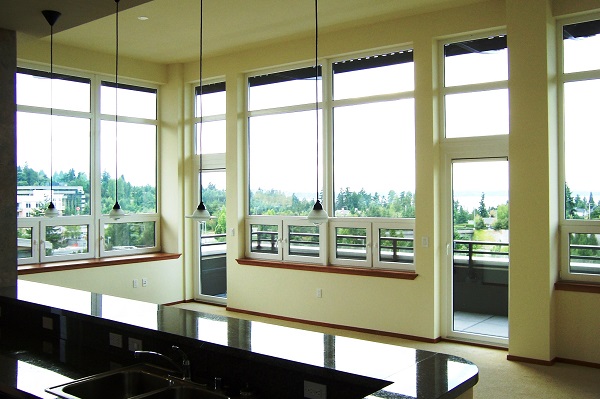 The landmark U.S. hurricane seasons of 2004 and 2005 have prompted questions about the performance of mulled assemblies, or two or more individual window products installed in a single rough opening using joining members, or mullions. If mulled assemblies are not built or tested to existing standards, they may not perform up to expectations, especially in extreme weather conditions.
Published originally in 2000 as AAMA 450-00, Voluntary Performance Rating Method for Mulled Fenestration Assemblies, the document defined procedures for arriving at a meaningful design pressure rating from which air, water and structural performance of mulled assemblies could be more effectively assessed. Practical experience, however, showed that more was needed. As building envelope design, installation and maintenance processes have evolved, so have rating methods and requirements, as well as building codes.
Updates to AAMA 450-20 
This evolution is evident in the recent release of AAMA 450-20, retitled Performance Rating Method for Mulled Combination Assemblies, Composite Units, and Other Mulled Fenestration Systems, an FGIA technical document.
To address many of the evolving concerns, AAMA 450-20 has expanded to these areas.
Composite units
A composite unit indicates two or more independent fenestration units, each of which must meet appropriate North American Fenestration Standard requirements, utilizing integral mullions within a single continuous outer main frame. A combination assembly, as covered in previous editions of 450, is two or more independent products that are joined together, typically at the factory, using a combination or reinforcing mullion.
Side-hinged door systems
These must comply with NAFS or be tested in accordance with ASTM E330.
Storefront and curtain wall products
Products outside the scope of NAFS, namely storefront and curtain wall products. 
Deflection limits
Clarification of differing deflection limits based on span length and/or different product types.
Connection strength
Analysis of the strength of connections between individual units and mullion elements.
Load application for test
Load application for test or calculation, which must be in both positive and negative directions.
Anchorage of the mullion element
Adequacy of the anchorage of the mullion element or mulled fenestration system under specified design pressure load (as determined by engineering calculations).
Product grouping for qualifying multiple designs 
The magnitude of the different available configurations of mulled fenestration systems can be overwhelming to analyze and test. Therefore, a key component of AAMA 450 is the allowance of product grouping for the purpose of qualifying multiple designs with a single test or evaluation. While other published methods, such as AAMA 2502-19, Comparative Analysis Procedure for Window and Door Products, allow rating of untested sizes, AAMA 450-20 allows rating of untested configurations. 
Product groups
A product group may include several different operator types such as casements, hung windows, sliders and fixed windows, potentially of different performance classes that are combined in different ways using the same mullion profile. One test may qualify all possible combinations of the window types based on the weakest configuration. 
3 options to determine the overall design pressure rating of a mulled fenestration system
AAMA 450 offers three options for determining the overall design pressure rating of a mulled fenestration system, which is the lower design pressure achieved by either an individual product or by the mulled system, as determined by testing, calculation or a combination of the two. 
1. Testing the total system configuration
The minimum performance levels for air leakage, water resistance and uniform load are as outlined in NAFS. Curtain wall and storefront systems are tested according to AAMA 501 using the uniform load test described in ASTM E330, Procedure B.
2. Testing mullion elements as individual components
The design pressure rating of the mullion element is determined by means of a simple beam concentrated load test with the load applied at center span. Deflection under load and permanent set deflection after removal of the load are recorded and must be less than L/175. 
3. Structural calculations
Calculations must follow the procedures referenced within the Engineering Design Rules as set forth in FGIA/AAMA 2502-19. The structural calculations include: 
Area moment of inertia, bending moments and section modulus of the mullion element
Deflection of the mullion element (not to exceed L/175 for spans of 13 feet, 6 inches or less and L/240 + ¼-inch for spans more than 13 feet, 6 inches at the given design pressure)
Extreme fiber stress (structurally calculated)
The qualification of mullions and the progressive development of AAMA 450 is an interesting study in how evolving fenestration performance concerns find their way into industry standards and, ultimately, into building codes. AAMA 450 has become more useful to engineers and manufacturers alike and makes compliance of mulled systems easier and more effective. The current version is available for purchase in the FGIA Online Store at FGIAonline.org/store.