Now and Next: Navigating the COVID-19 Crisis
Special Edition of Window + Door with Resources for Fenestration Companies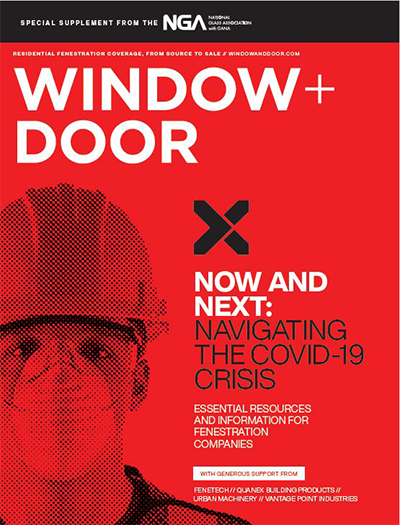 Fenestration companies in the U.S. have been tasked with changing the way they operate in response to the coronavirus pandemic.
Window + Door, with the support of parent organization, the National Glass Association, developed a range of resources, tools and information to help businesses in all segments of the industry navigate our current realities and emerge ready to capitalize on new opportunities and continue to make the world better and safer with fenestration.
These assets are included in this bonus digital edition of Window + Door, Now and Next: Navigating the COVID-19 Crisis:
Resources for complying with the Families First Coronavirus Response Act
Insights on protecting finances and applying for assistance
Tips on selling from home and keeping employees safe on the jobsite
Practices for maintaining project continuity
And more...
Click here to view the downloadable PDF flipbook. Click here for the dynamic mobile version.
What was true before the pandemic will be truer still in the post-COVID-19 world to come. As humanity continues the fight to regain our individual and communal health and economic footing, we look to what windows and doors provide homeowners across North America and the world. We hope this resource helps in that mission.