Andersen Corp. Breaks Ground on Second Phase of Renewal by Andersen Manufacturing Campus Expansion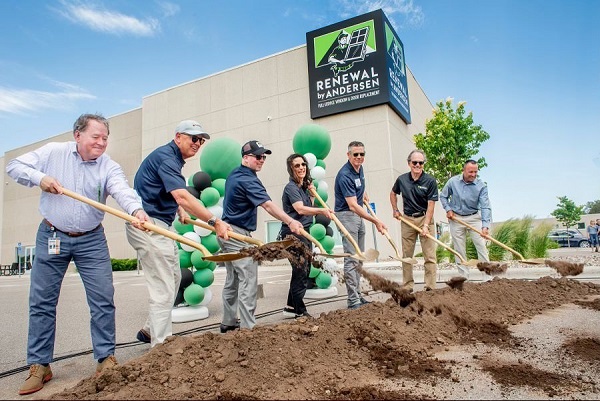 Andersen Corp. broke ground for a second expansion of its Renewal by Andersen manufacturing campus in Cottage Grove, Minnesota.
This expansion intends to double the size of the company's Value-Add Center, a 360,000-square-foot facility built in 2020 to support growing demand for Renewal by Andersen products. It accommodates manufacturing, warehouses and office space.
Now, the company plans to add another 332,000 square feet to the facility, introducing another 65 dock doors, 250 trailer parking stalls for a future employee parking lot, and additional office space of at least 13,000 square feet. Once this second phase of the building is complete, 300 workers will support the entire Value-Add Center.
"We are proud to be America's #1 brand for window replacement," says Chris Galvin, Andersen chief operating officer. "We're pleased to continue to invest in our Renewal by Andersen headquarters operations here in Minnesota, building additional capacity for our growing business, increasing employment opportunities, and supporting the community."
When the expansion is complete, the Renewal by Andersen campus in Cottage Grove, which includes the Value-Add Center and the existing Renewal by Andersen facility adjacent to it at 9900 Jamaica Avenue S. in Cottage Grove, will total just over one million square feet.
"We are building for the future, and we will continue to lead the industry in growth," says Renewal by Andersen President Troy Barrow. "The combination of a phenomenal homeowner experience and the best-in-class products produced by our manufacturing teams are driving this huge growth in demand and thus, this second expansion."