CRL Palisades Door Systems Get Florida Product Approval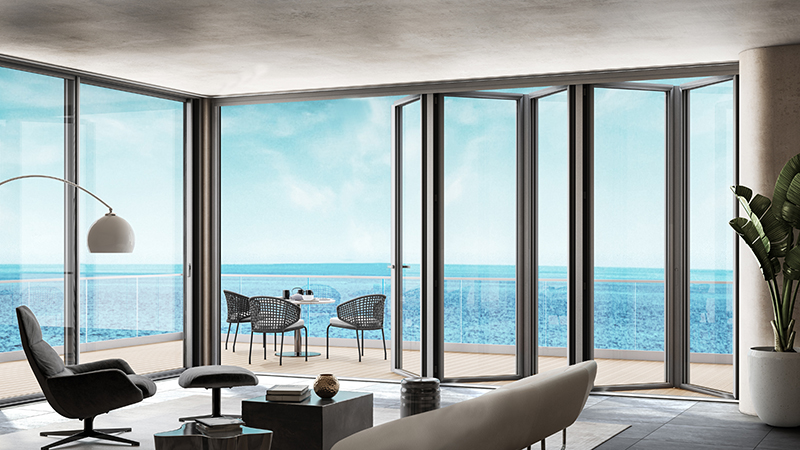 CRL's Palisades S90 Bi-Folding Door and S100 Sliding Door systems have received Florida Product Approval and are certified for use in all areas outside of the Miami-Dade and Broward Counties High Velocity Hurricane Zone. With this certification, approved Palisades models are also well-suited for use in other U.S. coastal regions including Texas, Louisiana, Georgia, and the Carolinas.
This certification means these door systems are engineered to withstand impacts common in Florida regional weather events.
About the door systems 
The Palisades S100 Sliding Door features large sliding glass panels and slim frames designed to accentuate exterior views. It has a maximum system height of 13 feet and panel width of 7 feet. A door automation option is available for hands-free use.
The Palisades S90 Bi-Folding Door is a movable wall system designed with a streamlined look delivering unobstructed sightlines. Concealed hinges, and slim vertical posts and rails reduce visible hardware. The S90 also offers one inch of insulating glass.
Six Palisades models have received Florida Product Approval, which include the following:
Palisades S100 Sliding Glass Door (OX – fixed/movable panel configuration)

Palisades S100 Sliding Glass Door (OXXO– fixed/movable/movable/fixed panel configuration)

Palisades S90 Inswing Folding Door (120" height)

Palisades S90 Inswing Folding Door (96" height)

Palisades S90 Outswing Folding Door (120" height)

Palisades S90 Outswing Folding Door (96" height)