Home Remodeling to See Strong Growth This Year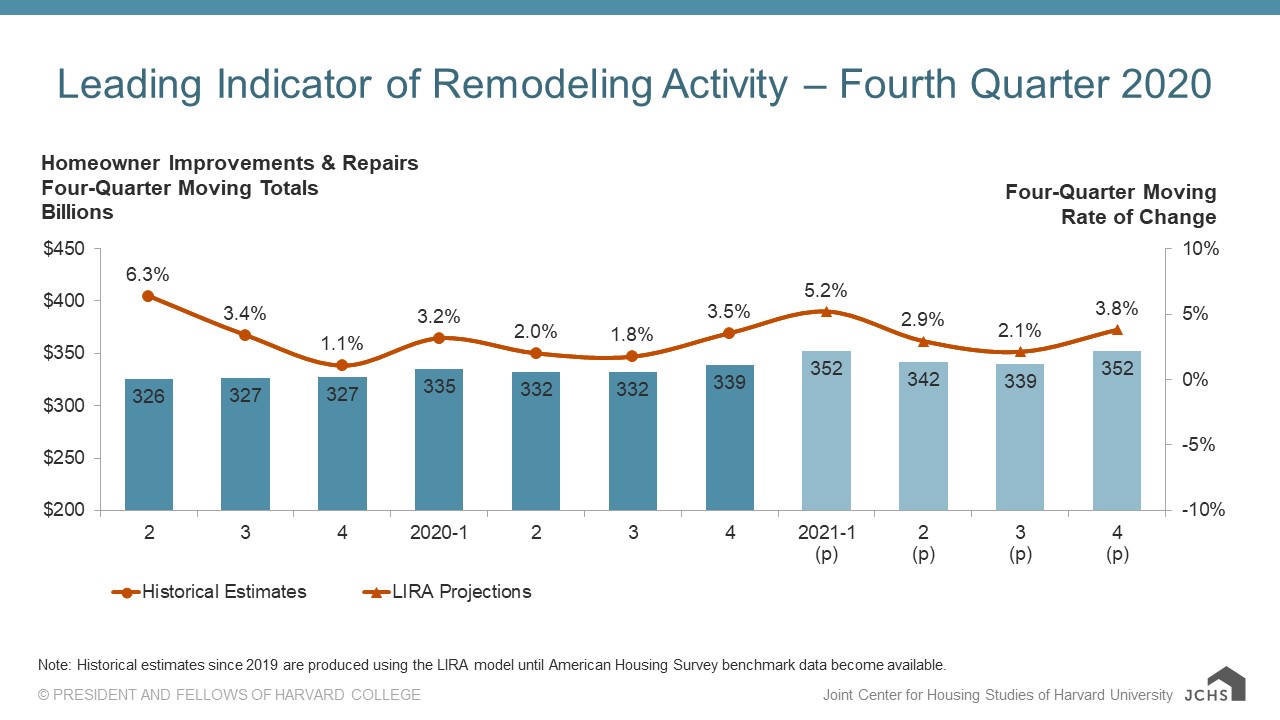 Annual gains in spending for improvements and repairs to owner-occupied homes are expected to be modestly higher in 2021 compared to last year, according to the Leading Indicator of Remodeling Activity released by the Remodeling Futures Program at the Joint Center for Housing Studies of Harvard University. The LIRA projects an uptick in year-over-year growth of home renovation and repair expenditure from 3.5 percent at the close of 2020 to 3.8 percent by year-end 2021.
"The remodeling market continues to benefit from a strong housing market—including accelerating growth in homebuilding, sales, and home equity," says Chris Herbert, managing director of the Joint Center for Housing Studies. "In addition to routine replacement and repair projects, homeowners are likely to pursue more and larger discretionary home improvements this year as the broader economy recovers."
"With the release of new benchmark data from the American Housing Survey, we've raised our projection for market size in 2021 by about $4 billion, or 1 percent, to $352 billion," says Abbe Will, associate project director in the Remodeling Futures Program at the Center. "Spending in 2018 and 2019 was slightly more robust than previously estimated, growing 12.8 percent over these two years compared to 11.5 percent as estimated." 
Column and line chart providing quarterly historical estimates and projections of homeowner improvement and repair spending from 2019-Q2 to 2021-Q4 as four-quarter moving sums and rates of change. Year-over-year spending growth is estimated to have steadily decelerated from 6.3 percent in 2019-Q2 to plateau at 1 to 3 percent growth from 2019-Q4 to 2020-Q3 with a projected rebound to 5.2 percent growth in 2021-Q1 and then slowing again to 3.8 percent in 2021-Q4. Annual spending levels are expected to increase from $339 billion in 2020 to $352 billion in 2021.