Jeld-Wen Recognized With Corporate Cultural Impact Award
October 8, 2021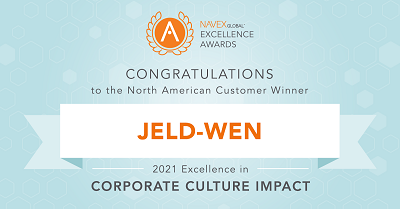 Navex Global, a company in integrated risk and compliance management software with over 13,000 customers worldwide, announced the winners of its inaugural NAVEX Global Customer Excellence Awards. Among the award winners was Jeld-Wen, which was recognized as the North American winner for the Customer Excellence in Corporate Culture Impact Award.
"They have recognized how we have used compliance training and software to establish a consistent corporate culture for our 23,000 employees in 21 languages across the globe," according to a statement from Jeld-Wen.
The winners—named in three separate categories: ethics and compliance, integrated risk management and corporate culture impact—were chosen by a panel of risk and compliance industry experts. Winners were selected based on a range of criteria including risk and compliance program awareness, positive effect on the workplace and employees, business risk identification and mitigation and overall effectiveness.
"Throughout an extremely challenging year for risk and compliance programs, these winners demonstrated a strategic focus on risk and compliance management designed to make their organization more resilient, more competitive and more successful," says Steve Chapman, chief customer officer at Navex Global. "It is our honor to put a spotlight on the excellent work of these customers under especially challenging conditions."