Kolbe Showcases Window and Door Applications at NAHB IBS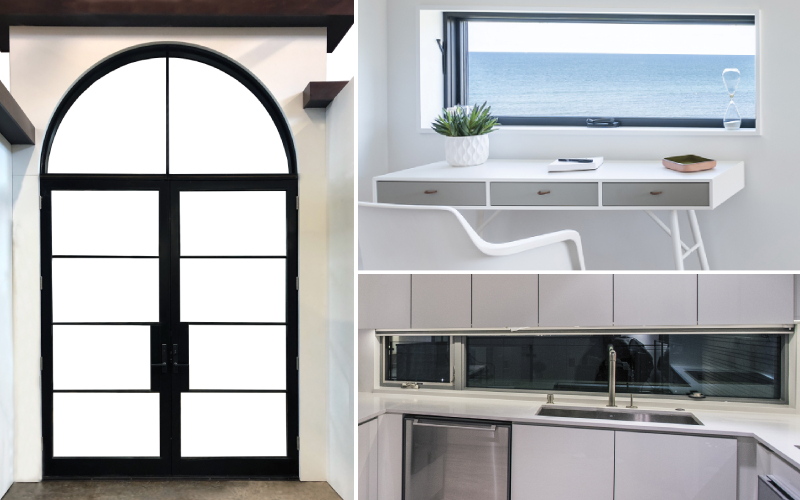 Kolbe Windows & Doors is showcasing examples of unique window and door applications at the National Association of Home Builders International Builders' Show in Las Vegas at booth #C2515.
Navigating through the modern floorplan, windows and doors of exaggerated heights and proportions, in custom shapes and unique applications, demonstrate Kolbe's custom capabilities. Kitchen and bath fixtures from Kohler add a trendy and functional design element.
Products represented at IBS
A dramatic entrance is an impactful way to express individual style. Three examples of Kolbe's personalized approach to entrance doors are represented at IBS: the Ultra Series pivot door, a VistaLuxe WD LINE French inswing door, and its Dutch door.
Examples of its one-of-a-kind window applications are: a VistaLuxe WD LINE trapezoid direct set with a floor sill, Ultra Series beveled direct set, Ultra Series full circle direct set window, a mixed combination of VistaLuxe AL LINE products, and a VistaLuxe WD LINE corner window with a 22-inch jamb. Distinctive design details on a smaller scale include: A trio of narrow 8-foot-tall VistaLuxe WD LINE casements in Sapele wood with a Clear Coat interior offers a center stationary window flanked by two venting windows, and a Forgent Series All Glastra crank-out awning with a Cloud interior finish.
Kolbe weighs in
"Our vast capabilities and continuous innovation allow our windows and doors to help create functional spaces specifically designed for comfort, convenience and connectivity throughout the home," says Kolbe President Jeff De Lonay. "This year's booth simulates a residential environment inspired by the visionaries who use our products every day."
"We are not only showcasing our most unique products—we are demonstrating their versatility by incorporating them into nontraditional applications that further enhance the design of the home," explains Liz Huber, Kolbe's marketing manager. "In addition to helping visionaries create architectural impact, a strong focal point, or defining the shape of a structure with our products, we also focus on the smaller details."