Kolbe's VistaLuxe Collection on Display at International Builders' Show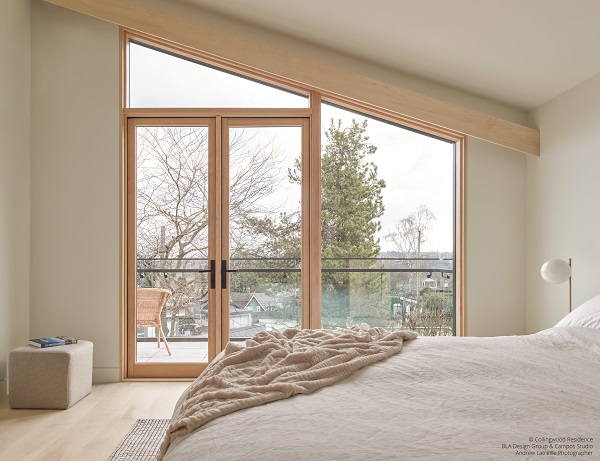 Kolbe's VistaLuxe Collection, intended for contemporary designs, has an option of either the VistaLuxe WD LINE, which features extruded aluminum exteriors with warm wood interiors, or the VistaLuxe AL LINE, which offers thermally broken, all-aluminum windows and doors.
At the National Association of Home Builders International Builders' Show in booth #W3600, Kolbe will highlight its VistaLuxe AL LINE lift & slide doors, and its impact performance capabilities.
"For uninterrupted views that also meet the demands of coastal regions, Kolbe is excited to offer impact performance capabilities within our VistaLuxe AL LINE. This product selection includes lift & slide doors, plus tilt-turn and direct set windows," says Jeff DeLonay, Kolbe's president.
Kolbe's all-aluminum VistaLuxe AL LINE products:
A lift & slide door unit meets IPD4 with a DP65 impact rating. Spanning nearly 10 feet high by 20 feet wide, the center-opening four-panel unit features tempered Solar Low-E glass compression glazed with EPDM gaskets, and an onyx powder-coated interior and exterior finish.
Largely consisting of glass, a 4-foot-6-inch-by-10-foot inswing entrance door provides a light-filled entryway. Solar Low-E glass is compression glazed with EPDM gaskets, and it has concealed hinges.
Stationary and operating windows create a 10-foot-square opening. 
Kolbe's VistaLuxe WD LINE units:
Two stacked, 6-foot-6-inch-wide direct set corner units reach a combined height of almost 13 feet. It has tempered solar low-E glass, 7/8-inch square profile performance divided lites and slim corner posts in a the flush style with black anodized exterior and ebony-stained alder wood interior frames.
A 6-by-8-foot picture direct set framed by square direct sets and casements with rustic umber Ashlar handle sets and Ashlar locking levers features a horizontal direct set with 7/8-inch square profile performance divided lites mulled above. 
A VistaLuxe WD LINE complementary sliding door unit has four 5-by-8-foot panels that create a nearly 20-foot opening. The exterior is finished in silverstorm mica and the clear-coated walnut interior is paired with Kolbe's matte black Madison handle set. The unit is topped by two Accent style trapezoid direct sets. Summit Automation allows touch screen activation.
"Our comprehensive line of VistaLuxe Collection windows and doors offers the exceptional style, performance and functionality required by today's contemporary designs," says DeLonay.