Marvin Expands Elevate Collection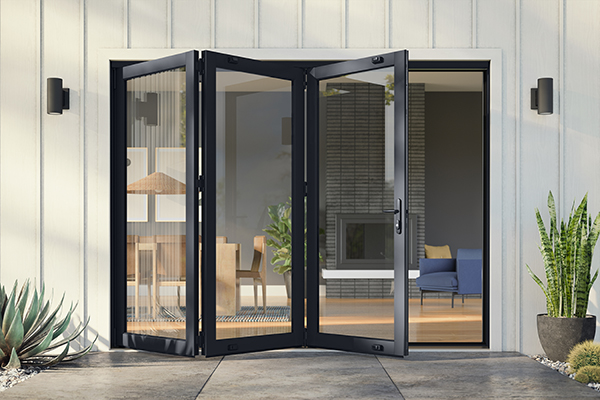 As consumer demand continues to grow for seamless indoor-outdoor connections at home, Marvin launched the Elevate Bi-Fold door, a scenic exterior door with a design that is suitable for remodeling or replacement applications in smaller spaces.
The door is designed with a wood interior and Ultrex fiberglass exterior and features the design of the brand's existing Elevate Collection.
What Marvin says
"People-first design is a guiding principle at Marvin," says Christine Marvin, chief marketing and experience officer, Marvin. "Whether that means a product that's easier to operate or helps increase access to light, air, and views, our approach to product innovation is grounded in a desire to enhance the lives of real people and help make space for what matters. We're thrilled to introduce this stunning and innovative bi-fold door with a floor-to-ceiling feel and wider opening than standard patio doors, encouraging homeowners to open up, elevate and enhance their spaces."
About the door
Suitable for residential new construction, replacements, and remodels, the Elevate Bi-Fold Door is available in Marvin's Gunmetal finish. Design options for the Elevate Bi-Fold door include up to seven panel options with a maximum size of 22 feet wide and 8 feet high for a floor-to-ceiling feel. The door can operate as bi-parting or unidirectional. The door is available in six standard Elevate Collection colors accompanied by two handle styles in six hardware finish options.
The Elevate Bi-Fold door will also be available in Marvin's Gunmetal exterior finish, marking the addition of this finish to Marvin's Elevate and Essential Collections. A neutral hue, Gunmetal offers a deep tone with a softer finish than black. The finish, which was previously available only in the Signature Collection, will now be an option for all products within both the Elevate and Essential collections.
"Expanding the availability of Marvin's Gunmetal finish to our Elevate and Essential collections is another example of how we are continuing to modernize our color offerings and respond to trends in cooler and in-between neutrals," Christine Marvin says. "We look forward to seeing how this beautiful finish is chosen and used to enhance our customers' homes."