Marvin Reimagines Swinging Doors to Add More Glass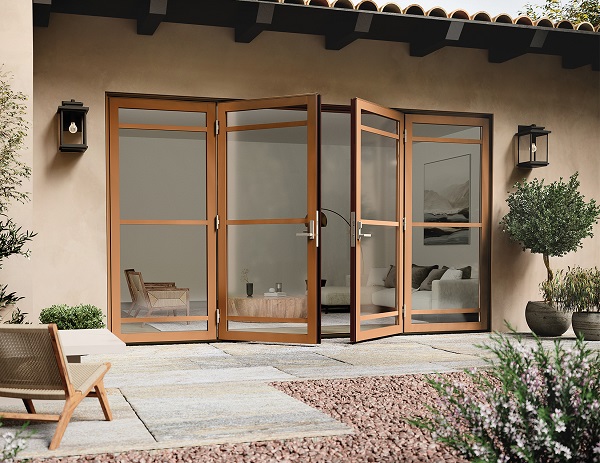 The reimagined Marvin Ultimate Swinging door and Ultimate Swinging French door G2 are available in inswing and outswing configurations and feature a contemporary aesthetic and more expansive glass. 
"Innovation, design leadership, and performance drive us to continually evolve and improve our products and collections," says Darrin Peterson, president of Marvin. "We saw an opportunity to evolve the Ultimate line and redesigned every aspect of the swinging door platform, including sizing and aesthetics, to provide the market with a new, highly-valued door offering. The platform features minimalist hardware and a concealed multipoint locking system that preserves the sleek aesthetic of these doors without sacrificing security. After years of careful concepting and meticulous design work, we are very excited to introduce these doors to the market."
Details of the Ultimate Swinging and Ultimate Swinging French doors include:
Sizing: Available in heights up to 10 feet with four-panel configurations in widths up to 14 feet, with a standard panel thickness of 2 ¼ inches. 
Material: Clad in extruded aluminum exteriors with wood interiors. 
Profiles: Ultimate Swinging door features square interior and exterior profiles; Ultimate Swinging French door G2 offers ogee interior and simulated putty exterior profiles. 
Technology: Marvin's concealed lock status sensor connects with smart home technology. 
Sightlines: Range to meet both modern and traditional aesthetics. Ultimate Swinging door offers narrow sightlines with contemporary 3-inch stiles and rails, while the Ultimate Swinging French door G2 has the look of traditional French door panel aesthetics with 4 ¾-inch stiles and top rail, and an 8 ⅛-inch bottom rail. 
Flexibility: Available in both inswing and outswing configurations. Ultimate Swinging door also available in 1-, 2- or 3-panel configurations, including unequal panel widths. 
Exterior Colors: Exterior-facing aluminum is finished with commercial-grade paint for resistance to fading and chalking, available in one of Marvin's 19 color options, or custom color-matching. 
Interior Colors: Customize interior tones with ease and choose between Marvin's selection of natural, stained, or painted wood. Each individual piece of wood is sanded, conditioned, stained and oven-cured before pieces are clear-coated, sanded and clear-coated again for an ideal finish. 
Hardware: Ultimate Swinging door offers minimalist hardware and is proportioned for 3-inch stiles. Also includes a fully concealed multipoint locking system. Ultimate Swinging French door G2 can be customized with traditional, contemporary or Marvin Gallery Hardware. 
The Marvin Signature Collection is available at authorized Marvin dealers nationwide. The Marvin Ultimate line also includes wood and wood-clad windows and doors that are available in a selection of shapes, styles, sizes and options.