MI Charitable Foundation Raises a Record $2.2M for Charity at Annual Golf Outing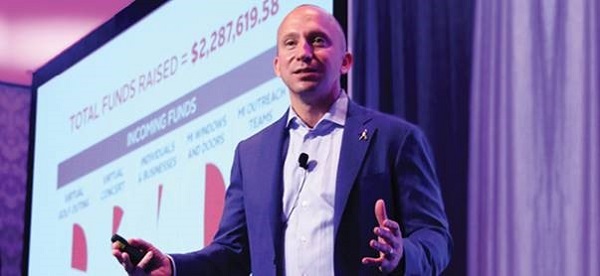 The MI Charitable Foundation, the philanthropic arm of Pennsylvania-based manufacturer MI Windows and Doors, set a new fundraising record for the fourth straight year at its annual charity golf outing, held Oct. 4-6 in Hershey, Pennsylvania. The 23rd annual event hosted more than 250 suppliers, customers, business partners and MI team members, and raised a record $2.2 million for charity.
The three-day event included a charity auction led by Lancaster-based auctioneer H.K Keller and golf tournament at the Hershey Country Club. This year, the MI Foundation welcomed speakers from the Ronald McDonald House, Four Diamonds, Simon's Heart, Homes for our Troops and Veterans Airlift Command. Speed painter Cody Sabol also produced a work of art live on stage that was later auctioned off.
All proceeds from the event went to the MI Charitable Foundation to support the organization's four primary causes – veterans' affairs, children's wellbeing, cancer support, and local outreach. MI Windows and Doors covered all expenses, so every dollar donated will be distributed to support one or more of these causes.
"I'm so touched by the generosity and outpouring of support displayed at this event," says Matt DeSoto, MI Windows and Doors CEO. "Our team and our business partners continue to believe in our vision and support our efforts through contributions of time and money. Without these committed partnerships, we would not be able to help those who need it most."
Next year's event is scheduled for Oct. 3-5 in Hershey.