PGTI Delivers Post-Storm Aid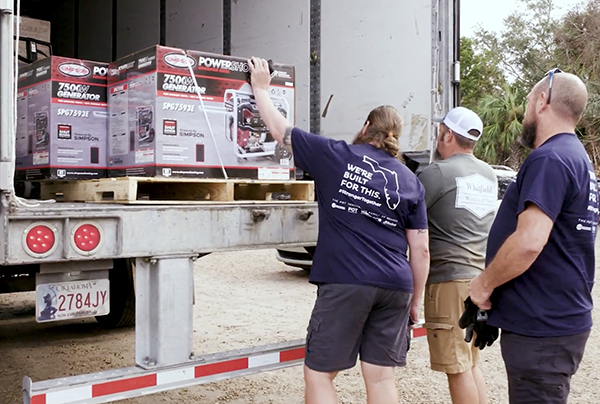 PGT Innovations recently mobilized a team following the landfall of Hurricane Idalia to deliver emergency supplies and assist those affected in Steinhatchee, Florida, and the surrounding region. 
PGTI's efforts
In the days leading up to Hurricane Idalia's landfall, PGTI gathered provisions for distribution, including 200 flashlights, 150 first-aid kits, 500 tarps, 38,304 bottles of water, 200 extension cords, 2,304 batteries, 480 electrolyte replacement sports drinks and 240 insect repellants, among several other items.  
On Friday, Sept. 8, PGTI team members filled two PGTI semi-trailers with over $100,000 worth of emergency supplies, then traveled more than 235 miles to Steinhatchee. The free, post-storm aid event was held on Saturday, Sept. 9, at the Steinhatchee Marina located at 104 First Avenue SW and was open to the public. The event attracted more than 100 individuals.  
Additionally, two large pick-up shipments were loaded on box trucks for delivery to two smaller communities impacted by the storm, with enough supplies for 20 people on each truck, and a local church pastor was given enough supplies for an additional 10 people in need, extending the reach of the relief effort. 
What PGTI says
"We are very fortunate that we have the ability to provide essential supplies to families in the impacted areas during this extremely trying time," says Jeff Jackson, president and CEO, PGT Innovations. "Our hope is that these supplies will offer immediate relief to the residents, help them know they are not alone during this difficult time, and support their journey towards rebuilding their lives and communities." 
About the hurricane
Hurricane Idalia briefly reached Category 4 intensity before making landfall as a Category 3 storm along the coast of Keaton Beach, Florida, on the morning of Wednesday, Aug. 30, with maximum sustained winds of approximately 125 miles per hour, according to the National Hurricane Center. It was the strongest recorded storm to make landfall in Florida's Big Bend region in more than 125 years.