Ultrafab Founder, Robert Horton, Passes Away
October 12, 2020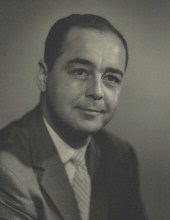 Ultrafab Inc. announced that its founder, Robert Horton, passed away on Sept. 26, 2020. Horton was a dedicated husband and father of five, inventor, Army Air Force Pilot during WWII and a philanthropist. In 1991 he received New York State's Small Businessman of the Year award and obtained 15 patents in his lifetime. 
Horton was born on Aug. 22, 1924 and enjoyed flying, golfing, fishing and riding his motorcycle. Predeceased by his wife, Mary K. Horton, he is survived by his children, Thomas C. (Patricia) Horton, Susan Williams, Patricia (Joseph) Kazour, Nancy Horton, and John (Todd) Horton-Young; grandchildren, Eric and Peter Horton, Meaghan, Bridget and Emma Williams, and Michael, Isabel and Mark Kazour.
During the '70's and '80's Horton deployed one of his ultrasonic processes to manufacture a component for the imaging industry that dominated the Rochester area during that time. This product led to his winning the supplier of the year from a large OEM partner. In November of 1981 Horton was awarded the first of his patents related to the manufacture of Pile Weather seals. 
In 2020 Ultrafab is celebrating its 50th anniversary and remains a family-owned entity. Ultrafab's headquarters is now located in Farmington, New York, just down the road from its roots in Victor, New York. Expansion over the past five decades includes manufacturing facilities in South Carolina and Kansas, strategic partnerships in Japan and Spain, and stocking distributors around the globe.