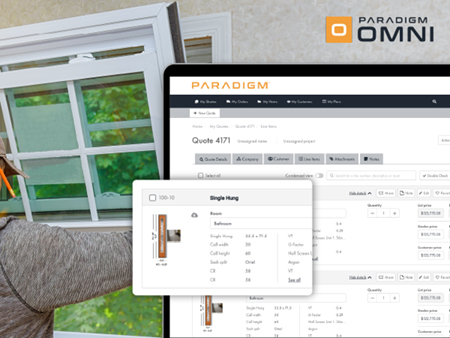 Paradigm Omni™ is a cloud-hosted, web-based configuration, quoting, and selling solution uniquely designed for the complex window and door business. It's the only configuration, quoting, and selling software that simultaneously leverages your product catalog across all your sales channels, including dealer, online, in-store, and in-home channels.  
You define the configuration and quoting experience to fit your customers' needs, by creating precise visualizations of mulling combinations and grille patterns., displaying customized marketing materials, tailoring pricing and product descriptions, and generating accurate BOMs.  
Need more capability? Seamlessly blend Paradigm Omni's world-class quoting and selling power with Paradigm's complementary technologies or integrate with your existing solutions. Whether it's a CRM tool, point-of-sale system or ERP solution, Paradigm Omni can help create an end-to-end quoting platform that's second to none. 
Conquer your most complex window and door challenges, speed up quoting, improve selling efficiency, and close more sales with Paradigm Omni. Schedule a demonstration and see for yourself.