2020 Industry Trends | Part 2
Software and Digital Tools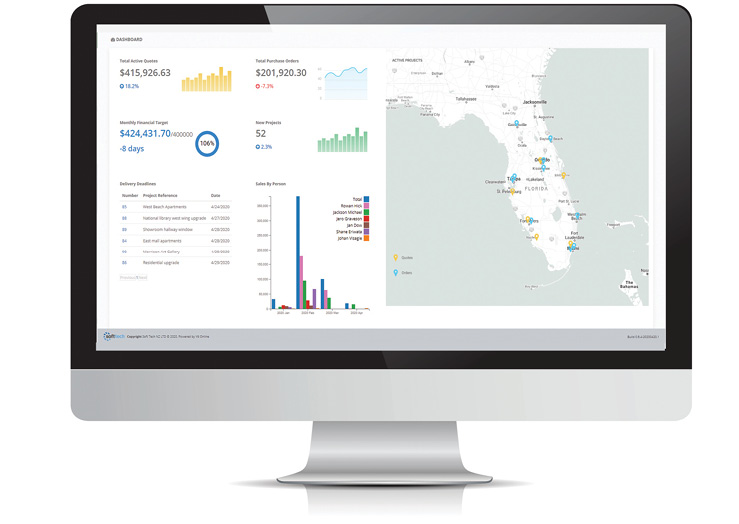 Above: Dashboard for the Soft Tech Dealer Module. This system allows manufacturers to share up-to-date product, pricing and specification information with dealer networks.
GlassBuild America is the ultimate showcase of industry trends. Although the show couldn't go on in Las Vegas this year as planned, as the exclusive fenestration media partner of the event and this year's online extension, Window + Door brings the insights and innovations of our exhibitors to light in this comprehensive Trendhunter portfolio. GlassBuild Connect, our online experience, brings the other elements into focus during a time when a physical event is not possible. Join us online at GlassBuild Connect beginning Sept. 1 to continue the conversation. 
Software and Digital Tools
One of the immediate results of the pandemic appears to be the rise in digital spaces and tools, and the increased adoption of software. Still, the industry has further to go in terms of getting equipment—and people—online, say industry leaders. 
"There [are] still a lot of great opportunities companies are missing out on," says Tyron Ball, CEO of Soft Tech. "Many are still grappling with a lot of the fundamentals [of software], including getting off of the legacy systems, and setting up core business processes and basic data integration processes."
It's possible that the next generation may also be spurring further and wider adoption of IT and software. "A lot of times ... you have the owners' kids that are now coming into the business that grew up with technology, grew up using AutoCAD and have plenty of technology in their life and want to bring that into the factory," says Josh Rudd, sales executive, A+W Software.
Integration
Companies continue to integrate and streamline processes on the manufacturing floor and beyond, eliminating "islands" of connectivity, say industry sources. "Today's factory is much more integrated. Tighter communication between systems and well-defined workflow rules are becoming even more critical," says Dave Miller, group manager, business development executive at FeneTech.
Expanding the reach of software also includes connecting software systems to hardware, expanding the Internet of Things. Soft Tech's Ball says that this connectivity is accelerating. "The hardware space has picked up its game," he says. "[We're now seeing] integration with hardware, self-driving trucks, and next-generation robots, all driven by software. The relationship with devices and tangibles is exciting."
Rudd says A+W is already adapting existing popular mobile devices and equipping them to do a variety of functions, such as barcode scanning. "[The program] uses an existing technology everybody has in their hands—a cell phone—to be able to perform certain factory functions."
LogiKal is further developing its manufacturing solutions to streamline automation and interconnectivity on the factory floor, says William Downing, operations manager. The company's new software LogiKal MES, manufacturing execution system, yet to be released in North America, provides a paperless control center for window construction. The system pushes out, to digital workstations, only the information each operator needs to know, and only when previous production steps are completed.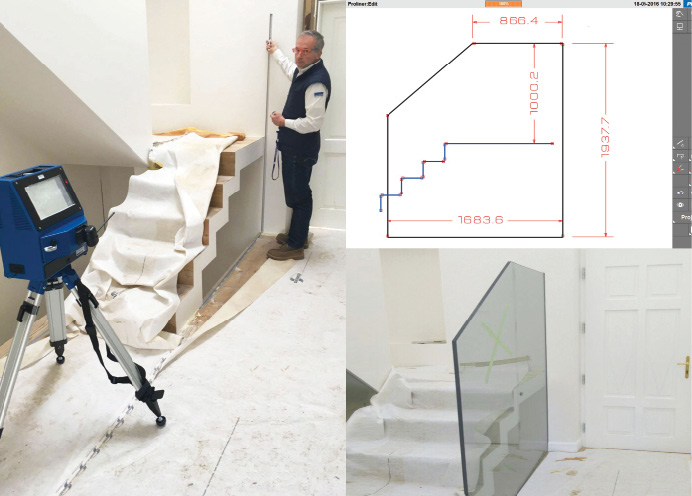 Data-driven systems
Increased connectivity, and the automation of processes through software, can also improve efficiencies by tracking data employers can then use to make business decisions. "The ability of these automated work centers to send data back to the production system provides opportunities for more flexibility and better management in the workflow," says FeneTech's Miller. 
Part of the motivation comes from increased competition, including from abroad. "A lot is driven by the labor skill shortage, and increased competition from overseas," says Ball. "There's a need to capture that data and automate those processes to make things faster and more accurate."
Zach Harris, managing director at Prodim International, also anticipates a rise in digital processes due to an even further need for efficiency and accuracy. "[There will be] even more focus on the digital process, as every waste counts double. Everything has to be right the first time, with the least amount of site visits."
Veka's digital solution, WIN, is an example of this drive toward accessible data. Currently being piloted by Digital Product Solutions Corp., a stand-alone company created by Veka, the digital system provides installers and end-users access to real-time data regarding their fenestration products using cloud-based technology and a mobile application. The initiative creates a digital double of the product, which is tracked throughout its lifecycle; installers are then able to access real-time data through a mobile app, allowing greater efficiencies, says Joe Peilert, president and CEO of Veka North America, as this access to the product's status increases the likelihood that repair work can be completed in one trip.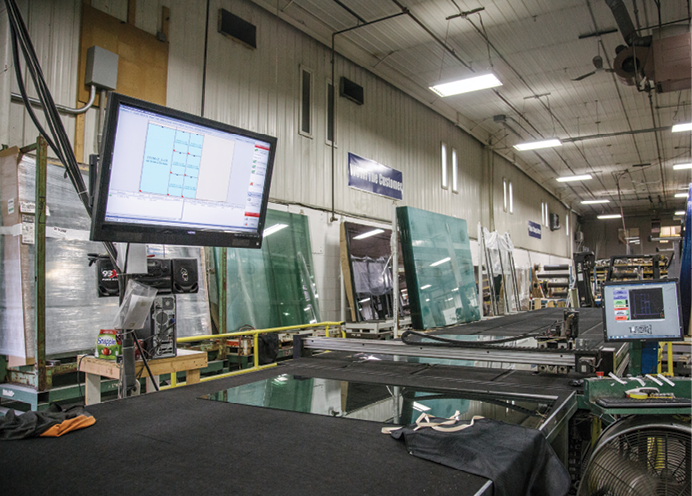 Remote access
The pandemic forced much of the labor force to work from home, pushing many companies to move processes online to be available remotely. "Work from home is huge for large organizations," says Soft Tech's Ball. "That puts an increased demand on communication and data sharing."
A+W's Rudd says that online versions of tools have been useful during this time of separation. "I've been doing a lot of demos on our iQuote program, which is a web-based order entry and order updating system that's attached to our ERP. It allows for customers or salespeople to use the web from wherever they are to place orders and build their own quotations."
Cloud-based technology has been a major force making remote access possible. "Accessibility of all things via the internet has given rise to software and machine interfaces that allow our service group to ensure the machine's efficiency through smarter remote diagnostics and easy-to-use interfaces over the web and via the cloud," says Sandro Cestaro, general manager at Emmegi. 

Automation and interconnectivity 


Factories across the world are evolving to become smarter, more connected facilities where glancing at a single user dashboard can tell an operator the status of nearly any item processing at a given moment.


"Currently, there is much more focus on the integration of work cells on the shop floor to eliminate islands of automation," says Dave Miller, group manager—business development executive at FeneTech. "In many cases, this automation was first designed to reduce manual movement of glass for various reasons, including employee safety and reduction of breakage and scratching. Today's factory is much more integrated. Tighter communication between systems and well-defined workflow rules are becoming even more critical."


Josh Rudd, sales executive at A+W Software, says it's imperative to be able to tie machines together for greatest efficacy. Without proper supportive software that feeds machinery the proper data and sequence, he says, a machine won't be able to live up to its full capability. "Technology can maximize a machine or a particular set of flows—different operations from machine to machine and through logistics."


Not only does machinery need to meet production cycle efficiency and operator requirements, but it also must be able to interact with ERP programs, maintenance interfaces and efficiency monitoring suites, according to Sandro Cestaro, general manager, Emmegi. "These software-driven solutions keep the machine visible to managers and operators to manage workflow, improve multiple-shifts performance and even incorporate data from manual stations on the production floor."


Automation also presents an opportunity for companies to set themselves up for long-term success and stability. "The need for automation may be depressed slightly in the short term due to the unemployment numbers, but in the long run it will be critical to compete with foreign labor prices and also the next pandemic," says Morgan Donohue, president of Erdman Automation. "Those who are the most automated will have the advantage over the competition."


Vital though automation is in today's environment, there is a risk of losing the ability to operate traditional equipment. "No matter how automated a window plant becomes, manufacturers should always have backup 'old school equipment' on hand—copy routers, single point welders and a simple saw so as not to be paralyzed by a computer glitch," notes Sarah Colberg, sales manager, Witte North America.