2020 Industry Trends | Part 3
Window and Door Design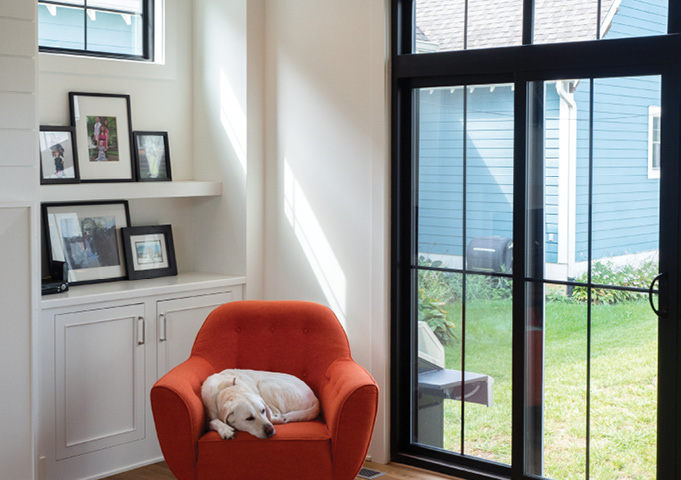 Above: Ten years ago, darker colors were taboo in vinyl windows, according to Greg Koch, vice president of sales and marketing at Deceuninck. "Now, they are everywhere," he says. "We've done a full 180 on the thought process that goes along with dark colors."
GlassBuild America is the ultimate showcase of industry trends. Although the show couldn't go on in Las Vegas this year as planned, as the exclusive fenestration media partner of the event and this year's online extension, Window + Door brings the insights and innovations of our exhibitors to light in this comprehensive Trendhunter portfolio. GlassBuild Connect, our online experience, brings the other elements into focus during a time when a physical event is not possible. Join us online at GlassBuild Connect beginning Sept. 1 to continue the conversation. 
Window and Door Design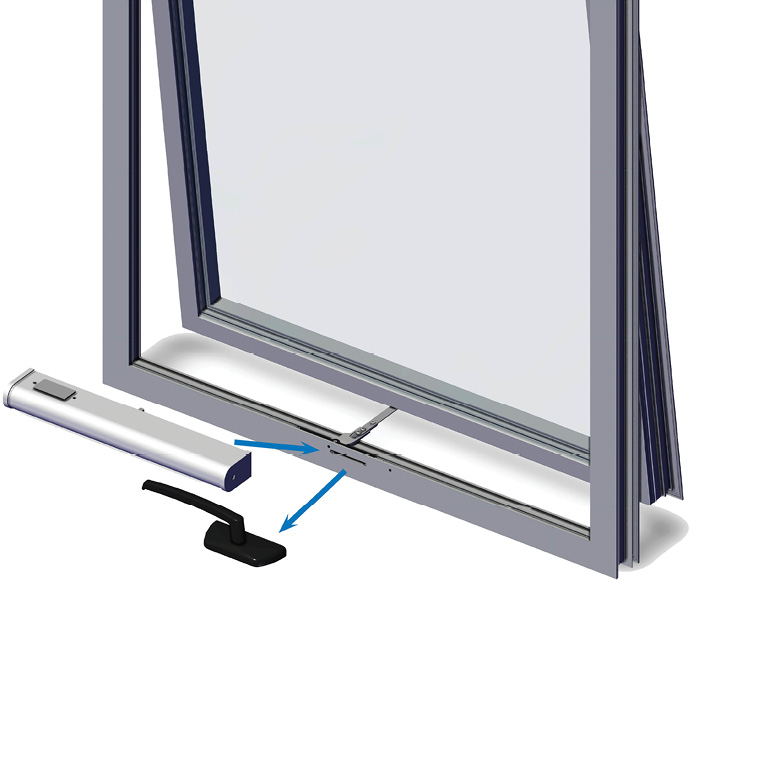 "Windows and doors in North America are becoming more and more an expression of personal style and a substantial part of the design concept of a building, not only by matters of performance, which is always an essential part of the decision, but also by aesthetics in terms of what type and shape of window, and what color and finish," says Marco Patermann, sales representative for Continental. 
All of these elements are foremost for suppliers to the industry as windows and doors continue to evolve. "It's been interesting to watch the evolution of designs over the past five years," says Gary Hartman, VP of sales and marketing for Chelsea Building Products. "In the vinyl segment, profiles continue to get smaller, providing for more glass and daylight area. Another trend we are seeing is to design simpler shapes—profiles that may not have the aesthetics that they once did but are easier to fabricate."
How else has the market changed? Kevin Seiling, VP of engineering and new product development for Veka, notes how speed to market has progressed. "What used to be a long drawn out approval process crossing t's and dotting i's has now become a business decision where timing is compressed. Engineering is usually 75 percent through die drawing completion when the ink is still wet on the contract."
According to Kevin Zuege, senior director of marketing & technical service, industrial products business, one of the biggest trends is the resiliency of the market itself. "We have spoken to a lot of fenestration customers in many areas. They are moving and moving faster than last summer."
Sources across the industry echo this sentiment. We hear that business is picking up across the board, even as uncertainty regarding the economy is at an all-time high. Here, we'll take a look at some of the more specific trends that are shaping that business—namely size, color and performance. 
Size
"One of the things we're really seeing in the patio door side of the business is that people are trending toward larger glass sizes," says Roger Finch, national marketing manager for ODL Inc. "People are going to more movable glass panels, folding patio doors, larger sliding patio doors. We're seeing more 8- and 10-foot doors and, in some cases, full walls of glass."
This favor for larger expanses of glass also extends to windows, he says. "While the 3- by 5-foot and 3- by 6-foot are still our largest sizes sold, we are seeing more double IG windows and triple IG windows that allow for greater light into a room or into the home. 
Color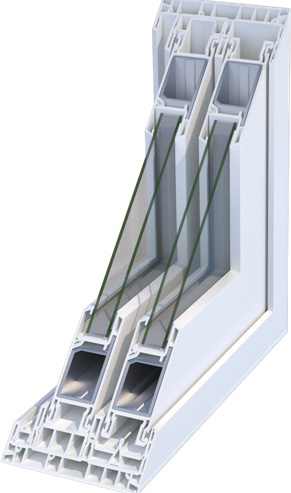 Ten years ago, darker colors were taboo in vinyl windows, according to Greg Koch, vice president of sales and marketing at Deceuninck. "Now, they are everywhere," he says. "We've done a full 180 on the thought process that goes along with dark colors." 
Available darker colors can create a lot of new visual interest, notes Larry Johnson, vice president of sales, North American Fenestration, Quanex
Building Products, where the traditional options for vinyl have simply been white frames. "We're seeing a lot of new interest in dark-colored or black vinyl windows," Johnson says. "This is happening both in single-family homes and in multifamily construction, with colored capping on both interior and exterior framing. Consumers and residential developers are taking advantage to give homes a unique look."
Finch also reports this trend toward dark-colored entry doors. "There has been a significant trend toward using more colors not only as a complementary color for the outside of the home, but to also use as a focal point inside the home," he says. 
Additionally, from a design perspective, Patermann says there is a consumer preference for very matte surfaces when it comes to solid colors. And, in new construction and replacement coming from the west and heading east, Seiling reports that dark exterior colors, including black and bronze, maintain popularity. 
There are three primary options for color, Seiling explains: laminates, cap-stocks and paint. "We offer laminates and cap-stock products in rack quantities while paint remains the fabricator's decision to outsource or do in-house," he says.
Base-color pigments are another option, Koch adds, but reports that Deceuninck's preferred method for color is lamination, as it allows customers late-stage customization. The laminate side has been a growing trend in recent years. 
In the end, however, darker colors are more about aesthetics. This trend is going to "continue to push all suppliers to a higher level of performance," Koch says.
Performance

In both commercial and residential, thermal performance is really going to continue to be a primary driver for innovation in our industry, says Johnson.
"Regardless of legislative activity, which can fluctuate depending on the current administration, building codes are only growing more stringent. Homeowners are increasingly aware of the occupancy comfort benefits that come with thermally efficient windows. 
"Looking ahead, I think that's one thing all fenestration professionals are going to need to consider—higher and higher performance, no matter the application."
Looking ahead
How will the conversation continue to evolve for fenestration manufacturers and suppliers in terms of the market at large? Here's what sources had to say: 
While PVC has the best cost/value relationship in the industry, its popularity has put pressure on manufacturers regarding how they differentiate their product from the competition, says Hartman. "I think we will see more of the broad category of composites play a greater role in the future."
Wood composites and fiber reinforced composites are gaining popularity, says Seiling. "In the end, the product that will be the big winner is the material that can claim all of the best properties—impact resistance, weldability and weathering—and improve in subtle ways, including strength, expansion, contraction and shrinkage."
"Now is a great time to embrace new technologies and to rethink the product portfolio in order to distinguish oneself even more in an ever more competitive market," says Patermann.
Expectations are increasing across the board, says Koch. Lineals need to be straighter, tolerances need to be tighter and it's going to continue across the manufacturing floor. "Suppliers are being held to higher standards; the bar has been raised year after year."
"With the increasing industry consolidation, innovation and differentiation will determine success. We need to remain open and proactive about order forecasting and locating/solving single points of failure for supply chain, says Mount. "Innovate when needed … keep product lines moving." 

Hardware


When it comes to hardware, there are three big conversations: 
automation, contemporary aesthetics and robust design. 


Automation


The most exciting thing in hardware right now, say Caldwell representatives, is window and door automation—specifically, windows and doors finding a niche in the Internet of Things to complete a smart home environment.


Finch also sees smart home automation becoming more and more important in the home. As related to blinds, he projects that motorized blinds and shades are going to "become a part of our normal lives over the course of the next five to 10 years." There are a number of external blind kits that offer users control using an app or remote. "We are looking at doing that same thing but we are looking at actually doing it built into the window," he reports. 


Aesthetics


Today, more attention is given to the aesthetics of hardware, notes Dan Gray, director of sales for Roto Frank of America. "Many fabricators are conscious of the "contemporary" trend and expect their hardware suppliers to have new offerings to support this trend," he says.


Michelle Nissen, vice president of product management for AmesburyTruth, also notes this move from traditional hardware to a more contemporary design. She says, "Hardware has gone from being decorative and ornate to sleek and minimalistic, with colors going to darker matte or black finishes."  
In terms of color, Finch notes that satin nickel and patina still seem to be the two leading colors that people are wanting. There are also some influences in some gold tones that are showing up in the marketplace. "We've seen the re-invention or re-invigoration of brass in more of an antique brass gold tone look. It's been slight, but antique brass or gold tones are still popular and growing in popularity," he says. 


Robust design


As windows and doors become taller, wider and heavier, the hardware needed to actuate the larger units must be more robust, Gray says. "This provides hardware manufacturers with nice opportunities to develop new products for value-added solution selling." 


Caldwell, too, reports seeing requests for more robust features and the capability to manage larger and heavier windows, and concealed hardware that is hidden from view or minimized to blend into the design. 


Of course, as Gray notes, ease of operation for large openings is essential for the end users as well. "Windows that have minimal operating force [are] extremely important for fabricators, hardware manufacturers and end users."