4Ever Sill | Worldwide Door Components Inc.
Challenge

Conventional threshold assemblies made of wood or metallic materials are susceptible to damage from mechanical stress and ultraviolet light that degrades the overall appearance of the threshold. In addition, traditional sills tend to be conductive and, therefore, not energy efficient.
Solution
Tradition meets innovation with our newly US Patented, Patent No. 11,047,165 4Ever Sill. Our thermoplastic deck is designed and developed as the next generation of door thresholds. The thresholds are available as a Full Composite Generation 1 or as a Plastic Injected Generation 2 structure. Its UV protection is designed to withstand the intense heat of the summer sun, making it durable and weather resistant.
Thermoplastic materials have additional advantages. One example is they do not hold condensation as conventional metal thresholds, which can create a safety hazard as moisture collects on the surface, thereby reducing friction and making the threshold slippery. 
Another difference is thermoplastic thresholds are more durable, dent-resistant, lighter weight and eliminate deck chatter, which happens over time with an aluminum sill. They are chemically resistant to a wide range of substances; as such, they are not subject to corrosion from paints, finishes, cleaners and various other construction or household chemicals.
Thermoplastics are also recyclable and can be remolded. 
Case in point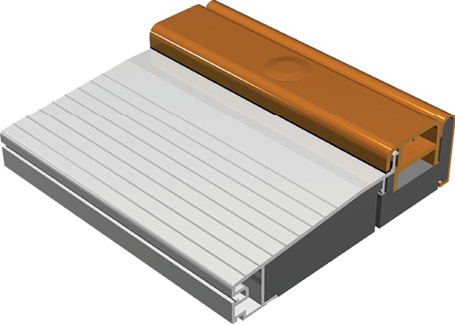 One of our first customer use cases was with a West Coast millwork company that began using our 4Ever Sill in 2019 to replace a metal product. They opted to use our Generation 1 co-extruded thermoplastic material with a fixed deck cover over a PVC composite base, all in one piece to be used on an exterior door opening. They submitted samples to their manufacturing team for testing and exposure to the elements. After 14 months, the product survived with no color deteriorations or visible cracks, changes in size or deflection. 
Their decision to buy the 4Ever Sill product was largely due to the material innovation and the ability to have all components match the color of the deck of the sill. One of the most attractive features of the 4Ever Sill for this California company was the solid PVC, moisture-resistant substrate base that provided a good surface for caulking the sill to the concrete floor.