Back to GlassBuild
In-person investment and innovation, in Atlanta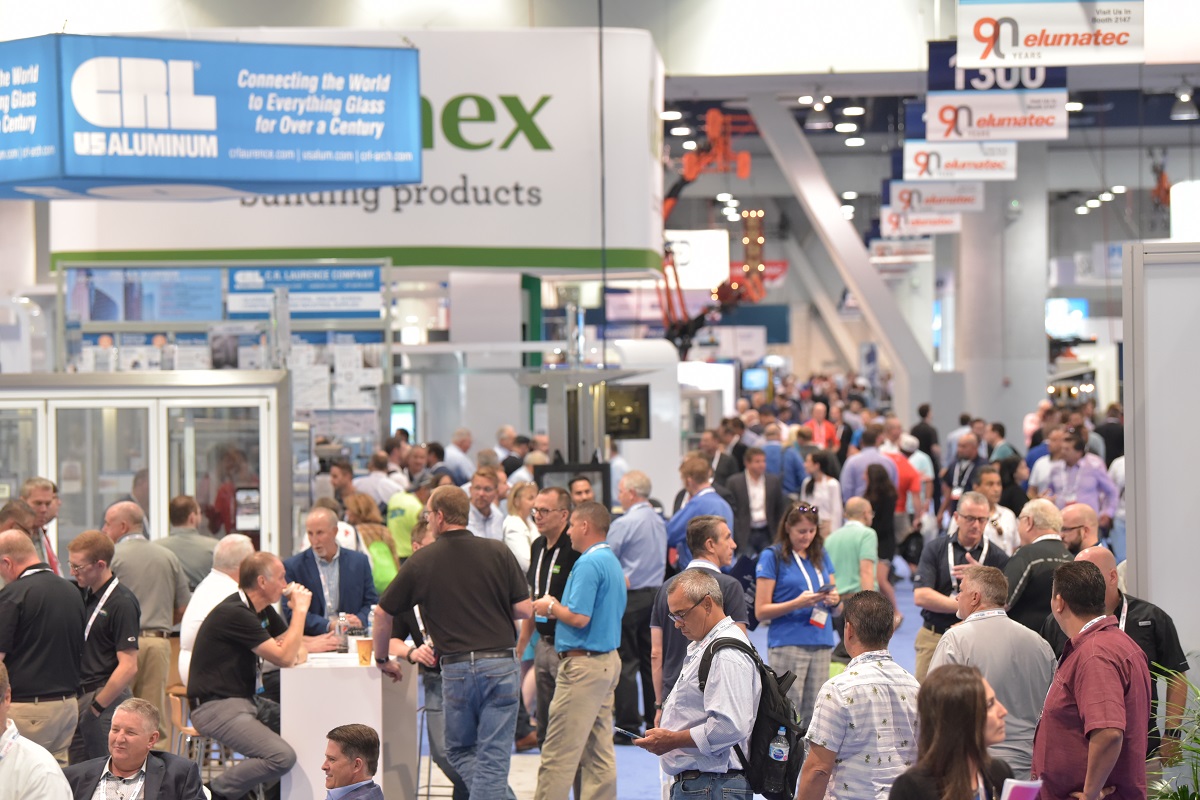 The GlassBuild America 2018 show floor
After more than a year of virtual collaboration, the glass and fenestration industries will return to in-person learning, connecting and investing at the 2021 GlassBuild America: The Glass, Window & Door Expo, scheduled for Sept. 13-15 at the Georgia World Congress Center in Atlanta.
Steve Dillon, marketing director, Veka Inc.

"We recognize that GlassBuild America is the premier show in the industry and we have a responsibility to be there for our customers and prospective customers. As industry leaders we are not only representing our own company, but the industry as a whole in order to build relationships, advance technology and set trends—not just follow them."
Larry Johnson, vice president of sales, North American Fenestration, Quanex Building Products

"GlassBuild is about strengthening relationships and educating our customers on not only our products, but also the way they can use our products and services to be more efficient. But more than anything, we want to hear from our customers and dig deeper into their challenges and how we can tailor our products and services to meet their needs now and into the future."
The show will host about 300 exhibitors over more than 115,000 square feet of exhibit space. GlassBuild America is organized by the National Glass Association and is the largest annual gathering place for the entire glass, window and door industries in the Americas. Per organizers, it is the key event in the Western Hemisphere where buyers and sellers meet and learn how to solve their most pressing challenges.
Exhibiting companies have spent the previous year developing new product solutions to address their customers' top concerns, and these innovations will take center stage at GlassBuild.
Morgan Donohue, president, Erdman Automation

"We need to show our customers our continued commitment to innovation. We will be demonstrating an entirely new concept at the show. We are proud to say we have done so more than 12 of the years we have participated."
Mark Imbrock, vice president, EDTM Inc.

"One of our mottos at EDTM is that we are only as good as our last product. Every single day of the year, we are working on developing new products. These new product ideas come from direct interaction with our customers. GlassBuild gives us the perfect venue to discuss customer needs, and help[s] us keep a barometer on the types of products the industry needs. Many times, our new product ideas are a result of direct requests that come from customers, sometimes right from the GlassBuild show floor."
Visit GlassBuild.com for the latest updates
GlassBuild Product Trends and Innovation
Research, development and new product investments didn't miss a beat during the pandemic. Suppliers from all segments of the glass and fenestration industries are poised to introduce and promote recent innovations and essential solutions during the return of North America's largest glass and fenestration industry event, GlassBuild America, set for Sept. 13-15 in Atlanta.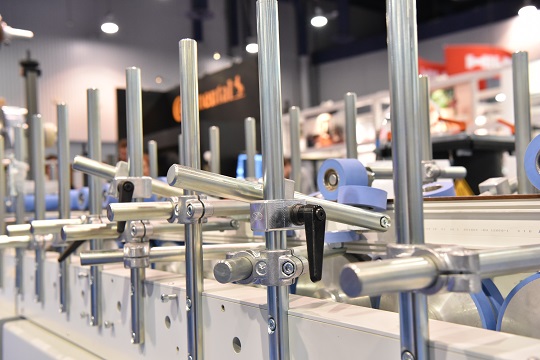 Trending

Automation

Labor-saving solutions

High speed and efficiency

Low-maintenance systems
Machinery and equipment suppliers at GlassBuild America are promoting their range of solutions for smarter factories to help customers address their top challenges—chief among them, labor. 
Process improvements in general are a hot trend. "We are seeing that our customers have a desire to continually improve their processes by replacing old and ineffective equipment," says Joe Shaheen, vice president of sales, GED Integrated Solutions, who expects the trend to continue into next year. 
Morgan Donohue, president, Erdman Automation, says the company "is always looking for ways to improve quality and throughput without adding labor." This is especially true as COVID led to a larger uptick in volume and desire to improve production, he says.
Using equipment can also optimize the efficacy of products. Larry Johnson, vice president of sales, North American Fenestration, Quanex Building Products, says the company's products aim to improve energy and process efficiencies. 
The increased product demand of the past year is also touching the machinery and equipment space. "Up to now the majority of the manufacturers have predominately focused on supplying the increased demands at maximum capacity," says Marco Patermann, Global Architectural Products and Services LLC, representing FUX. "Now many manufacturers are looking into increasing their capacity to sustain that increased demand, and equipment sales are back on the rise."
Tools for energy efficiency also abound. "We are seeing a push to conduct more energy evaluations of windows in the field," says Mark Imbrock, vice president, EDTM Inc. "This requires a more complex set of instrumentation that can account for ambient conditions, and be able to collect data over a longer period of time."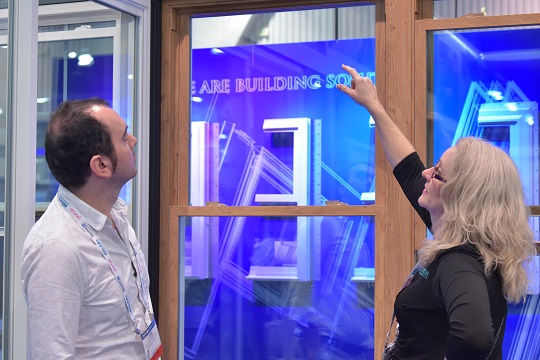 "Window designs have been focused on aesthetics and performance," says Steve Dillon, marketing director, Veka Inc. Dillon, who anticipated a renewed interest in technology after COVID halted its surge, also says, "Installation has to be a key consideration when designing a window system that focus[es] on all aspects of a window's life cycle, from fabrication to installation to long-term performance."
Aesthetically speaking, light and privacy control are important for homeowners, according to Roger Finch, national marketing manager, ODL. "Motorization is gaining in popularity and consumers are seeing increasing options in patio doors and windows for light and privacy control," he adds.
Door panel sizes continue to increase. As size does, door and window performance also need to increase to meet national standards, says Drew Anthony, marketing manager, Anthony Innovations. Manufacturers are tasked with creating solutions to accommodate the increased weight and performance requirements. "Increased panel size will continue to be the main point of design trends," he predicts. "However, minimalist sight-line systems, life and slide, and automation of sliding door panels are expected to come into play in the near future."
"Flexibility is key across all of our product areas," says Greg Koch, vice president of sales and marketing, Deceuninck North America, including window systems that can be configured in a variety of ways, laminated and sized for different window openings. "It's important to create flexible systems that can be used for a multitude of project types and meet numerous buyer preferences."
Of course, market demand ultimately drives product development. "Product development is the sum of multiple drivers," says Marco Patermann, Global Architectural Products and Services LLC, representing skai Exterior of Continental Surface Solutions in North and Latin America. "Depending on the objective and situation, it can vary in each case. We are inspired by the demands from the market, the tendencies in design, color and texture."
David Harris, product manager – exterior solutions, American Renolit Corp., says black film on a window's exterior and interior is a "really solid trend and does not show signs of slowing for the foreseeable short-term."
Harris also noticed increasing interest in lamination in the past few years, which he said "boomed" during the pandemic. "It has been garnering a lot more attention and we continue to see an expanding range of new users." Some customers, he says, have more than 40 percent of their sales go out with laminated color, a marked increase from several years ago when up to 90 percent of all windows sold were white.
Visit GlassBuild.com for the latest updates