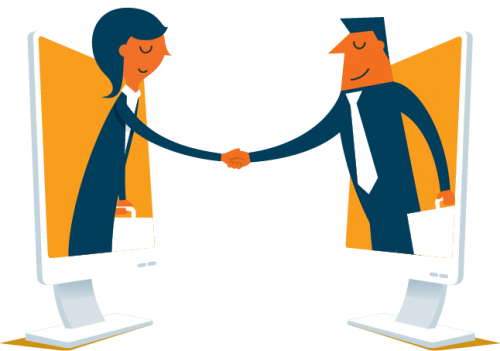 Author's Note: Join the ranks of the best of the best who leverage this simple and effective tool to wow their prospects, crank up their close rate and increase their average sales price. Get exclusive access to a free training on how to plan, script, shoot and send a video introduction by texting videointro to 44222. 
In-home sales consultations can be an intimidating practice—for both the sales rep and the homeowner. Sending a total stranger out to a consumer's home and crossing our fingers that the homeowner likes them and feels comfortable inviting them in is the first gamble we take in our sales process. And though we may background check our sales team and train them on how to create rapport, what of that eerie feeling most people get inviting a wholly unknown person into their home?
Even if our sales professionals cross this hurdle number one and the homeowner invites them in with little hesitation, hurdle number two is waiting inside: the almost innate feeling we all have that warns, "don't talk to strangers." 
We're advised against talking to strangers from a very young age and, even though the homeowner has made the appointment with the company, the sales person is still virtually a stranger. Then, beyond overcoming the stranger danger, the sales rep also must quickly establish themselves as a source of expert advice and guidance. 
How long does it take for a new person to feel like a known entity rather than a stranger and how long until we reach level one of the know-like-trust trifecta? Different techniques yield different results but, in some cases, it can take a good five to 10 minutes for those unspoken barriers to melt and for a homeowner to drop their guard.
The question becomes: how can we reinvest those precious minutes into what would otherwise be hurdle number three, the sale? Consider the impact of a simple 30 to 60 second personal introduction video that the homeowner can watch before the sales person pulls in the driveway or knocks on the door.
When you leverage a video introduction for each member of your sales team and, before they ever hit the road for an appointment, send it out to their prospect on their behalf, you are setting your sales team up for massive success. When a potential customer sees the salesperson's face, hears their voice and gets a taste of their knowledge and expertise, your salesperson is no longer a stranger. 
Execution
There is a proven scripting process that maps out all three elements—know, like, trust—and will create an effective video. This is known as the "SMILE principle." 
Spotlight yourself: "Hi, my name is [name] from [company]."
Meaningful credibility: "I've been helping homeowners for [number of] years."
Identify their pain… and be the solution: "Many clients are concerned about…. But don't worry!" 
Leverage a tool: "To get started, I've attached our [checklist] for you to start thinking about."
Engaging close: Literally, smile for five seconds.
Still, even if you wing it, and create a different script that helps pre-establish at least one of the three trust-trifecta elements, you're still in far better shape than your competitors who are sending out complete strangers to try to create customers.
The biggest gamble that we take when we send strangers to meet with our best leads is that the sales person will be able to lead the consumers on a wild emotional journey and walk out with a check in hand. That know-like-trust trifecta can be awfully challenging to master in a short consultation.