GlassBuild America Displays Industry's Resilience
Exhibitors, suppliers return to in-person event with high energy and a focus on meeting industry challenges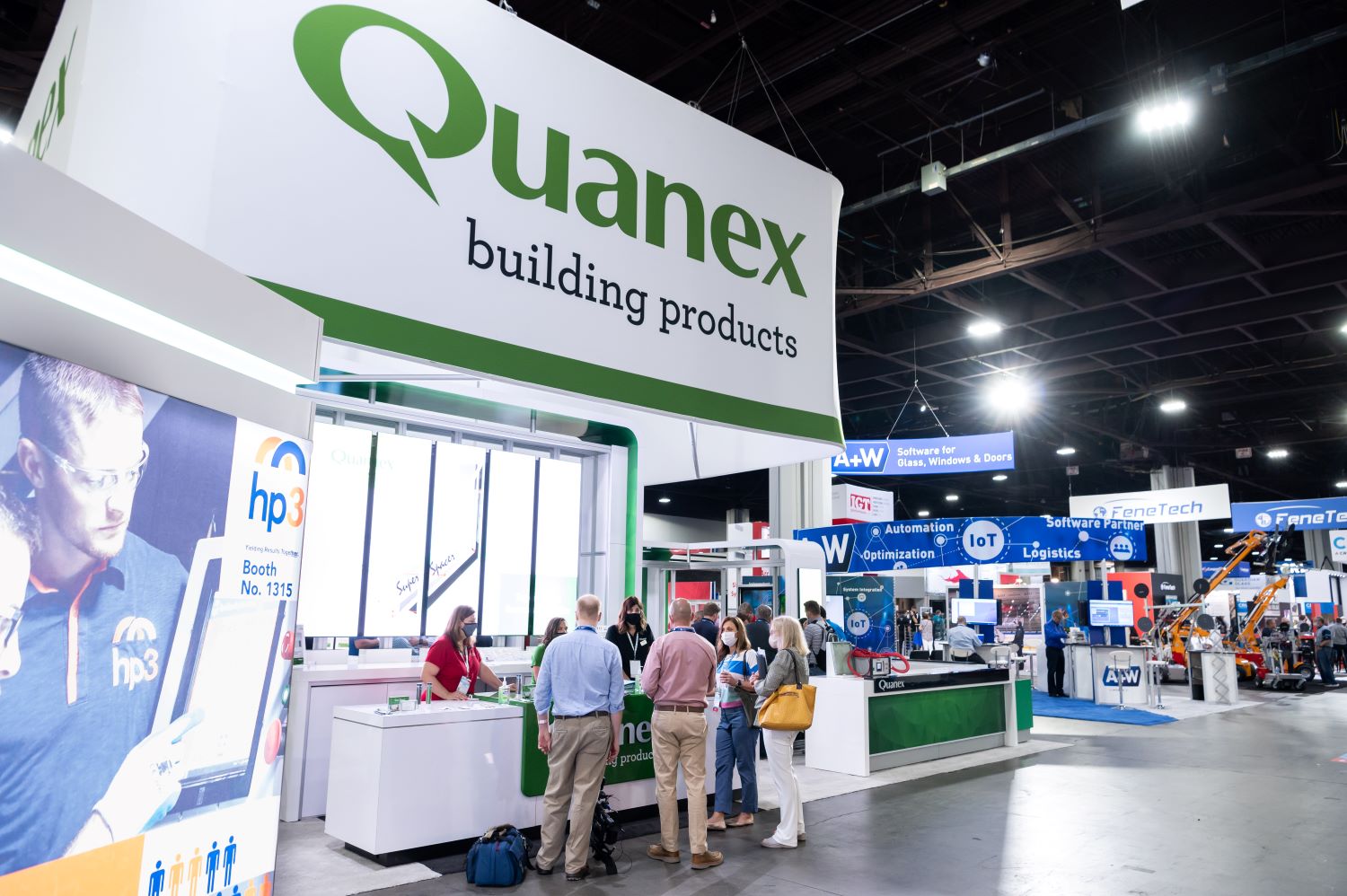 Show Highlights

Attendance: 5,100 attendees from 48 U.S. states and territories and 35 countries
Exhibit floor: 114,874 net square feet at the Georgia World Congress Center in Atlanta
Education: GlassBuildTV featured more than 3.5 hours of industry programming from about 20 glass and fenestration industry associations
Glass product trends: Larger glass sizes, higher thermal performance, protective glazing, custom offerings
Equipment trends: More automation, integrated machines, safer handling, ease of use, labor-saving solutions
Industry headwinds: Labor shortage, supply chain delays, freight and other material costs

Save the Date

The next GlassBuild America will take place Oct. 18-20, 2022, in Las Vegas.
Future GlassBuild Dates
GlassBuild America: The Glass, Window & Door Expo was back in Atlanta Sept. 13-15 for the first time since 2019. The largest annual industry tradeshow in the Americas drew 5,100 participants to its 114,874-net-square-foot exhibit floor.
"People are social animals. They need to be together and that was evident at the show," says Gary Hartman, vice president of sales and marketing, Chelsea Building Products. "Folks who made up their mind to attend were glad they did. Those who were hesitant to attend, and did, were glad. Those who didn't attend probably wish they did."
Though with fewer exhibitors than usual due to the global pandemic and pre-registrations tracking lower than normal, the National Glass Association, organizer of GlassBuild America, and exhibitors alike were pleased with the final participation.
"The attendance and energy on the show floor exceeded our expectations," says Nicole Harris, NGA president and CEO. "We are grateful to everyone who made the extra effort to show up in person to see each other, their suppliers and the most exciting products and services our industry has to offer. Having such a good turnout is a testament to this industry's resilience and forward-thinking attitude."
"Even if it was a smaller scale," says Florian Doebbel, business development manager, façades, Sika Corp., "all attendees were absolutely focused on improving their business and business relationships. All of them showed up with specific interest and demand."
David Harris, product manager – exterior solutions, American Renolit, echoes this sentiment, saying that attendees were, "anxious to discuss in person how to work through current challenges and to plan for positive projects in the future." He continues, "It seemed like there was a kind of sense of togetherness as everyone was able to reflect and relate about the struggles and accomplishments we have had over the past 18 months."
This hints at another theme that was prevalent at the event: despite challenges, the industry remains strong. "GlassBuild 2021 showed the strength of the window, door and glass industry, and the commitment to customer service and product advancements during difficult times," says Laura Fiegelist, marketing communications coordinator, GED.
Addressing industry challenges
At the event, exhibitors and attendees alike expressed supply chain as a top-of-mind issue, followed by ongoing labor shortages and concerns. People were looking for solutions to ease some of the problems they face, both now and going forward. "Even though folks are busy now, they are looking to the future," says Hartman. "When the current situation ends, what will they need to do to give their business a competitive advantage?"
Steve McDowell, NFRC's residential program manager, notes supply and labor pain points. "Consumer demand for fenestration is extremely high, pointing to a significant rebound in the market, but supply chain constraints and labor shortages are somewhat hampering efforts to meet those demands. Suppliers and manufacturers are very optimistic that the increased demand will continue well into 2022 and 2023."
And, while labor challenges have been even more difficult due to this high demand, Morgan Donohue, president, Erdman Automation, believes that we would have been in this situation regardless of the pandemic, just to a lesser degree. "We are using robotics more due to the labor shortage; the robots are easier for our customers to cost justify now," he says.
In order to meet this demand, Donohue also points to the need to diversify products, to protect against supply disruptions. "This will lead to some interesting shifts in how people approach vertical integration in an organization."
While looking for solutions was one obvious mission of those at GlassBuild, attendees were also there to stay on top of trends and build a competitive advantage in realizing the ways to accomplish those trends. "Many visitors were new prospects, but also existing customers, which all came with a mission to the show: to talk business, to find out what is new in exterior laminate finishes and to educate themselves about profile wrapping or to expand their current operation," says Marco Patermann, manufacturer's representative, Continental and FUX.
Another trend, according to GED's Fiegelist, is the future of IG and vinyl equipment, which is in high-speed, automated systems that offer labor savings while maintaining great quality and precision. "We met with many customers and had great discussions about new IG and window systems and software products we introduced prior to and during the show," she says.
GlassBuild 2021
5,100 
Attendees from 48 U.S. states/territories & 35 countries
20
Industry associations providing GlassBuildTV
114,874 
Net square feet at Georgia World Congress Center
Trending at GlassBuild
GlassBuild America puts trending technology in the spotlight. Exhibitors share the biggest factors for market trends to come.
Meeting supply disruptions
"The need to diversify products to protect against supply disruptions is on the top of most of our minds. This will lead to some interesting shifts in how people approach vertical integration in an organization."—Morgan Donohue, vice president, sales and marketing, Erdman Automation.
Automation & equipment
"Customers are looking for all things automation: loading, cutting, sorting, line utilization and solutions that bridge island processes to eliminate unnecessary handling, quality issues, streamline overall process flow are at all-time highs and in more demand than ever before."—Tom Bechill, sales manager, Hegla.  
"Last year was an incredible year for equipment sales. People are buying equipment."—Carey Brayer, vice president of sales, Intermac America.
"The future of IG and vinyl equipment is in high-speed, automated systems that offer labor savings while maintaining great quality and precision. In software, immediate data feedback and analysis of manufacturing processes, as well as web-based software, offer flexibility and reliability to manufacturers in fast-paced production environments."—Laura Fiegelist, marketing communications coordinator, GED.
Tech solutions
"Software was very popular with people asking about contractor/glazier software and manufacturing/fabrication software solutions. Some [software solutions] can help companies address the current labor shortage, for example." —Chris Kammer, marketing coordinator, A+ W Software North America
"Companies now expect cloud capabilities from providers, much more so than before the pandemic."—Darryl Huber, vice president, global customer strategy, Soft Tech.
Glazing trends
"The biggest trend we're seeing is the evolution of jumbo glass. The demand is there. Architects want better sightlines, more light."—Alan Kinder, regional architectural manager, Guardian.
"Lamination has really skyrocketed over the past couple of years. Visitors in our booth were anxious to discuss both current and future trends. By the end of the show we all came away with new ideas and some direction about where we are heading." —David Harris, product manager – exterior solutions, American Renolit
 
Best in Show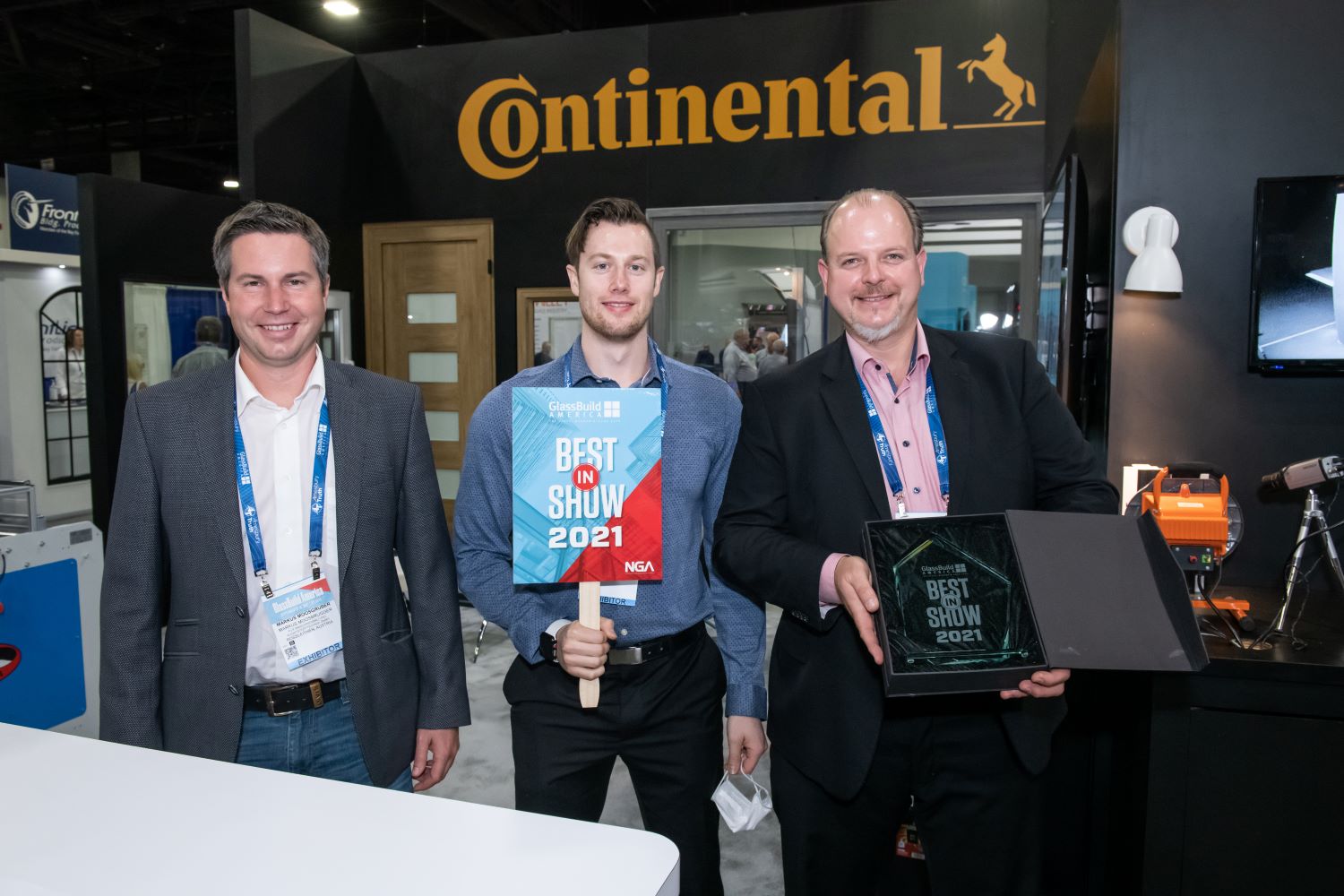 Above: Continental accepts the Best in Show award for Best Large Booth.
The following companies received Best in Show Awards for their exhibit booths at GlassBuild America 2021. Winners are chosen through voting by an independent and anonymous group of industry representatives.

Machinery Booth | 

Forel S.p.A.

Small Booth | 

Dreamwalls Innovative Glass Products

Large Booth | 

Continental

Software Booth | 

Orgadata / LogiKal

Medium Booth | 

Q-railing North America

New Exhibitor | 

Magid


 
More of GlassBuild 
Relive the show on GlassBuildAmerica.com.
@WindowDoorMag at #GlassBuild