Industry Pulse 2020: Embracing A New Decade
The Big Picture: Vinyl still dominates, robots and automation take center stage, the industry continues to look for labor solutions
Mon, December 23, 2019 - 12:00pm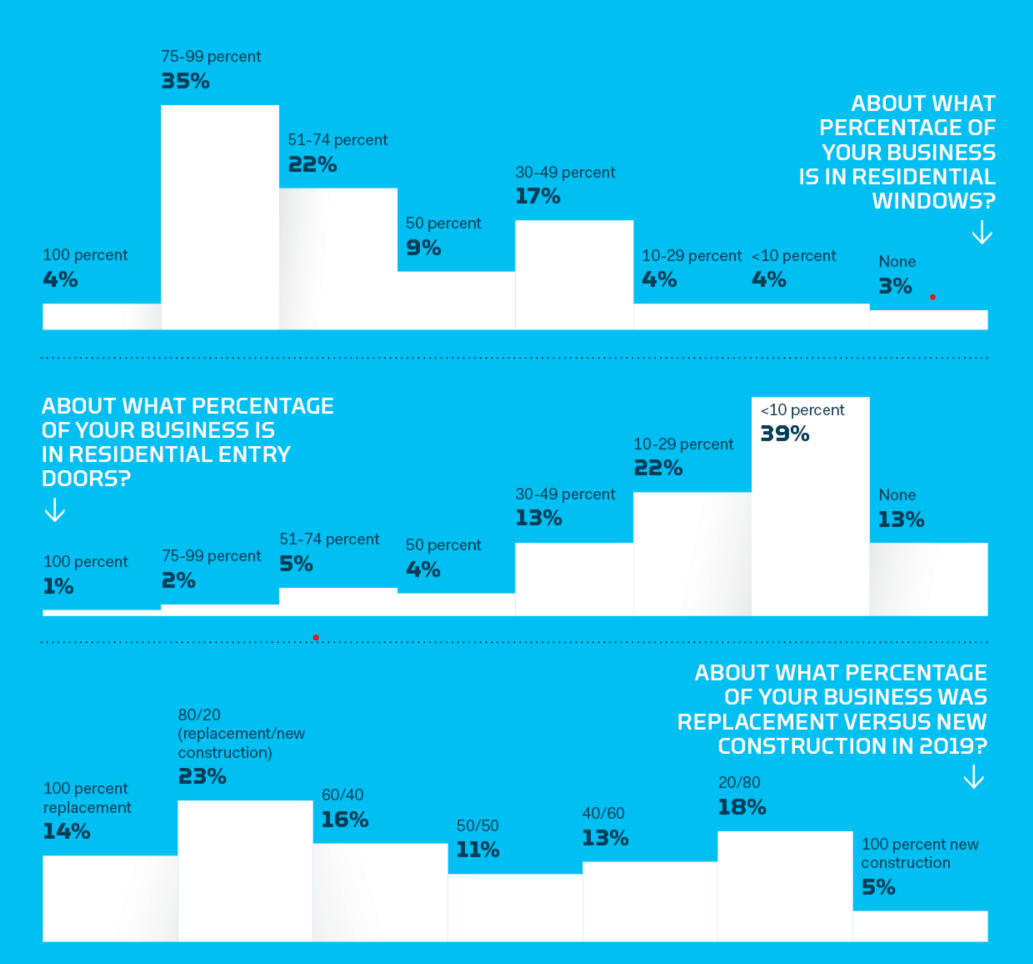 Window + Door's annual Industry Pulse report reflects on 2019 and lays expectations for 2020, including insights on product, sales and employment trends. The report also frames how the greater economic landscape affects fenestration, and sheds light on how technology is increasingly changing the industry. Beyond the numbers, sources for The Industry Pulse share perspectives on how the industry is innovating, not only to improve fenestration, but the building industry as a whole. The general consensus is that business is good and opportunity, ripe. Some indicate growth and expanding market presence is the biggest opportunity. Others focus on innovation, both in terms of production and aesthetics. Read on for the whole picture of where the market is and where it is headed.
Sales + Product Trends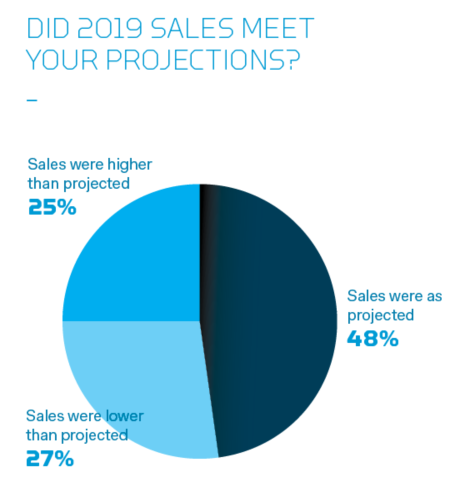 According to this year's survey, consumer demands are the biggest drivers of product development as well as rising attention to energy efficiency. Brian Miller, president and CEO, at ProVia says that the push to add the next level of performance and meet market needs are prompts for product advancement. "There is a desire for differentiation among manufacturers, which often results in ideas for new product development," he says.
For years, color has been a major voice in the conversation on differentiation. Marco Patermann, manufacturer's representative of skai Exterior of Continental Surface Solutions, reports that performance in terms of color is now more central to the discussion. "The continuous demand in high-end finishes and the stronger focus on performance regarding weatherability, low heat buildup and aesthetics in haptic and appearance will drive more market players from using paint toward using laminates, especially when it comes down to the main colors," he says.
Industry standards are continuously reevaluated as performance improves and staying current with these standards as well as the codes keeps manufacturers progressing. "The industry, and its requirements, are changing rapidly," says Benjamin Foreman, marketing coordinator, Solar Innovations. "Code requirements and state laws are beginning to shift towards becoming the driving force for innovation. The worldwide development of technologies allows the manufacturing and architectural industries to integrate and stay ahead of industry trends. However, it is always important to keep a pulse on what others are doing well and how to continuously improve in all facets of the process."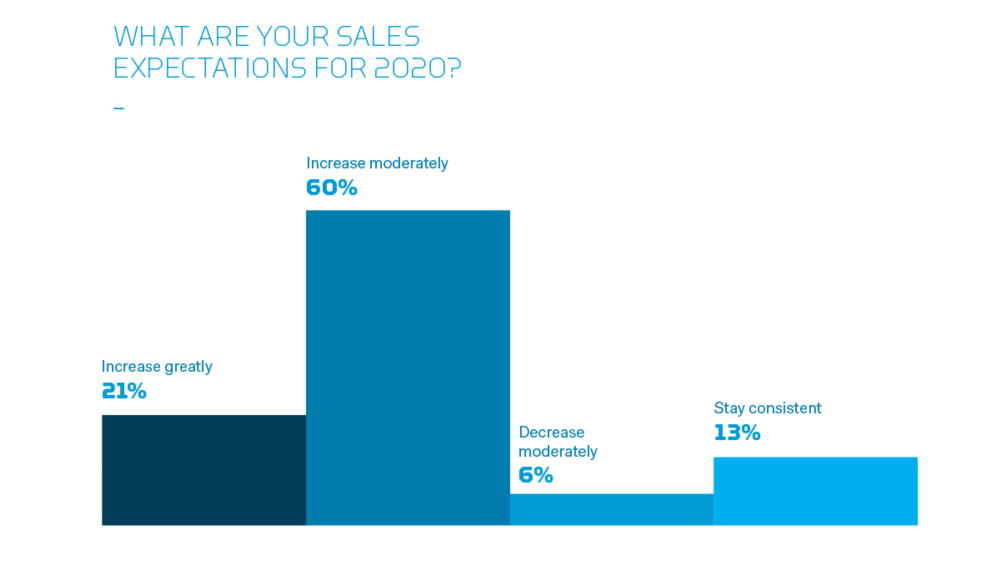 The demand for products focused around resiliency is growing in light of more stringent codes and rebuilding after natural disasters. "Whether you are required to have specific performance ratings due to geography, or you just want to build with the most durable products available, the need for resilient products is more real now than ever," says Foreman. "The adoption of climate change ideology has increased the desire for these products and will continue to do so as long as coastal and other disaster-prone areas are affected by these occurrences."
Jim Seaser, director of product management excellence, and Aaron Mundt, director of product management casement and commercial, AmesburyTruth share several items that influence the company's product-development trajectory, including impact resistance as well as fall protection, custom applications/solutions, larger windows and doors that bring the outside in, and easy-to-apply and install hardware.
This last point is an important trend of note. As multi-panel sliding and folding doors get more expansive, stiles and rails get narrower. "Door manufacturers are racing to see who can make the most narrow stiles and rails, leaving very little room to fit functional hardware," notes Matt Taylor, director of product development, HOPPE North America Inc. "In some cases, we are challenged to design a multipoint door lock that fits into half the space we are used to working with."
This modern movement toward the larger, heavier expanses of glass in residential windows and doors also requires more robust hardware systems traditionally seen in more commercial applications. Of note, Roto North America debuted a new system to address these challenges at GlassBuild America last fall.
Hardware aesthetics continue to evolve as well. There are two distinct trends, Taylor tells Window + Door. "On one hand, minimalism is favored. Narrow stiles and rails mean hardware also needs to be more discreet or at least proportional to the door design. On the opposite end of the spectrum, large pull bars are trending. These highly visible hardware items are typically used to create a grand front entrance. The trend for larger doors is a major factor here."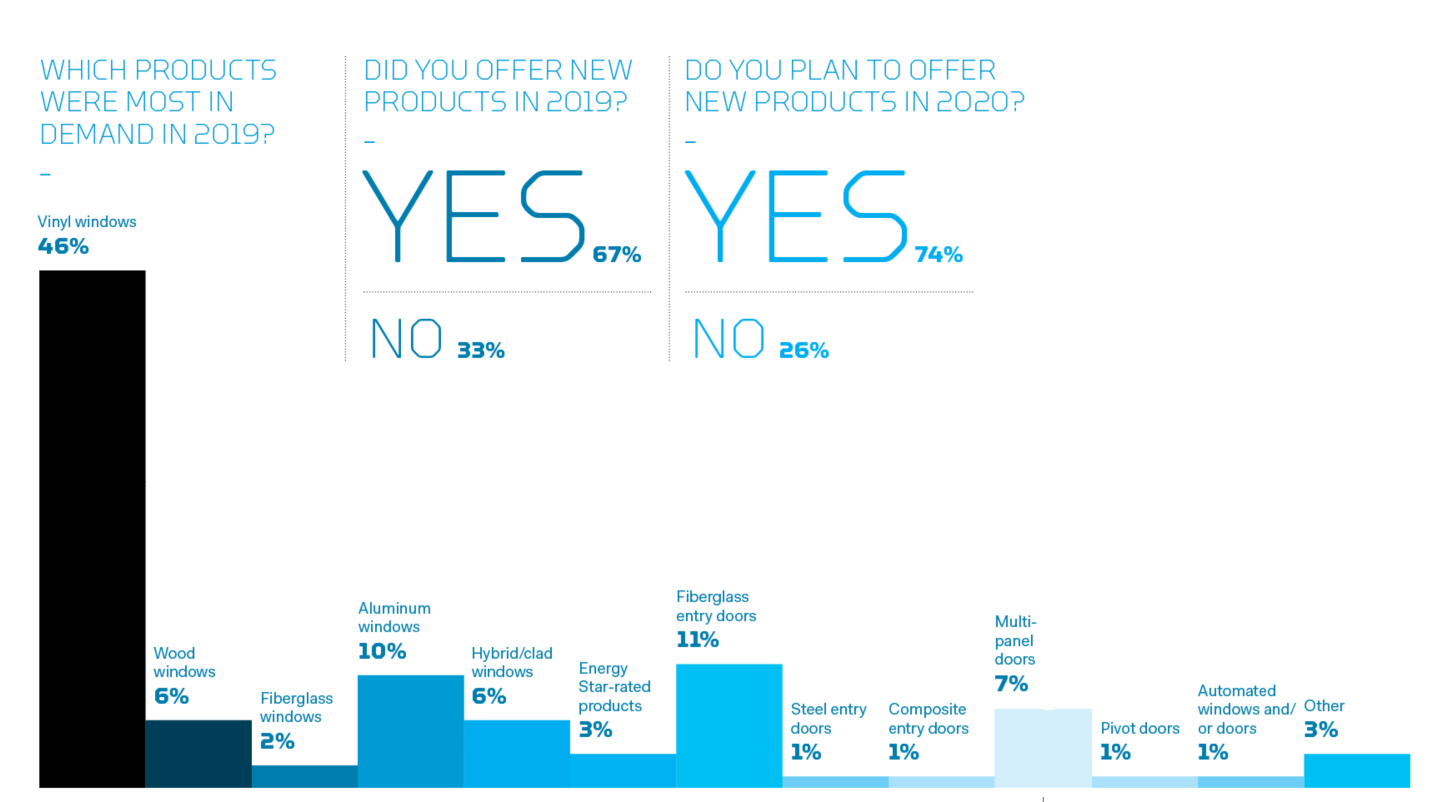 Sales + Supply Challenges
Though the industry anticipates sales to increase and look toward product launches in 2020, the year will not be without challenges. Consensus is that material prices will also increase and companies across the industry will look to diversify their supply chain.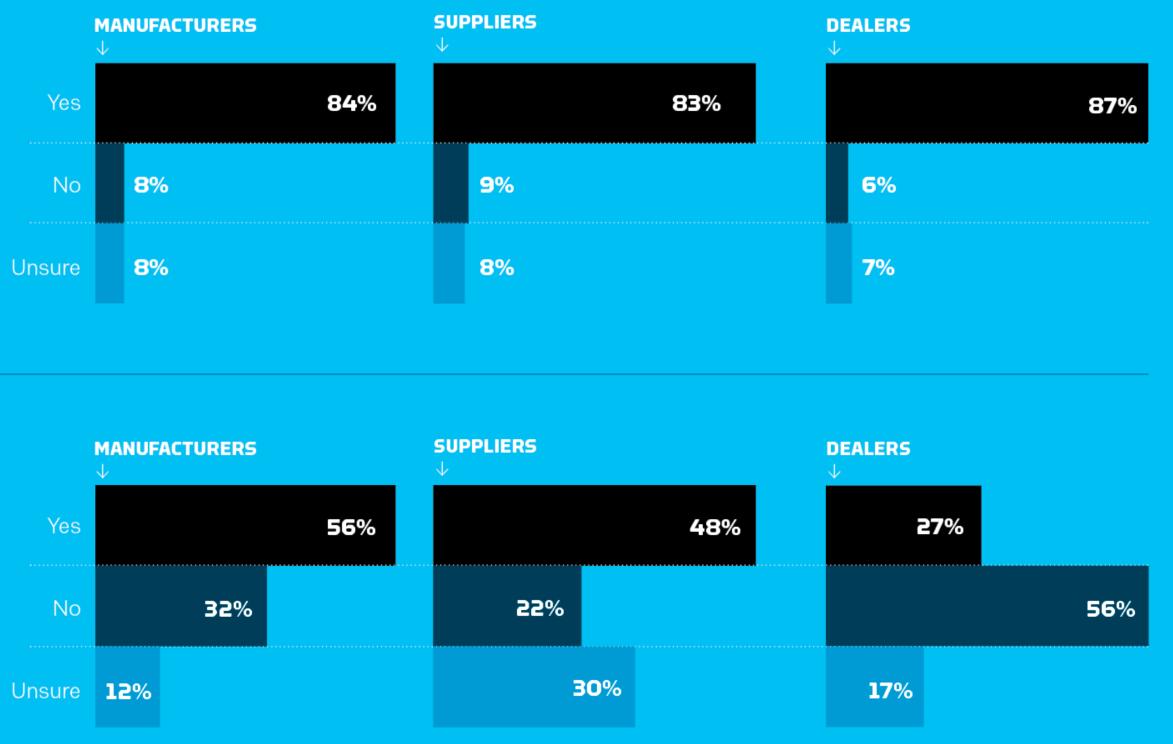 Customer-centric Expectations 
How are manufacturer expectations changing?  
"Customers continue to seek greater value from suppliers—quality, price, delivery, stocking programs, differentiation, etc. We have seen a huge swing of customer interest in contemporary aesthetics, including sleek/low profile designs, minimalistic hardware to optimize outside views, modern colors, and straight-lines. Farmhouse looks are still very popular." 
Jim Seaser, director of product management excellence, AmesburyTruth 
"The use of technology and automation expectations are growing. Additionally, customers prefer a completely integrated solution to get a complete picture of the business. Disjointed systems are a thing of the past. Smaller companies know they need to invest in software to grow and meet dealer/distributor expectations." 
Matt Batcha, business development, FeneTech 
"Customers are more aware of the need to automate because of the difficulties in finding skilled labor as compared to five years ago. Expectations have evolved from traditional labor-focused capital paybacks to paybacks which focus on higher levels of quality, consistency and efficiency as a direct result of automation."  
Tim McGlinchy, executive vice president of engineering and research and development, GED Integrated Solutions 
How are end-user expectations changing?  
"Customers know what they want, and they want it quickly. They want the most competitive pricing and gravitate toward suppliers who can provide custom and complete product packages. They want to be able to integrate their products with the latest technology without compromising on performance under stress. Today's customers are seeking larger, longer-lasting products with looks and performance that will withstand the test of time. Most importantly, like all of us, customers want to be treated with an experience beyond expectation. In an era where customer service has been automated to the point of frustration, the businesses that can separate themselves from the rest are those that devote the time and care needed to treat each customer like their only customer. Balancing this need with automation can be tricky, but those who identify this balance are always more successful long-term." 
Benjamin Foreman, marketing coordinator, Solar Innovations 
Production, Automation + Technology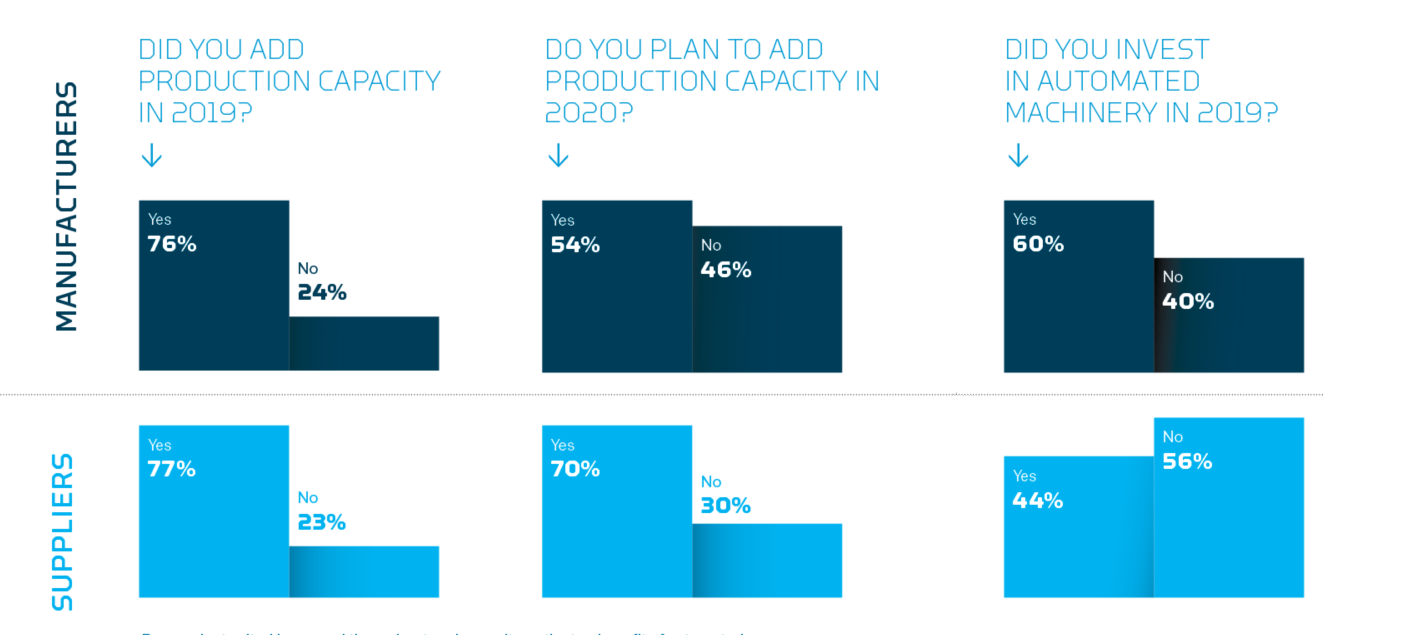 "Automation has been and will continue to be the greatest opportunity for manufacturers in 2020," says Larry Johnson, vice president of sales, North American fenestration, Quanex. Automation undisputedly helps with productivity, quality and labor challenges and although many companies have yet to fully embrace automation, it's bearing down on the industry fast.
"Labor issues won't go away and automation enables them to operate more efficiently," Johnson continues. "Customers are also moving away from anything semi-automated or in a horizontal layout. A lot of this equipment is becoming obsolete as software becomes more sophisticated and manufacturers need to do more with less."
Jessica Metz, marketing manager for Erdman Automation, estimates about 80 percent of its business relates to Industry 4.0 and connected machines, with steady growth coming. Metz also shares that Erdman's focus is on IG equipment but that it continues to "look for ways to innovate by improving existing processes or creating entirely new machinery."
"[Manufacturers] are investing more capital in automation systems today compared to the past decade in the fenestration industry," reports Tim McGlinchy, executive vice president of engineering and research and development, GED. "This is evident to GED by the record-breaking implementation of automation systems integrating robotics deployed over the past five years."
Mitch Lewandowski, vice president of sales for North America, Soft Tech, agrees that the industry is at a "tipping point." He believes The Internet of Things, Industry 4.0 and eventually Industry 5.0 will be normal within the next 10 years. "Everything will be interconnected. You'll have wireless communications from what machines do on the production floor to how that machine is operating and what efficiency it has," he says.
McGlinchy also sees this trend, stating, "Digitization will dominate the factory floor in 2020." In the past, he explains, advanced material optimization processes were the driving forces for profitability and capacity. "The focus will shift to collecting data, monitoring WIP, and using digitization to drive more optimized solutions."
Matt Batcha, business development, FeneTech, says there's a lot of interest in this, what he calls "the digitalization of business." Automation certainly is a part of it, with manufacturers demanding more highly automated machines that reduce physical labor, according to Batcha. "Additionally, today's machines can provide feedback to software, providing a picture of the state of production," he explains. "This enables the user to see a clear view of their available capacity and bottlenecks via the software."
To this point, Greg Koch, vice president of sales and marketing for Deceuninck North America, adds that increased automation not only helps to reduce errors, but improves speed and quality in the production environment. "Strides in automation and technological standards continue to impact our business, both in manufacturing and production, as well as overall operations," he says. "It's a major focus for ongoing advancements in innovation, design and sustainability."
Suppliers, too, are looking to automation for solutions to enhance product lines. "On the vinyl extrusion side, we have made significant investments in our plants and operations with new automated equipment," says Johnson. "The increase in volume this equipment can produce is tenfold and we expect that will help us expand our offerings." The company also is investing in automated equipment for its screen business as it adds locations and helps customers with logistics.
As for what's next? According to McGlinchy, the next generation of automation will focus on adaptive robotic technologies, in which the robots acclimate to product variability and manufacturing processes. In a more general sense, as Greg Header, president of Solar Innovations, puts it, "The future looks bright as new innovations in automation are revolutionizing the way businesses grow and adapt."
Employment
The labor shortage didn't happen overnight and likewise can't be fixed overnight. Each company has its own method of tackling the problem not only to help themselves, but to help the industry. "Retaining and training talented team members is the most important key to sustainable success," says Solar Innovations' Header.
"This is a long-term effort, and we're building relationships that could be fruitful several years from now," says ProVia's Miller. "Some examples of how we accomplish this are participation in our local Manufacturing Camp and involvement in vocational schools. There's no overnight fix to this. Instead it has to be part of a long-term strategy."
Erdman Automation also feels the labor shortage crunch, but in a different way than companies who have field workers. "We have a more focused subset of labor than our customers," Metz explains. "We need skilled machinists, programmers, welders and assemblers." She notes that, with fewer and fewer young adults going into technical labor jobs, the company has a rigorous apprenticeship program to teach the skills to young adults who are willing. "We are working with the local schools and have had a steady successful gain in labor numbers."
With challenges in recruitment and retention seen throughout the fenestration industry and in manufacturing in general, more and more processes are being automated. "If companies can't hire people, then automation has to become part of the solution," Koch says.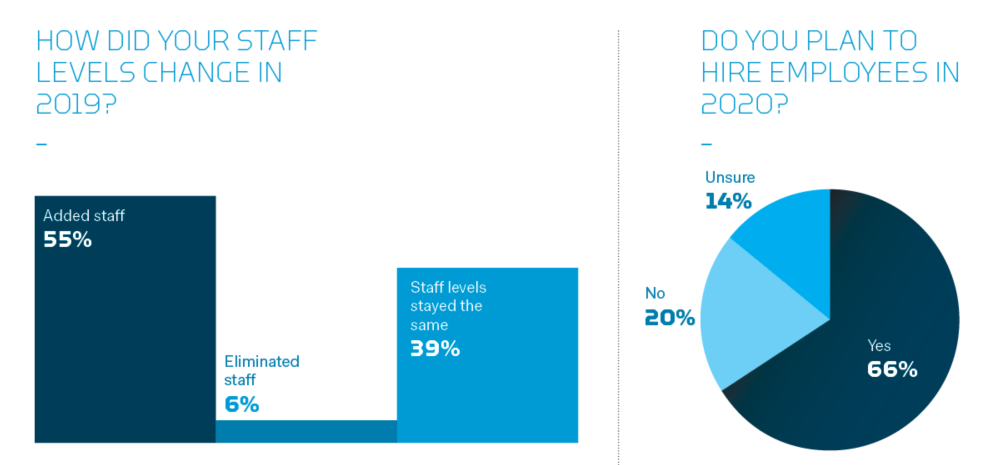 Global Influence
Many of the suppliers in our industry have European roots. But, even for those without European headquarters, Europe still influences what is happening in the U.S. market. Europe's progress with automation and technology has especially affected the U.S. machinery industry. Survey respondents indicated "advancement of technology" and European technology giving "access to bigger-size units" as some ways European trends have influenced business.
Aesthetic trends are also traveling across the Atlantic, with survey respondents indicating color as one of the biggest trends coming into the North American market. "We are already seeing significant growth in colors in the U.S. and Canada, and it is continuing to grow," Koch notes, adding that, even so, the demand for color is still much less than in Europe.
Patermann agrees color is on the rise in the U.S., saying the market experienced an unexpected tremendous growth for exterior laminates. "The design/color selection is rather conservative with few choices, but we see there is a growing demand for more diversity in design not only in solid colors, but also in modern woodgrains."
The demand for high performing windows is also growing, Koch reports, including Passive House windows, an area where the U.S. follows the lead from Europe. "There is also the trend for bigger windows that still meet the highest energy efficiency and performance standards." 
Sources tend to agree that technology and automation is more prolific and advanced in Europe than in the U.S., but Patermann clarifies that the two countries have very different concepts based on heritage, market development and different needs and customers in each market. "We get inspired by one another, but technology is not always directly transferable," he says.
Lewandowski refers to Europe as a mature market in that there isn't a lot of population growth, and therefore the market isn't expected to grow much. This is a challenge for European companies on the sales side and has driven many to sell their products in North America. Patermann agrees, saying, "European markets in this segment are already very consolidated and more or less stable, which gives a good solid base for planning, but on the other hand, there is not strong growth expected there."
Technologically, however, Lewandowski says Euro fenestration companies are "way ahead of us on windows and doors." Necessity drives those more advanced products because of high energy costs in Europe. "We [in the U.S.] have cheaper energy. The cost of keeping a house heated or cooled is lower, so our need for high-performance products is not as high as in Europe."
Similarly, Europe's automation advances are necessity-driven. "Just like with energy, the cost of labor is high so they use labor to solve that problem," Lewandowski says. "They are not just providing workstation efficiency, but complete operational efficiency throughout the production floor."