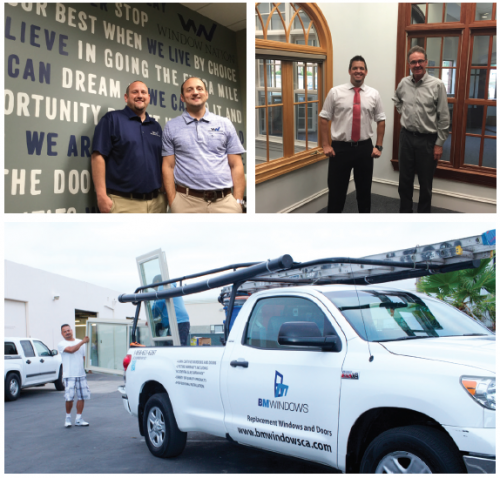 On September 13, the Window and Door Dealers Alliance, along with Window & Door magazine, honored its 2018 Dealer of the Year recipients at a ceremony at Window & Door Dealer Day in Las Vegas. This prestigious program honors excellence in the window and door industry, and this year's honorees represent new and innovative programs and processes. 
While these stories provide new and important perspective, we also received a number of entries from previous winners that reminded us how our legacy Dealers of the Year continue to do great work that moves their businesses, as much as our industry, forward. In the spirit of the awards, we want to share some of the guiding mantras, philosophies, keys to success and secret sauces that have contributed to the longevity of a few of our former Dealers of the Year. 
2015 Dealer of the Year
Excellence in Customer Service
B.M. Windows was founded with a very simple philosophy: deliver high-quality products and services at affordable prices without the hassle of high-pressure sales tactics. Company staff is keenly aware of the value of word-of-mouth advertising and the importance of customer satisfaction. As manager Jim Chitlik previously noted, "Nothing is too small. If something gets stuck in a track and a window won't close, for example, [owner] Michal or I will be the first ones out there. My name is out there. The company name is out there, and we know that bad news travels further than good news. Michal and I make sure every detail of every job is done right the first time."
Customer reviews compliment the great work product and work ethic from B.M. Windows, noting that service is superior from sale to install to follow-up. B.M. Windows' ongoing commitment to complete customer satisfaction contributes to their success, with more than 50 percent of new customers coming from the recommendations of existing, happy customers. 
2014 Dealer of the Year
Leadership in the Homeowner Market
At North Georgia Replacement Windows it's not about treating the customers the way you would like to be treated, but in the way the customer would like to be treated. President Ted Kirk calls this the "Platinum Rule," the foundation of which is good communication from start to finish. In addition, customers benefit from phased projects as part of proposals and a policy that doesn't require them to choose a minimum number of windows.
North Georgia Replacement Windows continues to strive for overall excellence in various facets of business by maintaining a 98-plus percent recommendation rating since 2011, offering a turnkey experience by providing all window and door finishing and remodeling services as needed, and always using the most premium products, materials and processes. 
2015 Dealer of the Year
Creative Marketing
Since 1989, Quality Window & Door Inc. has set out to be the authority on windows and doors, educating individuals on the window-buying process by investing in guides, e-books, downloads and resources for consumers and contractors alike. Quality Window & Door sets itself apart by being more than just an "order taker." 
The flexibility and knowledge of the Quality Window & Door team makes the company a true partner for builders and contractors as a window and door design consultant firm, as well as a product and installation provider. Because of its diverse product offerings, the company can give partners a full spectrum of options and stay involved with the project until completion. This unique position has contributed to the success of Quality Window & Door and protects its clients' investment in a quality product, installation and operation.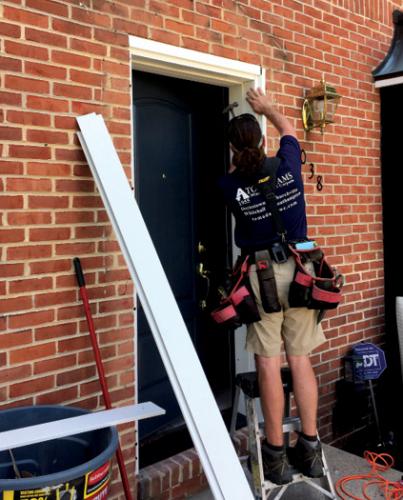 2017 Dealer of the Year
Excellence in Installation
The company mantra of Tom Adams Windows and Carpets is simple but effective—"Do the job right the first time." Sales manager Robert Barufkin notes that this sounds easier than it is, but over the years the company has identified and developed an edge that is the key to its success. For Tom Adams, it's their people. Barufkin reports that the company "hires, trains and reviews our installations to do the best [job] possible the first time. We inspect our own work and reward installers for doing the job right." 
The staff's dedication to doing the job right goes beyond direct customers. Because of the outstanding reputation of Tom Adams installers, builders often turn to the company to help resolve problems with products they didn't even purchase from Tom Adams. 
The Tom Adams team prides itself on continuing the values that the founder started in 1955 and continues to find success in selling high-quality products and workmanship at affordable prices. 
2015 Dealer of the Year
Innovative Enterprise
Consistency and quality are key at Window Nation, and something it can achieve through an intensively managed, metric-driven approach to installation services. Using a precise step-by-step model for each segment of the sales and installation process, the company is able to provide each homeowner with a consistent, efficient experience that results in exceeding customer expectations, company officials report. Benchmarks for each segment of the installation process are clearly defined, including standard timelines for sale to technical measure, measure to project quote, quote approval to installation, and overall from sale to installation. 
During weekly installation management meetings, the company performs a consistent and detailed review of the standards and processes, and a designated cadre of installation auditors reviews each project and follows up with customers. Window Nation's diligent enforcement of standards ensures complete customer satisfaction and has allowed the company to excel even during periods of rapid growth. 
2016 Dealer of the Year
Innovative Enterprise
Celebrating nearly 50 years in business, Woodland Windows & Doors continues to operate on the mantra of founder John Mariotti. "If you take care of the customer, the customer will take care of you," he believed. With relationship-building at the forefront of its business model, Woodland invests in people and processes to stay a step ahead in an industry saturated with choices and offers. The company recently made improvements in automation and the online experience.
Woodland also aims to share experience and knowledge with customers by designing better solutions for the same cost. The company believes that replacing windows and doors should be a matter of enhancing the customer's lifestyle, not just providing a necessity. Woodland will redesign a space to include new windows on previously windowless walls, ventilation awnings below picture windows, or multi-slide doors that open the inside to the outside. Woodland Windows & Doors doesn't want its customers to just be satisfied; the company wants customers to be delighted. 
Building on the legacy
WDDA thanks all of those who took the time to nominate their companies and customers for the Dealer of the Year Awards. It's great to see what the professionals in this space are doing well, how they are innovating, and to be reminded of the great company we all keep in this industry. Congratulations to winners past and present.