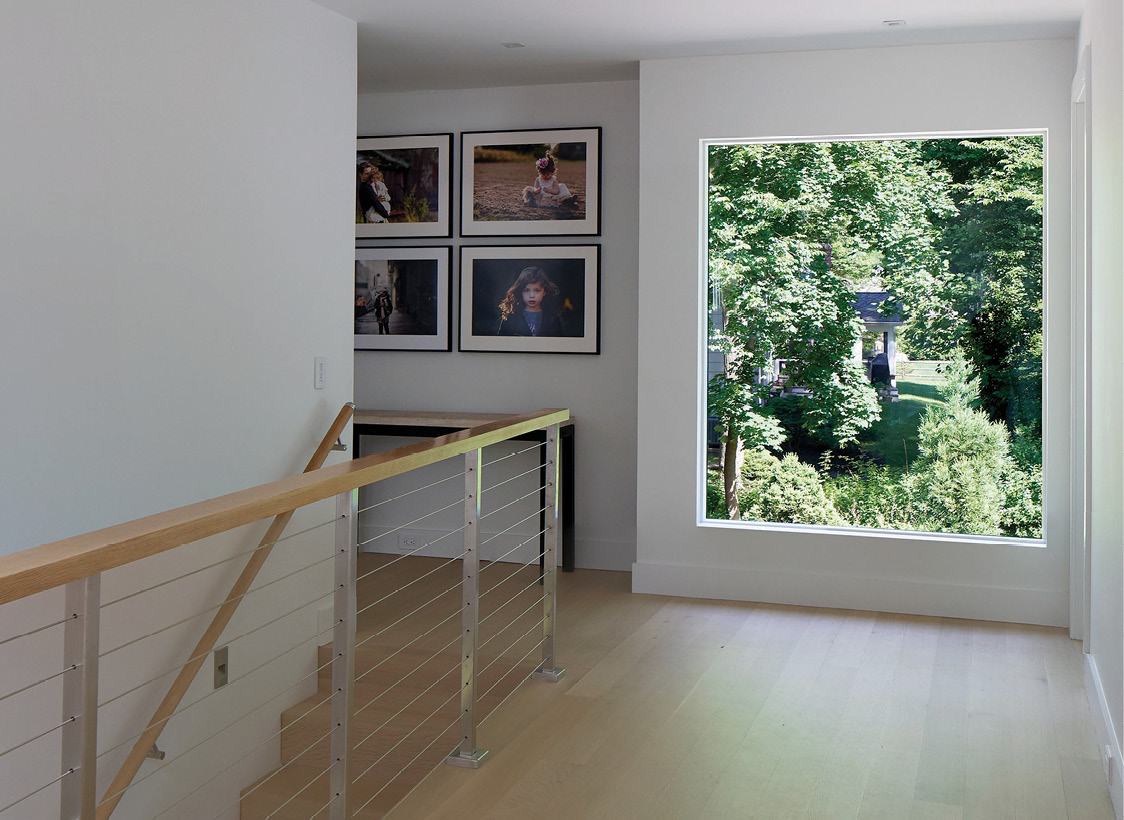 Above & below: Double pane, tempered glass with ThermaPlus coating, privacy on and off, in a Vancouver, British Columbia, home. Photos by Kolbe Windows & Doors, courtesy of CMGT Construction Group.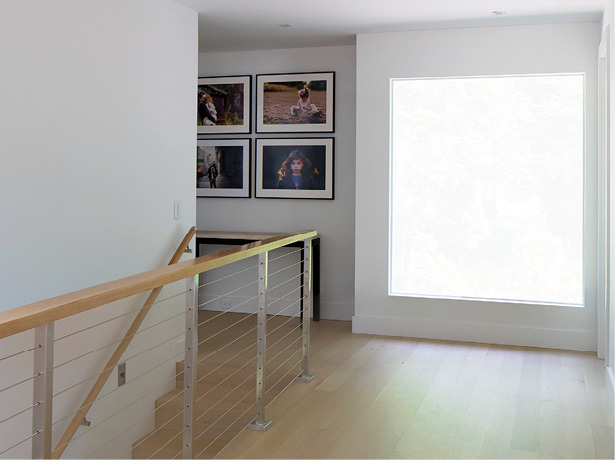 Privacy glass, previously considered only for private bathrooms or luxury homes, is expanding into the mainstream market as more homeowners express concern over privacy and security, and realize the energy conservation, sustainability and psychological health benefits.
The basics of privacy
Privacy glass offers a flexible and functional solution for creating private spaces, controlling light and heat, and adding a contemporary touch to interior design. It gives homeowners several advantages and applications for control of visibility and transparency, versatility in design and space utilization, aesthetic appeal, light control and natural illumination, energy efficiency, acoustic privacy, and most importantly, enhanced security.
There are several ways that glass windows, doors and walls can allow in natural light while helping to maintain privacy.
Translucent glass. A style of glass with a frosted appearance produced by sandblasting or acid-etching clear sheet glass. Light is scattered and diffused and blurs images while still allowing light to pass through.
Textured glass. Incorporating a pattern or design impressed into the pane, this glass decoratively provides privacy, and can contribute to the character of heritage homes.
Smoked glass. Clear and non-obscuring, its darkened color increases privacy.
Colored glass. Crystal clear, but the color increases privacy and adds visual interest.
Glass bricks. With stunning light effects, these blocks allow natural light and visual texture to filter in, while maintaining privacy, reducing noise, and insulating against heat and cold.
Leadlights. Traditionally seen in heritage houses, these decorative windows made of small pieces of glass enclosed in lead frames obstruct views into a house or space.
Smart glass. Also known as switchable glass, a high-tech product that can be switched back and forth between a clear window panel and an opaque panel.
Trends driving development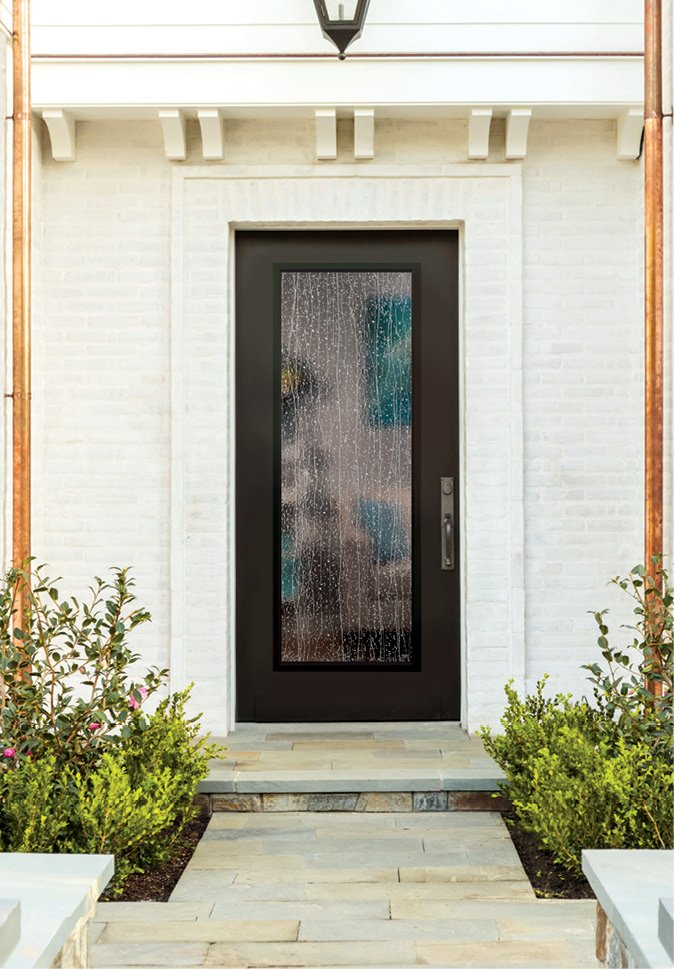 Current design and building trends—such as sustainability, daylighting, minimalism aesthetics, smart buildings and connectivity, safety and security, and technology integration—are moving the needle on privacy glass development.
The trend toward natural light utilization has driven the development of larger glass panels and expansive glazing systems.
Glass manufacturers are developing solutions to enhance energy performance such as low-emissivity coatings that reduce heat transfer.
Frameless glass systems, such as glass walls and partitions, are gaining popularity as they offer a minimalist design while providing privacy without sacrificing natural light.
The rise of smart building technology has influenced glass product development, integrating intelligent features such as switchable privacy glass or electrochromic glass.
"Privacy glass provides a more minimalist alternative to more elaborate decorative and camed styles, yet offers a unique look to the door glass. By nature, it provides visual security and allows for a minimalist look when used as a single pane," says Jim Oren, vice president of business development, ODL Inc. "With the move toward working from home, privacy type glass is springing up in use for interior doors, providing light as well as privacy when the door is closed."
Liz Huber, marketing manager, Kolbe Windows & Doors, agrees. "Smart glass for privacy within conference spaces has been used for years in commercial buildings, so it is no surprise that home office environments would utilize the technology as well. Work-from-home employees may want immediate privacy from surrounding spaces to jump on a video call or focus on a deadline, but enjoy the speed of flipping back to a more connected space within their home atmosphere afterward."
In residential applications, beyond bathrooms and patios, Huber shares that the desire for an isolated space is fluidly changing and main entrances, elevations of the home that face a detached accessory dwelling unit, and glass walls and partitions are seeing an uptick in popularity. 
"Bringing daylighting further into the home has been proven to offer a wide array of health and wellness benefits. A floor-to-ceiling smart glass system may be a better choice for partitioning off internal flex spaces instead of traditional walls," Huber says. "This way, natural light can be enjoyed within those central, internal rooms of the home, but privacy is attainable when needed."
Another trend driving development involves the homeowners themselves. Residential privacy glass is utilized by various demographics, but certain groups have a higher propensity for incorporating privacy glass into their homes. 
Remote professional workers utilize privacy glass to create secluded work areas while maintaining a connection with the rest of the living space. For retirees and seniors, privacy glass allows comfortable aging-in-place without sacrificing natural light and open space but still providing seclusion when needed. Baby boomers and Generation X homeowners prioritize comfort, convenience and modern aesthetics; the ability to switch smart privacy glass from transparent to opaque based on their specific needs and activities is preferred. Known for their affinity for modern technology and design, millennials and younger homeowners incorporate privacy glass into their homes as they value the sleek aesthetic of privacy glass and its ability to create modern, open environments while still allowing for privacy and control over natural light.
"Privacy glass serves a need but is also an aesthetic choice that can fulfill the requirements of various customer segments," says Huber. "It has something to offer everyone, from early adaptors of the newest technologies to creating ease of use for seniors."
Demand feeds innovation
Privacy glass is not new to the fenestration market, but with continued advancements in materials and technology, energy conservation regulations, and architects and designers exploring the limits of privacy glass and changing the traditional view on its uses, the industry will continue to grow. North America accounts for the largest revenue share in the privacy glass market, and global market growth—valued at $2,237.4 million in 2022—is expected to expand at a compound annual growth rate (CAGR) of 5.75% by 2028, per Market Growth Reports.
While it appears that a sluggish economy may be in the cards for the remainder of 2023, it's an opportunity to innovate for those in the fenestration industry. Kolbe recently partnered with Gauzy to provide windows and doors with smart glass technology for flexible control of views.
"Kolbe believes in partnering with companies that are on the leading edge," says Huber, "especially as we see this as an emerging request within residential spaces.
"It's important to recognize the shift in social demands, how they evolve our living behaviors, and affect our functionality or aesthetic choices over time," adds Huber.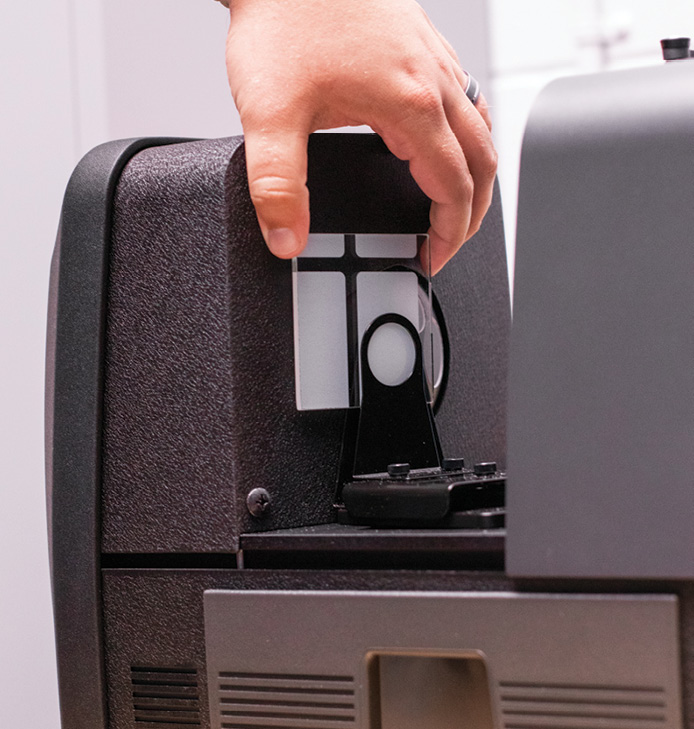 Much of ODL's glass design research is also influenced by consumer insights and other external sources. "When creating a design for door glass, consumer insights and trends are melded into the design ideation to capture the consumer's wants," says Oren. "There are times when concepts are market tested with renderings to get consumer reactions. Those data points will help influence the final designs."
In May, ODL signed a collaborative agreement with Miru Smart Technologies to develop electrochromic door glass and patio doors. "There looks to be promise in the effort to bring affordable tinting to the market," says Oren on the agreement. "Being able to apply this technology will help homeowners and builders reach the net-zero home and improve a home's energy efficiency."
Additionally, ODL implemented a scientific, quantitative measurement of its glass privacy. The privacy-level rating system describes the opacity of each glass design and removes arbitrary qualifications, says Oren. 
"Glass transparency has traditionally been measured in subjective, qualitative fashion. With no industry standard, every manufacturer is free to determine an opacity or privacy level for their glass," explains Oren. "Using a spectrophotometer, we measured the amount of light [photons] that passes through every type of glass used in our products. Then, the area of each type of glass used in a design is calculated, and a weighted average calculated for the design from the spectrophotometer measurements of the glass textures. Each design is placed in a category of low, medium, high or maximum based upon a percentage of how much light passes through, thus obscuring visibility through the glass."
ODL's privacy-level rating system 

The company uses a spectrophotometer to measure the amount of light able to pass through the glass designs, thus obscuring visibility into the interior of the home. A spectrophotometer is an apparatus for measuring the relative intensities of the light in different parts of a spectrum, according to Merriam Webster. 

The four privacy levels are: 

Low – allows 100% of available outside light to enter the home through the door glass 

Medium – allows 75% of outside light to enter 

High – allows 50% of outside light to enter 

Maximum – allows 25% of outdoor light to enter the home 
In addition to research and development on emerging glass technologies related to windows and doors, collaboration and partnerships, and customer feedback and market analysis, window and door manufacturers can maintain a competitive advantage, stand out and stay ahead of the technology curve by offering technologically advanced, sustainable and customer-centric products that align with evolving market demands.
"Companies need to connect with not only the end users to understand their needs, but everyone within the supply chain," says Huber. "This creates fluid understanding of the needs, as well as goals, and offers various perspectives to help shape the final solution." 
"A manufacturer needs to pay attention to the trends both inside and outside of their industry, understanding which ones will influence the buying decision," says Oren. "Figuring out how to incorporate those trends into an affordable product that the home buyer or remodeler can easily implement will be key."