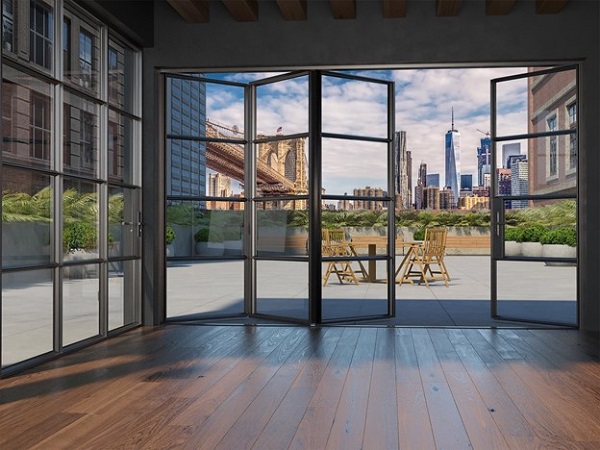 Few trends have grown year on year quite like the trend for slimmer profile windows. Not simply an offshoot of the renewed interest in minimalist design principles, the increased interest in slimmer sight lines is more related to the realization that slimmer profile windows can help homeowners maximize natural light, offer better views, and provide a cleaner, sleeker aesthetic.
One of the main reasons for the interest is due to innovations that have brought a wider range of slimline windows and doors, catering to modern and traditional style homes. For the past few centuries, fenestration technology remained largely unchanged due to the limits of the material most often used in them–wood. As advances in technology came with the 19th and 20th centuries, steel, and then, much later, metals such as aluminum, followed by various cladded systems, created new possibilities for windows and doors. New possibilities arose not only in functionality, but also in aesthetics–most notably, the possibility of slimmer profiles and sightlines.
Despite these advances, its strength, durability and sleek beauty has meant that steel windows and doors remain a firm favorite with architects. But what was once the preserve of modern homes designed by architects is now gaining popularity through homeowners seeking to make the most of their windows.
The Quest for Slimmer Sightlines
The idea that windows and doors are simply functional elements of a home's facade is quickly changing. With a growing range of slim profile windows, entry doors, interior doors, sliding door systems and curtain wall systems now available to homeowners, it has never been easier for homeowners to find affordable slim profile windows and doors that don't sacrifice any of the efficiency or thermal performance of traditional, thicker windows.
Although slim profiles are possible with wood, metals and even cladded wooden products (alu-clad, bronze-clad), will have a natural advantage due to metal's strength. Metal windows and doors can accommodate larger panes of glass and allow you to do more with less.
Focus on the Views, not the Hardware
Without a doubt, unobstructed views have become one of the most frequently requested aspects of the design process. Simply put, less window frame means more glass, and more glass on display means more views. Whether it's a tilt-and-turn window, a slimline steel entry, or an alu-clad sliding door system, hardware can now be made slimmer than ever. We have been seeing an increased interest in sliding door systems that are completely flush with the wall and have no threshold, or lip.
On a related note, we have also seen increased homeowner interest in oversized IGUs, especially in those building modern and contemporary homes.
Embrace Energy Efficiency
Less hardware means more glass and more solar heat gain. With the right U-factor and low-emissivity coatings, slim profile windows can actually become an integral part of helping homeowners cut down on their energy costs, allowing them to retain heat in the cold months, and maximize the work their HVAC does during the warmer months. As much as 40 percent of homeowner's energy costs are spent heating and cooling their homes, so it's prescient for homeowners to learn just how much high-performing windows can save them in the long term.
Although steel windows were once not that energy efficient, they are now as efficient as other contemporary window types. In fact, many of today's triple-glazed windows are manufactured to a passive house standard, and we believe that this will be a standard in the future that most homeowners will pay close attention to.
Maximize Natural Light
Although windows began as functional additions that allowed light in, more homeowners are seeking to maximize light within their homes. Not only does light change the feel of a space, but it can also dramatically transform the overall feeling within a home.
Slimline windows reduce the need for artificial light. Rooms with more natural light give the appearance of being bigger, more open spaces, which gets right to the heart of the minimalist aesthetic of doing more with less. Slim profile windows and doors exemplify this.
Putting The Slim Profile Trend in Context
As has been previously addressed in Window + Door, the Biden administration has signaled it is going to introduce more climate-related bills, which will have an impact on the energy targets the U.S. has to meet over the next few years. This, combined with the average U.S. homeowner's growing awareness around the relationship between the quality of their windows and their thermal performance, suggests that slim profile windows and doors have yet to see their popularity peak. If trends from Europe tell us anything, homeowners care not only about functionality and style, but are also becoming energy conscious.
While we understand that aesthetically pleasing, slim profile windows are highly desirable by architects, it is very important that they perform just as highly as traditional windows. This is most important with regard to thermal performance, soundproofing, and safety and security. Although it seems unlikely to the average homeowner that 1-inch steel frame windows can be as soundproof, as thermally resistant, or indeed as breakthrough resistant, as traditional windows with thicker frames, we now know that is the case. All of these important aspects can be achieved just as easily with slim profiles.
From our perspective, the average homeowner has yet to see the full potential of slim profile windows and doors, and realize that no aspect of comfort or performance has to be sacrificed for aesthetics. In 2016, only 2 percent of all windows made in the U.S. were triple-glazed, which suggests there is still some reluctance by homeowners to embrace newer trends within the fenestration industry.
However, with their ability to maximize solar heat gain, double- and triple-glazed slim profile windows and doors are already coming to be seen as a worthwhile investment for homeowners who don't want to compromise on views, style, functionality or thermal performance. As more and more slimline windows and doors become available on the market, we're certain this is a trend that will continue to grow well into the future.