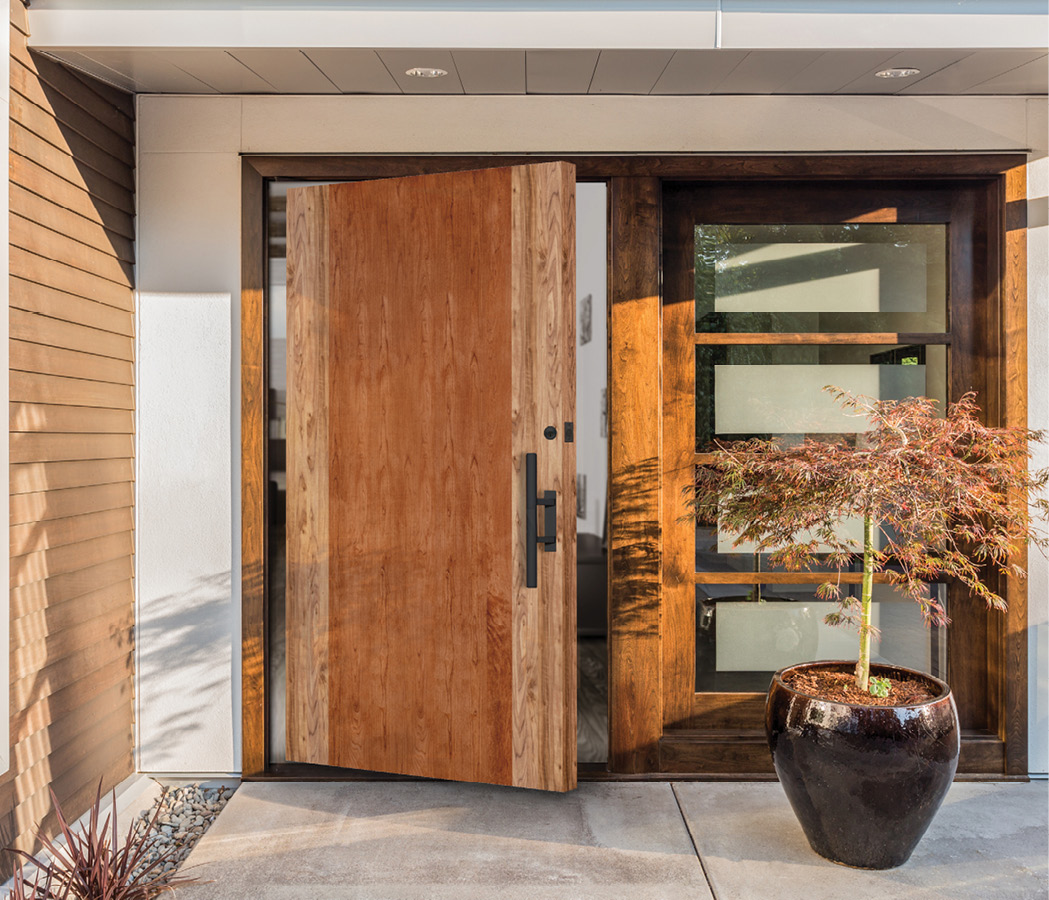 Above: Wood pivot door by Simpson Doors
More and more people are choosing pivot doors for the entryway to their homes out of a desire for something "visually impactful" and to "differentiate their home," according to Brad Loveless, marketing and product development manager for Simpson Doors.
"You won't see a pivot door on a starter home; it will be on a high-end home. That homeowner, designer or architect wants to make it a showpiece," adds Loveless. "A pivot door is just unique enough to catch peoples' eye. I think that's driving the trend more than anything."
Vice President at Panda Windows & Doors Troy Baker adds that customers are pushing the boundaries with larger and wider pivot doors and "innovative, wild and creative designs and surfaces " to achieve that desire for something unique. These creative designs could be things like integrated lighting or unique color options.
Trends  within pivot doors
Pivot doors are made from a variety of materials. Maiden Steel makes steel pivot doors, Simpson makes wood pivot doors and Panda makes both wood and aluminum pivot doors.
Maiden Steel Founder Todd Noe says that larger pivot doors are what most of the company's customers have been asking for lately.
"Four or five years ago, an 8-foot-tall door was the big, oversized standard and slowly that's gone up to 9 feet. Now, I see 10-foot and even up to 12-foot-tall doors being considered the standard," Noe says. "We try to go even bigger than that."
Baker agrees that customers interested in pivot doors have a "big is better mentality" and a strong desire to stand out from the crowd. Baker credits this trend to homeowners' efforts to reinvest in their forever homes, a desire to upgrade and unhappiness with their current "old-time look."
Noe adds that Maiden Steel offers arched top pivot doors, in addition to flat top. The Art Deco style has "re-entered the design scene in the last three years," according to Noe.
Loveless says that multi-point locks have become popular among pivot door buyers. He says this is what accommodates those large, oversized doors the best and what is most secure.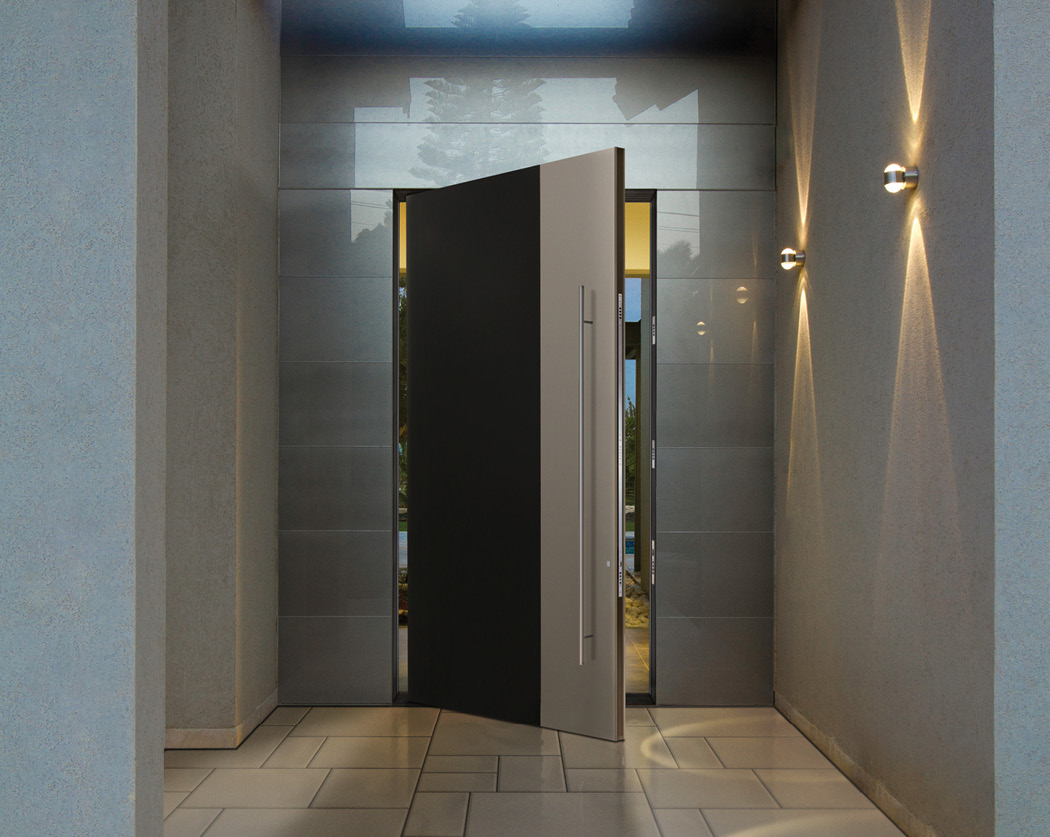 Hardware
Unsurprisingly, with larger doors and more complex, customized designs, the necessary hardware can vary from the norm.
"Each of these door slabs are 350-plus pounds. You wouldn't know it because of the touch-of-a-finger guiding. If the door were on traditional hinges, you would have a bit of a struggle to close it," Loveless says. "The hardware is doing a lot of—literally and figuratively—the heavy lifting on a pivot system, keeping it balanced and light."
Simpson Doors uses a "hinge" that is a single pivot point at the bottom and top of the door that's not truly a hinge, according to Loveless. Homeowners can customize the factory setting and make simple adjustments, like speed, soft-close and how far the door can open.
Similarly, Noe says that oversized pivot doors are far too heavy for any off-the-shelf hardware, so Maiden Steel manufactures its own hardware in-house.
Baker says using proper hardware is always key. Panda recently improved its hardware to handle two times the weight of the company's units to ensure their long-term functionality.
Manufacturing
Maiden Steel manufactures its pivot doors as a whole, meaning the door and jamb are permanently connected and all the tolerances are pre-set.
"This way, everything's perfect and fully assembled before we ship. If the job site and construction conditions are less than ideal, it doesn't matter because our doors will function the same way standing up in a client's driveway as they will in the rough opening," Noe says. "We do that because there's no other way to build a door that's 20 feet tall and weighs 5,000 pounds. There's no hardware to accommodate that."
Loveless says that pivot doors have a different set of machining requirements than typical pre-hung door units, which are manufactured in mass volume. Simpson Doors uses a five-axis CNC, so the door and the jamb may be set down and the CNC will do all the necessary machining and routing.
Baker says that Panda's pivot doors also require some specialty machinery that differs from how the company's traditional French doors are manufactured. The pivot door is manufactured with a lightweight unibody structure, and its surfaces are artisan-crafted for both structural and artistic styles. The pivot door also differs from traditional French doors in the use of biometrics, electronic keypads and smart home technology integration. 
Below: Segmented glass panel pivot door by Maiden Steel