A Weakening Residential Market
Stagnation will not be felt evenly across the industry, with declines in residential, a softening in multifamily development, and a slowing in commercial activity offset by growths in manufacturing and infrastructure, according to Dodge Data & Analytics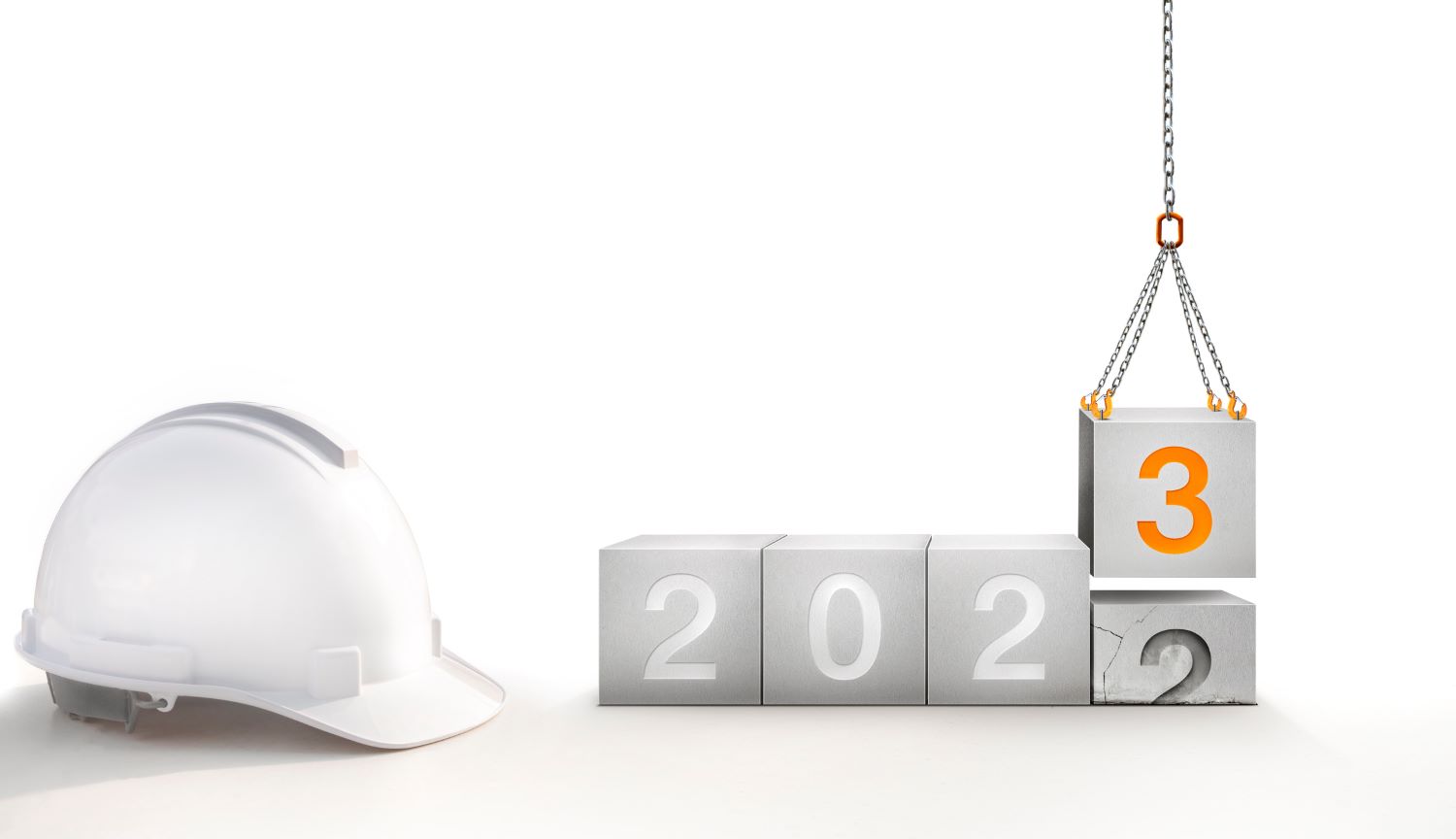 Insights at-a-glance

Total U.S. construction starts will drop three percent when adjusted for inflation to clock in at $1.08 trillion in 2023, according to the 2023 Dodge Construction Outlook.

A slow economic growth environment will weigh heavily on the residential sector.

The report pegs single-family starts to drop about five percent next year when adjusted for inflation.

Demand for apartments, condos and townhomes has led to increased multi-family construction, in part because single-family homes have become more expensive and less available.
An in-depth examination of whether the U.S. economy will enter a recession and how construction starts will respond in 2023 was covered by Richard Branch, chief economist at Dodge Data & Analytics, during the Construction Outlook 2023—"On the Razor's Edge: Will the U.S. Economy Enter Recession and How Will Construction Starts Respond in 2023"—via a webinar on Nov. 15, 2022. The analysis was based on several data categories Dodge Construction Network tracks throughout the year. Some of that outlook was based on historical data through the end of September.
The Dodge forecast signals a slowdown across many sectors. Overall construction starts are expected to be flat in 2023, following a 17 percent increase in 2022 that will bring total starts to $1.086 billion, but $1.083 billion is predicted for 2023. When adjusted for inflation, total construction starts will dip three percent. "The economy is slated to significantly slow, unemployment will edge higher and for parts of the construction sector it will feel like a recession," explains Branch. The analysis further suggests the stagnation will not be felt evenly across the industry, with declines in residential and commercial activity offset by growths in manufacturing and infrastructure.
Below: High interest rates take toll on residential market, as U.S. residential building starts decline compared to 2021 and 2022.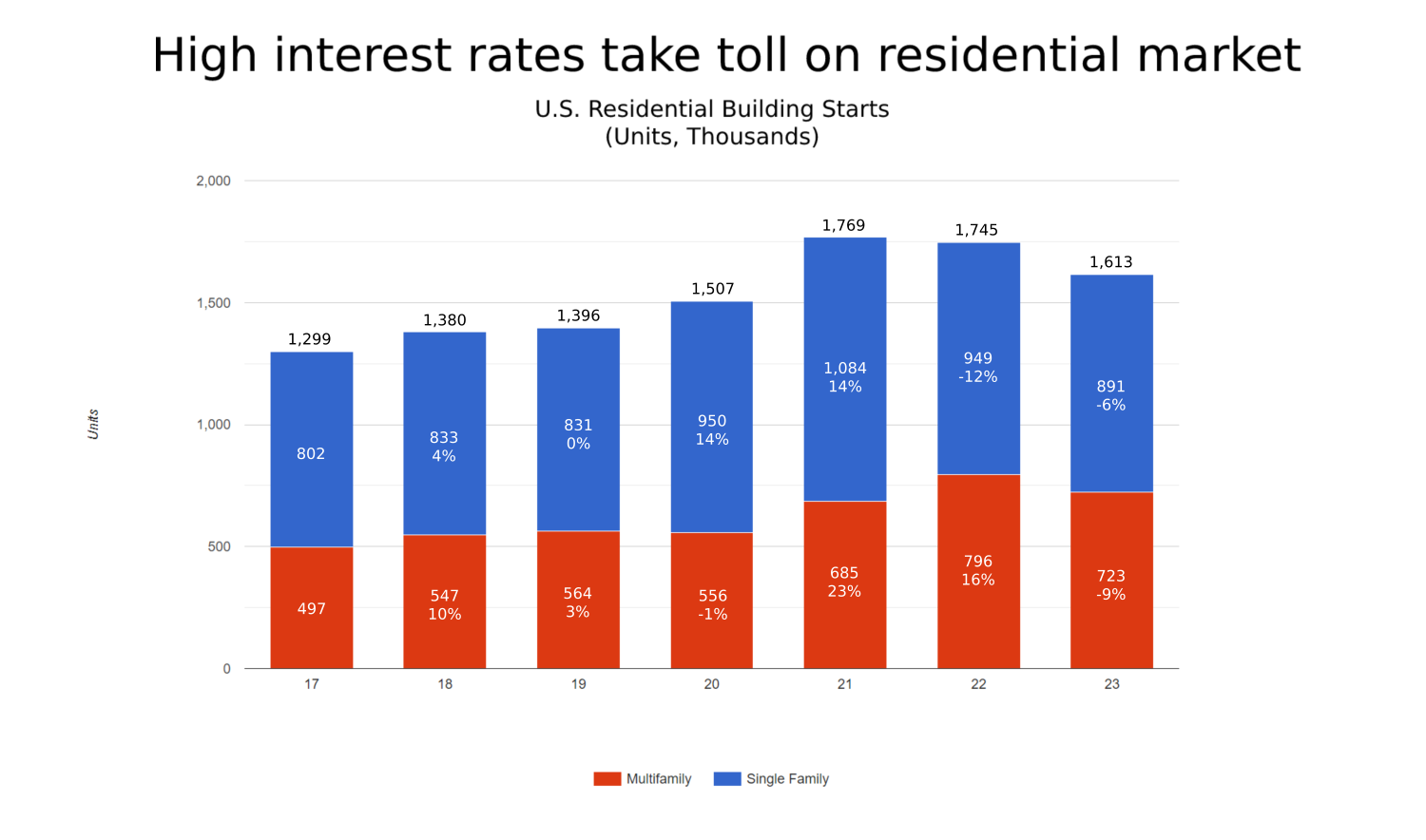 Inflation Is Calling the Shots
The collision of housing demand and an imminent recession due to the U.S. Federal Reserve's ongoing battle with inflation has Dodge predicting that while there is no guarantee of a recession, avoiding one will require taking a "narrow road." Inflation is calling the shots when it comes to the risk of recession, Branch stresses. "We're walking the razor's edge here," he says.
"The key thing to remember, is we view this as fairly V-shaped; we don't view this as anything similar to what happened during the Great Recession or any cyclical periods in the past," he continues, crediting a strong U.S. banking system and a "woefully undersupplied" housing market with lessening a potential recession's severity.
Despite ongoing inflation, the U.S. economy has experienced many bright spots in 2022. That includes the construction industry, which has seen record-low, single-family vacancy rates this year.
Residential Outlook: Small Improvements Expected
The dollar value of single-family homes starts will hold steady in 2023 versus 2022, which, when adjusted for inflation, represents a decline of five percent.

The number of single-family housing units is expected to decline by six percent to 891,000 units, a fall fueled by higher mortgage rates and continued high construction costs.
Rising interest rates have weakened the residential market, with single-family housing, measured in number of units, expected to decline 12 percent by the end of 2022. Dodge predicts a decline of six percent to follow in 2023. "Next year, residential construction, already reeling from rising mortgage rates, will continue to contract and will be joined by non-residential construction as the commercial sector retrenches," says Branch.
Branch noted that residential building leads to commercial construction. "There's a strong linkage here. I've always viewed the construction cycle here as a train with residential single-family construction as the engine of that train. Single-family leads the construction sector into decline, and it leads it in recovery."
"This should be a strong time for the single-family market. If we think about the demand side, the market should be on fire. The housing market is woefully under-supplied." — Richard Branch, Dodge chief economist
Branch expects increased material pricing to impact the residential market in 2023. "The labor market is very solid; income growth is okay. The millennial age bracket is in the prime homebuying years, but that lack of supply has pushed home prices higher and with higher mortgage rates, that has pushed housing affordability to the worst it's been in almost 15 years."
After March, Branch expects mortgage rates will stabilize, although supply will remain limited, keeping prices high. The value of single-family homes starts is expected to hold steady in 2023 versus 2022, which, when adjusted for inflation, represents a decline of five percent. The number of single-family housing units is expected to decline by six percent to 891,000 units, a fall stoked by higher mortgage rates and continued high construction costs.
"This is still a pretty robust market, it's just a lot weaker than we saw in 2021," he said. "Assuming the world follows our script, the bottom of that trough of the single-family market is probably in late first quarter, early second quarter. We'll see mortgage rates stabilize; we think that allows the housing market to stabilize in the second quarter, and then there will be fairly small improvements as we get through the end of the year. We're still looking at another six percent decline in the housing market, but we do think that by the time we're at that this point next year we'll start to see some improvements in the construction side."
Multifamily Development Expected to Soften
The multifamily sector will show stagnation with a one percent rise in the value of construction starts versus 2022, which becomes a seven percent decline when adjusted for inflation.

The number of units will fall nine percent to 723,000, spurred on by ongoing labor shortages and hesitant investors.
By contrast, the multifamily market appeared to be firing on all cylinders in 2022. As single-family homes become more expensive and less available, many people are being pushed into continuing renting or buying condos or townhomes. This has led to the best year for multifamily construction since 1986. But Dodge also forecast deterioration in the multifamily sector, which it said has been reaping the benefits of the affordability issues plaguing the single-family market, pushing demand for space up and vacancy rates down to record lows. Fueled by increased cohabitation, economic pressures, ongoing labor shortages and hesitant investors, multifamily sector starts are expected to finish the year up 16 percent with 796,000 units but will decline nine percent (or to 723,000 units) next year.
Other Key Performance Indicators to Consider
Dodge forecasts that the dollar value of commercial construction—which includes warehouses, offices, retail and hotels—will finish 2022 up 24 percent before dropping just three percent in 2023. Retail is up 31 percent in 2022, which Branch attributes to increased single-family building in suburban areas in the past several years. Just as residential construction slowed, he says retail will also, with Dodge predicting a four percent increase next year.
Following two years of decline during the pandemic, the dollar value of office construction is expected to rise 23 percent by the end of 2022, before slightly declining, at a rate of one percent, in 2023. While the number of in-office workers has increased in the past year, remote work is still prevalent, particularly in a tight labor market, notes Branch, which is driving down office construction.
However, the work-from-home movement has jumpstarted the demand for renovation services and home equity remains at high levels. The increase in people choosing not to move, and to continue working from home, will fuel an ongoing high demand for renovation services. Economic uncertainty and supply chain issues aren't holding homeowners back from proceeding with remodeling projects either, according to Houzz. Nearly one-quarter plan to start a home improvement project in the next 12 months, with bathrooms and kitchens being the most popular areas being remodeled and updating windows, skylights and exterior doors as priorities for homeowners.
The manufacturing sector soared in 2022, up 196 percent, which Branch attributes to "onshoring" as companies bring plants back to the U.S. While a 43 percent drop is expected in 2023, the predicted value is still a record level of activity at a rate of $51.2 billion.
Several industry companies are investing in expanding or building new manufacturing facilities. Recently, Steves & Sons Inc. announced construction of a new door skin facility in Georgia that will create 170 jobs over the next three years and produce millions of molded door skins annually for interior doors. And Masonite unveiled its newest 370,000-square-foot manufacturing facility in Fort Mill, South Carolina, to further expand its manufacturing capabilities.
Labor Shortage Will Likely Ease Recession
Finally, one factor that will help the U.S. avoid a severe recession is the ongoing labor shortage, says Branch. "There's a significant shortage of skilled labor in the construction sector and it's no surprise to anyone that we're in dire straits here. While it's been volatile over the last couple of months, if you draw a trend line it meshes with the fact that the single-family market has slowed down considerably in a cyclical decline. But when the single-family market starts to recover, we're going to be right back in the same situation of skilled labor shortages. Over five years, I don't see a real significant improvement here in attracting skilled labor into the industry. This is going to continue to put a ceiling on the amount of work we can get done in the industry."
The U.S. construction industry is short roughly 440,000 workers, according to McKinsey & Company, and this labor shortfall demands tailored solutions. Workforce challenges have become a common theme in most industries over the past few years, including the construction, glass, glazing and fenestration industries.
To account for this, companies are turning to technology adoption, off-site methods and jobsite automation. Blue Star Glass, for instance, opened its first fully automated insulating glass facility in the U.S. that will house a minimal, yet technical staff compared to traditional IGU lines. And Ultrafab has turned to automation to make training less time-consuming and complicated. During GlassBuild America in Las Vegas, exhibitors offered products that were easier to use for an unskilled and unstable workforce. For example, Adam Smith at Door Controls USA highlighted the company's efforts to relieve in-house staff of the time needed to constantly train new hires.
Outlooks from Across the Industry
In October, Dodge reported that total construction starts rose eight percent to a seasonally adjusted annual rate of $1.12 trillion, with non-residential building starts gaining nine percent. Residential building starts fell three percent in October to a seasonally adjusted annual rate of $366.4 billion. Single-family starts lost three percent, while multi-family starts dropped four percent. Through the first 10 months of 2022, residential starts were flat when compared to the same time frame in 2021. Multi-family starts were up 26 percent.
Meanwhile, Robert Dietz, National Association of Home Builders chief economist, warned that the U.S. housing sector has already entered a recession, with builder confidence in the market for newly built single-family homes posting its lowest reading since June 2012 and forecasting declines for single-family construction in 2023, which means economic slowing will expand from the residential construction market into the rest of the economy.
The NAHB analysis is reflected by recent reporting from Reuters that construction spending has seen its largest drop in 18 months in August, including the steepest decline in residential spending in two years.