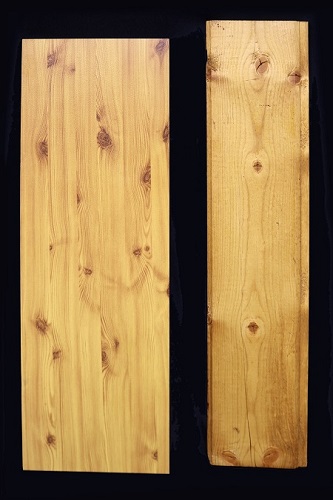 Today's residential design trends incorporate organic colors and natural materials that provide connection and comfort. Builders, owners and residents also want a home that looks great year-round, doesn't require seasonal maintenance, and can withstand brutal winter weather or sizzling summer temperatures.
When your project calls for the natural beauty of wood, but needs the high-performance longevity of aluminum, wood grain finishes can provide the best of both. Textured wood grain finish options mimic not just the look, but also the feel of natural wood.
Preferred performance
Exterior wood trim and building materials present a warm, welcoming, upscale appearance. However, as time passes, wood can rot, swell, warp and attract insects. Its finish can fade and flake. Continuous exposure to direct sunlight, humidity, rain, snow and other natural elements can cause damage and degradation. When wood is installed in a highly visible, frequently used part of the home, it also must contend with daily bumps, scrapes, car exhaust and road salts.
Unlike real wood, wood grain coatings for aluminum overcome all of these challenging elements as well as resist chemicals, corrosion and fire. Once installed, the finished metal does not need extra maintenance. The durability of these products exceeds their lifetime on the building, as the aluminum can be recycled for future use. Further supporting your project's sustainable goals, the aluminum products receiving the wood grain finish also can be made with recycled content.
Intelligent investment
When considering home improvement projects, remember that wood grain finishes for aluminum building products can offer a good return on investment.
For most of us, the garage door actually is our main entry. A street-facing garage often is the most prominent part of our home and more visible to the neighbors than our front door. Wood grain finishes give these entrances a warm, inviting look that matches any architectural style.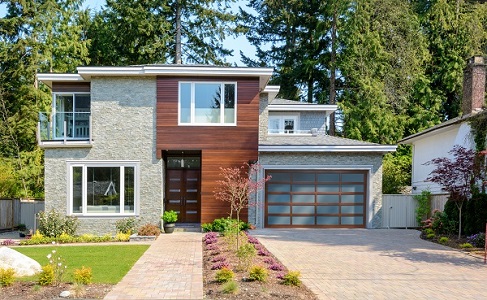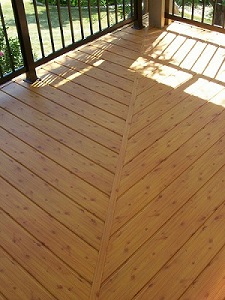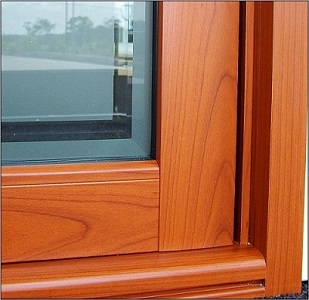 Decks, docks, pergolas and patios provide more private spaces for family and friends to gather, or for our personal relaxation. Aluminum decking and railings with wood grain finishes elevate our enjoyment without the work. We can spend more time making use of these our backyard retreat if we don't have to worry about refinishing them every season or two.
Upgrading windows and entry doors are a time-tested good investment. The reduced maintenance and reliable performance of metal products not only has made them more acceptable to home builders and owners, but also an increasingly preferred option.
Attentive applicator
For architectural aluminum products, wood grain finishes should be specified to meet AAMA 2604. For best results, finishing service providers start with specially formulated powder coatings, inks and films combined with a refined heat-transfer dye sublimation process. This produces no VOCs or other potentially harmful emissions.
Applied under factory controlled conditions by an experienced applicator, these specialty finishes achieve the desired appearance, texture and performance.