Every manufacturing facility involves hazards and discomforts to workers that need to be addressed. But glass manufacturing tends to be hotter, more dangerous, and sometimes even louder than most. Add in the special requirements that come with avoiding glass smudges and working with adhesives, and your average PPE offerings aren't always a perfect fit. In fact, the gear you need to keep your workers safe can often be bulky, uncomfortable and difficult to use.
The Problem with (Some) PPE
You've likely seen workers uncomfortable and overheated in their safety gear, rolling their safety sleeves up or down, loosening protective clothing, even taking their gloves off completely either to cool off or to handle glass. This is bad news in any manufacturing environment, but in the hazards of a glass plant, it's even more likely to lead to injuries, high turnover, unhappy employees and safety manager headaches.
New PPE

technology

for

glass manufacturing
Older material technologies for protecting workers from cuts, punctures and abrasions tend to be heavy and hot. They can also lack both dexterity and grip, and that contributes not just to overheating, but to issues like hand fatigue and increased accidents.
New technologies, such as the following examples by Magid, have advanced the safety industry through new materials that provide the best of both worlds in lighter, cooler, more comfortable fabrics, glove coatings that won't stick to or ruin surfaces, and high cut resistance.
1. Cut-resistant clothing
Traditional cut-resistant tops have been aptly named "sweaters" as they tend to be hot, heavy and can even be itchy. Issues with poor sizing sometimes means workers aren't fully protected and wear in the abdominal area from pulling glass along the manufacturing line often means that the sweaters have to be replaced frequently. The need for aprons or chaps to ensure complete protection for some applications can add to the discomfort issues.
New yarns and yarn wrapping techniques make those old "sweaters" a thing of the past. The latest cut-resistant tops made using AeroDex technologies are up to 30 percent lighter overall, allowing body heat to dissipate while still providing higher cut protection and at a much lower price point. While most sweaters max out at ANSI Cut Level A7, these new tops deliver A9 cut resistance in critical areas.
There are also aprons or chaps made of the same materials for jobs that need them. Add in customizations like a leather belly patch attached to an apron's wear points with Velcro and you can replace a small, inexpensive part of the garment when needed.
2. Gloves for

glass handling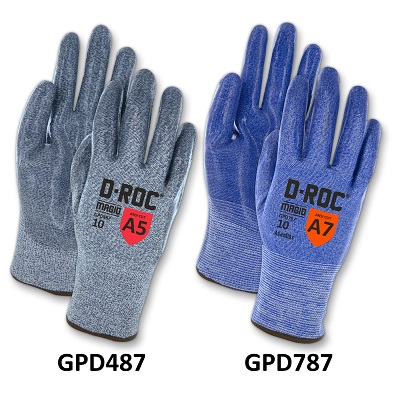 Handling a product like glass that can smudge and mar easily presents a set of challenges that other manufacturing doesn't have. And of course, you're not just worried about the product, you need to protect your employees with high enough cut resistance and solid grip. Some manufacturers resort to double-gloving with a cut-resistant glove on the inside and a glove that provides product protection for handling glass on the outside, which increases costs and decreases comfort.
Magid has introduced gloves specifically made for window and door manufacturing with cut protection as high as ANSI Level A7 with a silicone palm coating for an effective dry grip. The coatings are designed to resist heat and not stick to hot melt adhesives.
3. Sleeves for

glass manufacturing
The most common arm-protection complaints we heard from glass workers was that materials are hot and sometimes scratchy. They tend to trap heat and sweat against the arms causing contact dermatitis, and the material tends to stretch out. Workers push their sleeves up, roll their sleeves down and even take them off entirely to try to get their skin cool and dry. Typical one-size-fits-all sleeves can be expensive and make it hard for larger and smaller workers to find a fit that will keep them both comfortable and safe.
New sleeve materials offer different options. Sleeves made with coreless yarns like Magid's DX Technology are light and cool to the touch to help prevent contact dermatitis, yet they offer higher cut resistance than many others. Dexterous AeroDex sleeves utilize the same yarn technology as cut-resistant clothing for jobs that need arm protection, but not full torso coverage.
4. Body

cooling

for

hot glass environments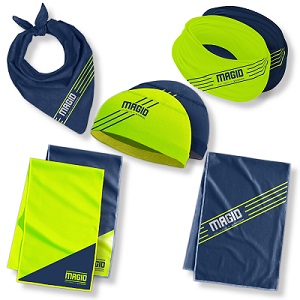 Most hot manufacturing facilities offer measures like cooling garments to help stave off heat illness. But older technologies often rely on chemical treatments that cool initially but end up warm and slimy after they absorb the wearer's body heat.
Using HydroActive technology that harnesses the natural power of water evaporation instead of chemicals, Magid Cool Powered by Mission body cooling garments are designed to activate in 60 seconds or less with any temperature of water. Workers simply wet the material, wring it out and snap it in the air a few times. The garments cool to as low as 30 degrees below average body temperature and can stay cool for up to two hours. It can be reactivated an unlimited number of times through the workday.