Warm as a Wall: An Introduction to Vacuum Insulating Glazing
4 common questions and answers about VIGs
August 17, 2021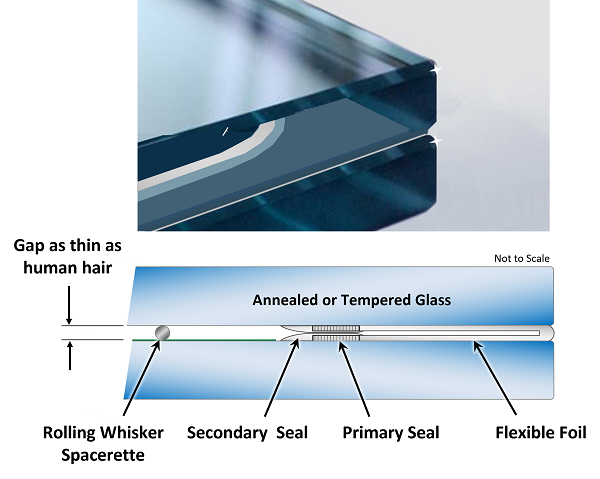 Editor's note: The Technical Services Division of the National Glass Association, Window + Door's parent organization, developed a glass technical paper about vacuum insulating glazing for informational purposes. Download Vacuum Insulating Glazing, An Introduction from the NGA Store.
Why can't windows be as warm as a wall? That question has kept Peter Petit busy since 2008, when he founded V-Glass, a Wisconsin-based research and development company developing glazing capable of doing just that. As part of the National Fenestration Rating Council's webinar series Emerging Trends and Technologies, Petit updated members about what he hopes will be the next generation of vacuum-insulating glazing (VIG) and a potential breakthrough for the fenestration industry.
What is a VIG?
A VIG consists of two panes of glass sealed near the edge with spacers between the glass panes where a vacuum is drawn. The vacuum gap between the two glass panes is about the thickness of a human hair. The technology mimics a common thermos, where a far smaller amount of heat can pass through the walls of a thermos, or through the panes of VIG, because there are no molecules between them to transmit heat through the gap. VIG windows can achieve an R-value of 10, approaching a properly insulated wall rated at 12 or higher. But the problem with widespread use has been high cost.
First generation VIG windows have been commercially available for more than 20 years, but they are too expensive to achieve mass market appeal because of the high-temperature manufacturing processing.
A first-generation VIG can require hours in a high-temperature oven. The heating and cooling cycle decreases the amount of material processed and increases costs, which makes the price about four times that of a common double-glazed window.
What is the potential for VIGs?
For the fenestration industry and consumers, Petit purports VIG would provide a lighter and longer-lasting alternative to high-efficiency triple-pane windows. For the energy transition now underway, full market penetration of VIG at an R-10 would reduce U.S. energy use by 2 percent, according to Petit. If the technology is ready for mass production and installation by the middle of the decade, he continued, half of that could be reached by 2030. With widespread use, the emissions reductions would be the equivalent of retiring all U.S. coal-fired power plants, he asserts.
"Avoided energy usage is always the most efficient energy plan," Petit says.
For now, Petit typically fields four questions about V-Glass's next generation VIG, and his webinar for NFRC members addressed each.
Do they work? Petit defines success as an R-value of at least 10, even though center-of-glass R-values for his windows can approach 15 in laboratory settings. Another main challenge is bowing, the tendency for the exterior pane of a window to contract in cold while the interior pane stays warm. This phenomenon can cause visual distortions and internal stresses that can weaken or break the seal that preserves the vacuum between the panes, thus limiting product life.
How thermally efficient are they? V-Glass addresses bowing by using a flexible edge seal, comprised of aluminum foil, and its proprietary whisker spacerettes, instead of the rigid seal and high friction spacers used in first-generation VIGs. Aluminum bonds particularly well to glass, Petit says. The spacers used in VIG windows are typically referred to as pillars, which are shaped like a coin, and placed in a grid pattern within the vacuum gap. In contrast, V-Glass's whisker spacerettes are shaped like a needle bearing and, therefore, can roll as the panes expand and contract, to prevent bowing and help preserve performance.
How long will they last? Petit cited a 30-year-old VIG prototype developed by the University of Sydney, which has retained an R-value of 15, at twice the age when conventional windows have already been replaced. Petit believes that his second-generation VIG can last 50 years or more.
What do they cost? Cost will be the key value driver for widespread adoption. Petit's goal is to design a VIG that can be produced in an oven-free process by 2026. This VIG would have three times the thermal performance of double-pane windows and more than two times the life, and cost no more to manufacture, he says. In the interim, V-Glass plans to introduce its Mark I VIG in 2023, which Petit says is designed to have similar thermal performance and life characteristics, but cost about the same as triple-pane glazing, which is still compelling for broader use in the market.
For more information about the latest innovations and technologies that will revolutionize the fenestration industry in the not-so-distant future, register today for NFRC's Emerging Trends and Technology webinar series. If you missed this presentation, you can purchase the recording here. Upcoming webinars include the latest developments in dynamic glass, PV glass and thin glass. Join researchers, ask questions, and learn how you can get involved. Click here to register.