Crystal Windows Offers Free On-Site COVID Testing for Employees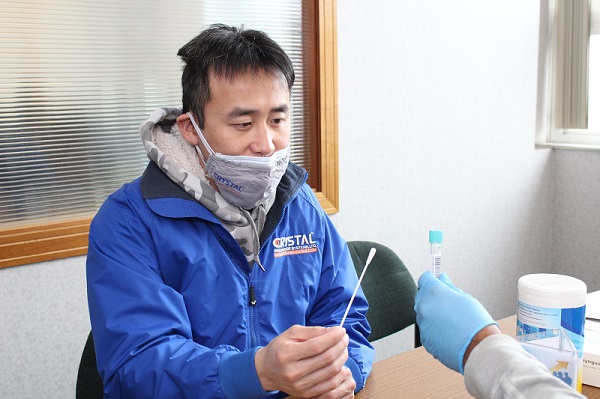 Crystal Window & Door Systems' New York City headquarters and production facility continued its response to the COVID-19 pandemic by implementing weekly employee testing. The voluntary, no-cost testing will be available to all 370 Crystal New York employees during work hours on Tuesdays for the next several weeks. This self-administered testing is coordinated with the New York City Health and Hospitals Test & Trace Corps.
"These new Crystal efforts, along with government vaccination programs, are aimed at finally stamping out the COVID-19 threat in the community," says Isabella Leung, HR Manager for Crystal. "We are glad to offer this convenient testing for the benefit of our dedicated valuable essential workers, which provides an important public service limiting community spread of the virus."
The on-site employee testing is the latest protection measures related to COVID the company has taken, which include mandated face masks, face shields where needed, physical distancing between employees, barrier installations, automated temperature checks, enhanced cleaning and disinfecting, and remote working for many of the staff.
"I am extremely proud of how the employees and managers at Crystal have risen to the challenges raised by the COVID-19 pandemic," says Steve Chen, president of Crystal Windows. "By safely working together here in New York, they have continued to produce Crystal windows and doors for critical, essential building projects throughout the region and across the nation, contributing greatly to the economy of the city, state, and the nation."
Window + Door included Crystal Windows in its Innovation in Crisis feature last fall. Read about it here.