GlassBuild America 2022 Draws 8,200 to Las Vegas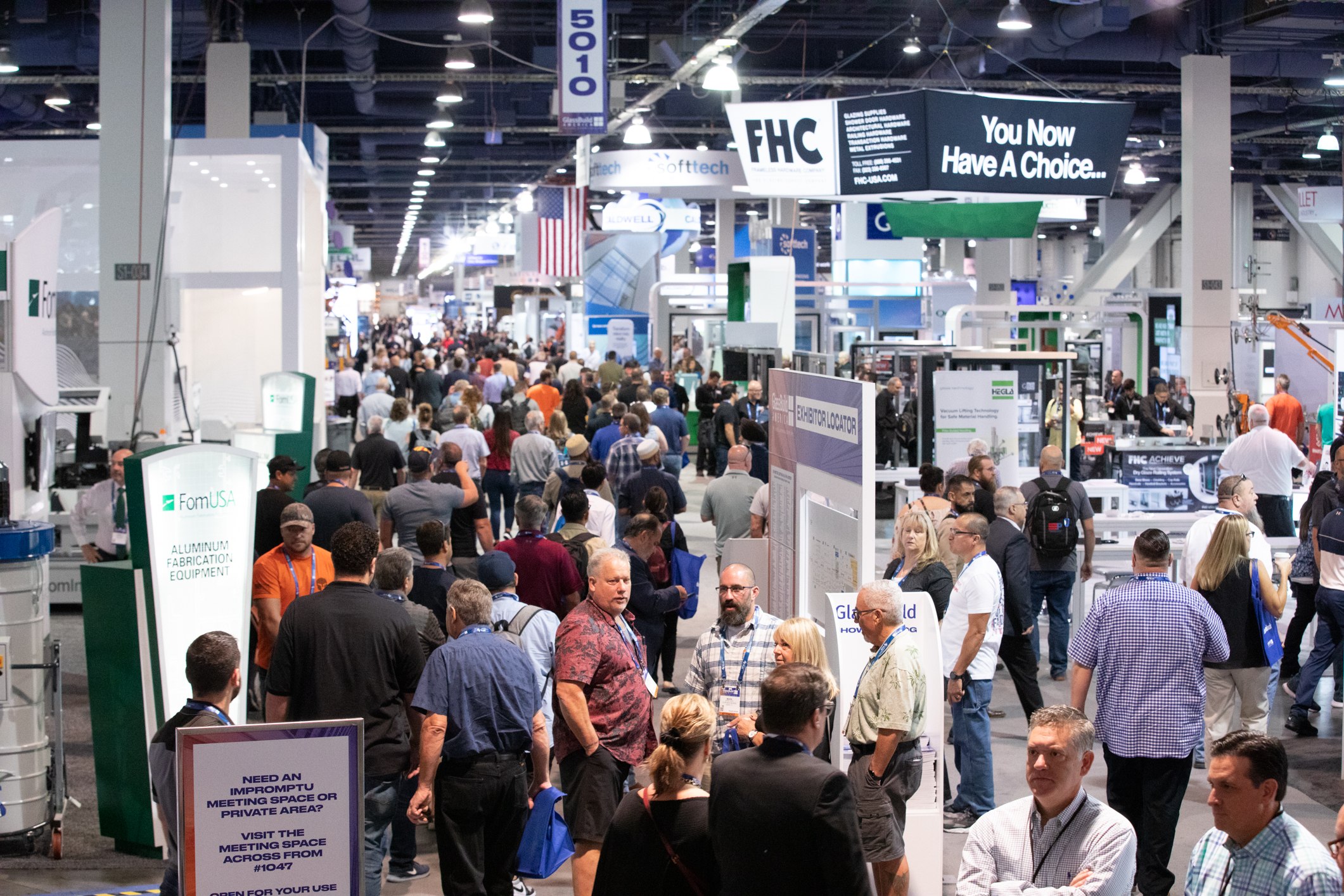 GlassBuild America: The Glass, Window & Door Expo returned to Las Vegas last week for the first time since 2018. The largest annual glass and fenestration industry trade show in the Western Hemisphere featured 386 exhibiting companies occupying 146,700 net square feet and drew more than 8,200 participants. The WMA Annual Convention & Tradeshow co-located with GlassBuild 2022, bringing 76 exhibiting companies and adding an additional 13,800 net square feet to the exhibit hall.
GlassBuild 2022 drew participants from all 50 states, plus the District of Columbia and Puerto Rico, as well as attendees from Canada and 53 other countries.
The trade show floor was brimming with energy and excitement as attendees filled the aisles.
"Between media interviews, wonderful events and great conversation with glass, window and door organizations moving the needle in our industry, this year's show was a true success," tweeted Deceuninck North America.
In addition to a busy show floor, GlassBuild also offered a wide range of education opportunities: the 16th Annual Glazing Executives Forum; the inaugural GlassFab, the NGA's new educational pilot program for glass fabrication plant managers; and Main Stage sessions, including an economic update, a gathering of women in glass and fenestration, a panel on mental health and suicide prevention, and fabrication and installation best practices presentations from the Fenestration & Glazing Industry Alliance. 
Women in Glass + Fenestration encourages

mentorship and community

 
How can we encourage the next generation of women to join the glass and fenestration industry? Successful female industry leaders Deb Callahan, CEO of the National Fenestration Rating Council, Barbara Kotsos, director of marketing/PR for Giroux Glass, and Alicia Hamilton, operations manager of the NGA, had some ideas and advice for the crowd that attended the standing-room-only Women in Glass and Fenestration event held Oct. 19 at GlassBuild. 
"The voices of women are very important," says Callahan. "Women are strong leaders and it's critically important that we share resources and information with one another. Women lead by example so please help one another by advocating, mentoring and helping to pay it forward." 
Mental

h

ealth

p

anel: How

c

an

w

e

s

ave

l

ives? 

 
The GlassBuild Main Stage hosted a panel discussion, Mental Health and Suicide Prevention, to start a conversation within the industry on addressing mental health and suicide prevention. Panelists included John Hewitt, co-founder, "We Mind and Kelly Matters"; Steve Dillon, corporate marketing director, VEKA North America; Dustin Anderson, creator of The Alone Effect mental health awareness project and industry glazier; and Mai Tran, area director, Nevada, for the American Foundation for Suicide Prevention. All indicated the importance of breaking the stigma around suicide and mental health. A good first and ongoing step is having conversations, they say.  
"When an industry allows the conversation of mental health to be a topic at one of the largest trade shows in the world, they are doing something right," says Dustin Anderson, glazier and creator of The Alone Effect mental health awareness project. "When they put a group of individuals together like this to make sure that conversation is heard, they are raising the bar."  
Check out complete coverage from GlassBuild at GlassBuildAmerica.com and WindowandDoor.com.  
Upcoming GlassBuild America dates

Oct. 31-Nov. 2, 2023: Atlanta

Sept. 30-Oct. 2, 2024: Dallas

Nov. 4-6, 2025: Orlando