High-performance Facades, Recycling Top Agenda at Glass and Glazing Advocacy Day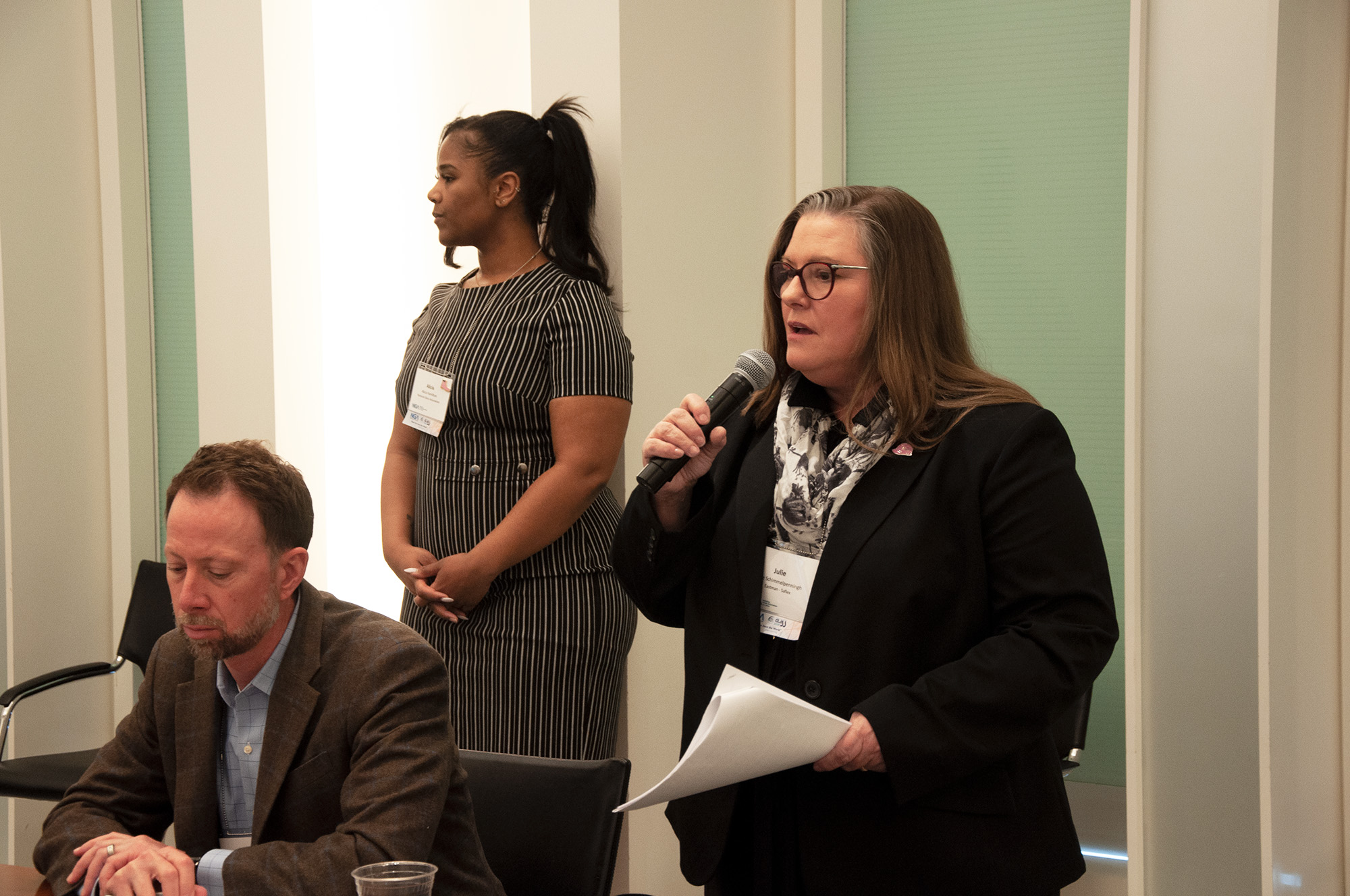 Leaders in the architectural glass and fenestration industries met with Congressional representatives to discuss challenges and opportunities facing the industry, as part of the National Glass Association's first-ever Glass and Glazing Advocacy Day, April 4-5. The  discussions allowed business leaders to communicate pain points and challenges, provide critical information about glass as a sophisticated building material, and seek clarity on the best legislative routes to take in confirming glass's place in the built environment.
Reimagining supply chain
Supply chain disruptions, from COVID and the invasion of Ukraine, were a major topic of discussion. Many representatives recognized the vital need to rethink supply chains, as well as to revive domestic manufacturing. "When I worked for the [auto] industry, just-in-time manufacturing was just becoming a concept, and we were locating the supply chain overseas because it was cheaper and it reduced costs. Now, we see it's a national security issue, front and center," said Rep. Debbie Dingell of Michigan.
Rep. Neal Dunn of Florida underscored the need to create a favorable environment for domestic manufacturing by removing regulations. "We have, right now, a more favorable tax environment for manufacturing than I've had in my lifetime. But that tax code sunsets in 2025 … We need to make that tax environment permanent. We probably can't do it with this Congress, but we can do it."
Draft 2 of Energy Star Version 7
Doug Anderson, program manager for the Energy Star windows initiative at the U.S. Environmental Protection Agency, spoke with Glass and Glazing Advocacy Day attendees about the second draft of Energy Star, version 7. Here are some of the major comments industry stakeholders had for draft 1. (See the full text of draft 1.)
Key issues:
1. Longer timeline before version 7 is implemented
Given supply chain concerns related to COVID, and now the invasion of Ukraine, Anderson said he had heard from some manufacturers requesting more time before the implementation of version 7. During the session, he said the plan is to finalize draft 2 in July or August of this year, and to give a full year for implementation; version 7 would go into effect in July or August of 2023.
2. Half-lite door adjustment U-factor too low
Other comments included a critique that the U-factor had been set too low, at 0.25, for swinging doors, and asked for it to be bumped up. "We'll take a look at the numbers," Anderson said. He said the current suggestion is to lower the U-factor in the North, while keeping a higher U-factor down south.
3. Adjusting the U-factor of the North Central Zone down
Stakeholders asked that the U-factor be relaxed for the North Central Zone from 0.24. Anderson was skeptical on whether this was possible. "[Glass] manufacturers have really helped deliver better performing products, but we're kind of reaching the end of the line for just two pieces of glass," he said. "Now, if you have a poor thermally performing frame, you're going to have to go to three pieces of glass to be able to deliver the kinds of numbers we're talking about here."
4. Adding a third pane of glass could increase the amount of embodied energy in the product
Anderson pointed to findings from LBNL Researchers and Tom Culp, technical code consultant for the National Glass Association. Their findings, published in Window + Door Weekly, found that the addition of a third lite is paid back in a relatively short period of time.
5. Site versus Source Energy
Stakeholders had questions about site versus source energy. Site energy is the amount of heat and electricity consumed by a building, as reflected in utility bills. Source energy represents the total amount of raw fuel required to operate the building. Energy Star's products' programs focuses on site energy, as it considers savings for consumers, while the initiative's buildings program for commercial and industry sectors focuses on site energy. Anderson believes they've addressed concerns, as the analysis considered both site and source energy.

Incentivizing high-performance glass and energy-efficient facades
Several industry leaders made the case for incentivizing high-performance glazing, and recognizing the importance of glass as an energy-efficient material.
Kyle Sword, manager of business development for NSG Pilkington underscored the need for legislation promoting green manufacturing to consider the amount of carbon payback a glass façade can offer when installed. "We use a lot of energy to make glass, but if you look at the benefits of our products, the payback in terms of energy and carbon, it can happen within a couple months. We want legislation that looks at the whole picture of what we're producing, and the benefits we provide."
Helen Sanders, general manager for Technoform, emphasized the importance of incentivizing an envelope-first approach towards building energy-efficiency, as a high-performance façade can also provide greater resiliency than other measures, and even ensure life safety. "If the electricity goes out your HVAC system doesn't help you, but a good building envelope helps you stay alive inside when it's too hot inside or too cold outside. … We want to incentivize the upgrading of all the building stock we have in the U.S."
Creating recycling infrastructure for a circular economy
Glass and glazing advocates also spoke with federal leaders and representatives about glass and building material recycling. Several leaders brought up pain points for demolition and construction recycling, including the lack of an existing infrastructure, especially in rural areas.
"It's very difficult to collect [construction recycling], and we just don't have the infrastructure in place to make sure that we are able to responsibly and consistently get any kind of demolition or construction recycling to the right spot," said Julia Farber, senior strategic manager, circular economy standards, Eastman.
Nena Shaw, acting director, Resource Conservation and Sustainability Division for the U.S. Environmental Protection Agency, said the agency is going to be helping to create a recycling strategy for the built environment this year, and will be creating an "an infrastructure map that looks across the different types of infrastructure required to do this work, including materials recycling facilities, which will help us see spaces that don't have access."
Industry leaders also pointed to the fact that the recently passed infrastructure bill only provides funding for construction and demolition recycling in the amount of $55 million when, as Farber pointed out, a regular sized construction project alone can cost around $30 million.
Shaw said that, while the timeline of creating the recycling strategy for the built environment is still being determined, the agency will be doing stakeholder engagement with affected industries. "When we get to the point where we're talking about the built environment, I hope you all will be part of that conversation."
See additional coverage of the event, from Glass Magazine. 
You can get involved
Speak with legislators and stakeholders in your area about the topics important to your company. NGA developed handouts on top priorities, in an easy one-pager format to continue telling the story of glass.